---
AMC Now Charging Moviegoers Extra For "Preferred" Seating
AMC Theaters is taking a page out of the airlines' books to try and help salvage its business.
The company announced this week that it is going to be rolling out a new pricing system, wherein it charges different prices for different seats within the theater. For a while, customers have been able to select their seats when buying their tickets.
Now, it looks like those coveted premium seats...will come at an actual premium. 
The program, called "Sightline at AMC", will allow moviegoers to pay less or more per ticket depending on seat, according to Fox News. Members of the AMC Stub rewards program will be offered extra benefits under the plan, according to Fox News. 
"There are three seating selections, which are based on a viewer's sightline of the screen, according to the company. AMC will also have a detailed seat map that outlines each seating option online, in its app and in person at the box office," the report says.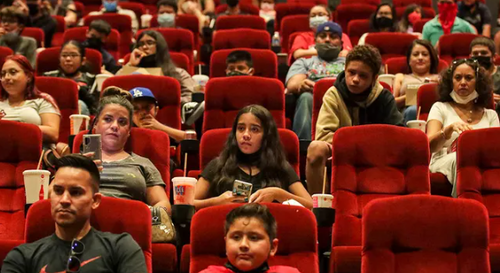 "Standard sightline" tickets, which are said to be the most common in theaters, will cost the same as a traditional ticket. But "Value" seats - like the ones in the front row and certain ADA accessible seats, will be cheaper than a regular ticket. 
However, if you feel like flying first class for your movie, you'll want the "Preferred" seats, which are generally the ones in the middle of the theater. These will cost the most and will be priced at a "slight premium" to the standard seats, the report says. 
The pay scale is going to be applied to all movies that start after 4PM, the report says. Eventually, the seating pricing will be expanded to all AMC and AMC Dine-In locations by the end of 2023. AMC has about 950 venues worldwide that it plans on outfitting.
AMC's equity is down about 55.5% over the last 12 months as the company continues to try and find ways to stock its cash coffers and keep its business, which has been unable to generate free cash consistently, afloat. 
How soon until there's a $30 checked bag fee?
Loading...