---
Americans Searching "Will I Get Drafted To War" Hits Highest Level Since Iraq 2007 Surge Amid WW3 Threat
Geopolitical and financial cycle expert Charles Nenner has warned that the world is teetering on the edge of a war cycle that could last many years. Nenner may be correct: The Ukraine war has been ongoing for 1.7 years, and just days ago, Hamas invaded Israel, sparking yet another dangerous geopolitical powder keg exploding right before our very eyes. 
On Saturday, former President Trump told the crowd in Cedar Rapids, Iowa, that the US is "closer to World War III than we've ever been." 
"I'm telling you, we are closer to World War III," Trump said, warning that another conflict could use "weaponry the likes of which this world has never seen before."
"We Are In Grave Danger": Trump Says Attack On Israel A Sign World War III Is Coming https://t.co/JfNmELjZMf

— zerohedge (@zerohedge) October 10, 2023
On Tuesday, Israeli officials said the country's death toll exceeded 1,000 from the 'surprise attacks' by Hamas that began on Saturday. In Gaza and the West Bank, authorities report 850 people have been killed in fighting there. 
"It's not a war, it's not a battlefield, it's a massacre," IDF Major General Itai Veruv was quoted as saying. "You see the babies, their mothers and their fathers, in their bedrooms, and in their protected rooms, and how the terrorists killed them — it's not a war."
"It's something that I never saw in my life," Veruv said. "We used to imagine our grandmothers and grandfathers during the pogroms in Europe. It's not something that we have seen in recent history."
While the horrific scenes of the Hamas attack have gone viral on X for the world to see, some Americans are panic-searching if they will be drafted as the conflict in the Middle East and Eastern Europe could spiral out of control. 
Google search data shows that "Will I get drafted to war?" has jumped above the Feb. 2022 high when Russia invaded Ukraine and hit the highest level since former President George Bush announced the troop surge in Iraq in early 2007.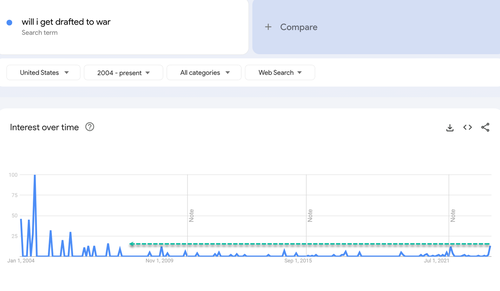 "How old do you have to be to get drafted to war?" is another search phrase on the rise.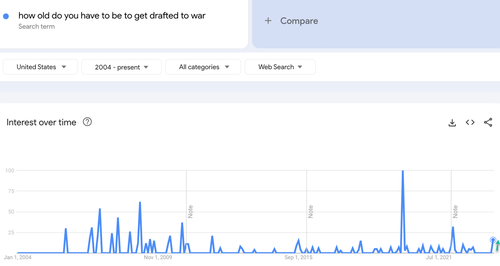 Let's hope America's military is combat-ready. 
Honestly, I don't know what Russia or China are waiting for.

We would lose a war in twenty minutes at this point.

Look at this. pic.twitter.com/7mJYfxKKjQ

— Joey Mannarino (@JoeyMannarinoUS) October 5, 2023
The armies of Sodom and Gomorrah.#IsraelPalestineConflict #USMilitary #Israel_under_attack #Israel #IsraelAtWar #MilitaryIndustrialComplex #LGBTQAgenda #wokemilitary pic.twitter.com/Mz5FwvkOMw

— Remnant Man (@remnantman1) October 10, 2023
The Woke U.S. Military is Ready for China, 🤦‍♂️ Sad. https://t.co/GelVJkYJeO pic.twitter.com/bspT9yQoVT

— MAGA Caveman7766 (@MAGACaveman7766) October 10, 2023
Maybe Charles Nenner is correct: "This war cycle is going to be bad, and I'll tell you why."
Loading...