---
Traders Enter The 'Anger' Phase After The Death Of The Fed Put
The stock market is suffering from the classic Kubler-Ross stages of grief following the death of The Fed Put...
Denial (Idiots! Of course there's a Fed Put dummy, there's been one for 30 years),

"Any further significant weakness at the index level should be seen as a buying opportunity, in our view," advised Goldman's Oppenheimer.

Anger (Fuck! Where is the FedSpeak? Where is The PPT?! Maybe Powell wasn't lying and it's different this time because inflation hasn't been a threat in 30 years)

"The Fed has created this dependency and there's an entire generation of money-managers who weren't around in '74, '87, the end of the '90s, and even 2007-2009.. and have only seen a one-way street... of course they're nervous," said Fisher.

"The question is - do you want to feed that hunger? Keep applying that opioid of cheap and abundant money?"

You are here...

What comes next?

Bargaining (Well...! Maybe if we just crash stocks a little more, Powell will be forced to step in - we can take the pain if we know he will rescue us at some point. I promise I'll never margin up on a 3x 'Innovator' ETF ever again if you let me have some gains back),

"Some decline in asset prices is not a bad thing from the Fed's perspective, so they're going to let it happen," Jensen, 47, told Bloomberg in a Zoom interview. "At these levels, it would take a much bigger move to get the 'Fed put' into the money. They're a long way from that."

Depression (Fuck! all my gains are gone - I was a stock-trading guru too?!... I am gonna have to get a real job!), and

Acceptance (Assholes! I am done, 'sell it all', The Fed is not 'for us', it's for the politicians, I'm never investing my savings in hyper-growth pre-profit tech stocks ever again).

"In short, it was a rogue wave and it overwhelmed us... Unfortunately, this has resulted in a catastrophic loss... Your account could potentially be facing a debit balance as of tomorrow."
Is this where end? Or lower?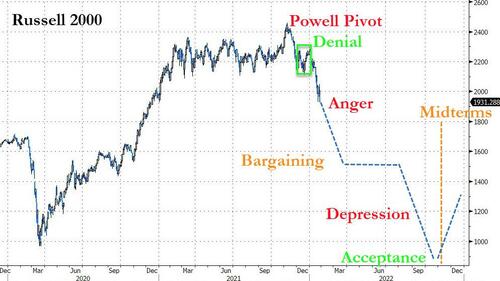 Anyway, back to today... GDP "good news" appears to have been greeted as "bad news", providing more cover for Powell to do what he said he would do with rates and QT... and while the algos lifted everything overnight, sellers appeared at the cash open and it was a one-way trip to yesterday's lows (or worse) for the rest of the day. Small Caps are down 5% from pre-Fed, Nasdaq is down over 3%, and The Dow is down around 1% only...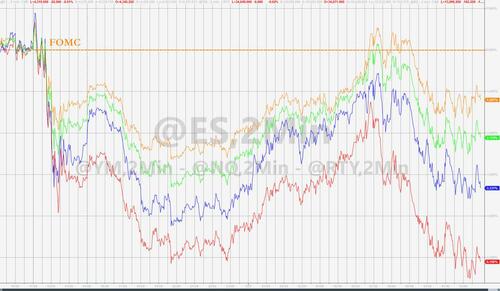 On the day, Small Caps are down over 2% in a massive whipsaw and The Dow is clinging to unchanged after swinging up and down 1000s of points...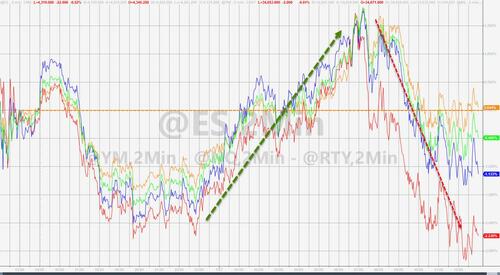 Wonder how many of these meetings happened today... or are imminent...
NOTE that the moment the S&P managed to get back to even from pre-Fed, selling pressure built rapidly. Clearly, the algos were in stop-hunter mode...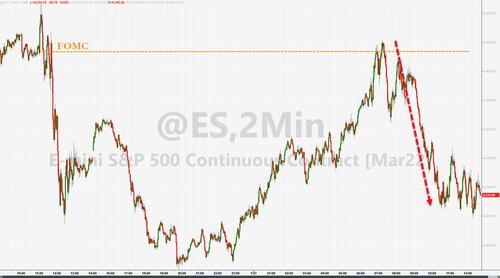 The standard MO of crushing VIX to ignite momentum went into action but that ended rather badly for the vol-sellers this time...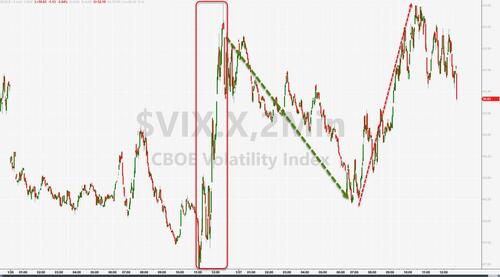 The Russell 2000 closed (for the first time in this cycle) in bear market and the S&P is very close to closing in correction...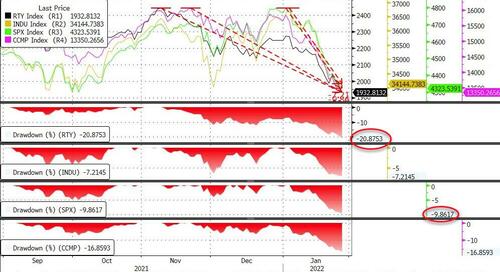 In other equity news, TSLA was clubbed like a baby seal after rallying on solid earnings last night (for context, that is one Ford in lost market cap)...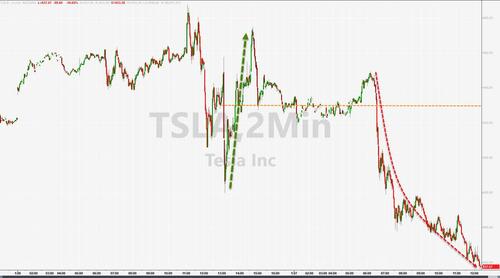 A year ago today, GME hit its record high at $483. Today it is down 80% from those highs... but still up over 350% from the pre-WSB-chaos levels...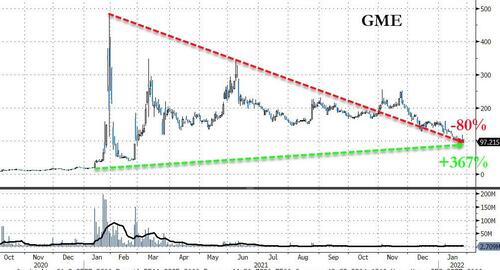 Source: Bloomberg
Puts were heavily bid today relative to calls...
Source: Bloomberg
Treasuries were very mixed today with the long-end heavily bid and massively outperforming as the short-end adjusted for The Fed's more hawkish rate trajectory...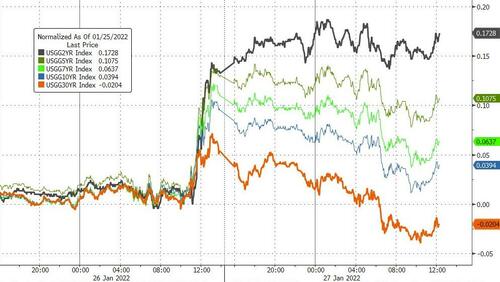 Source: Bloomberg
For context, this is massive shift in the curve's correlation regime with a huge flattening screaming at a Fed Policy Error being imminent...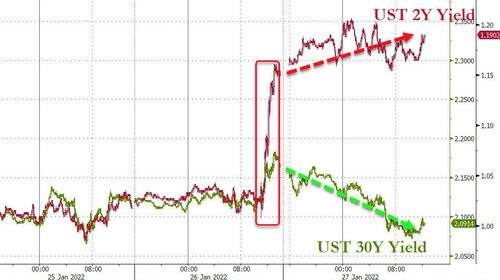 Source: Bloomberg
2s30s utterly imploded today after yesterday's very brief steepening...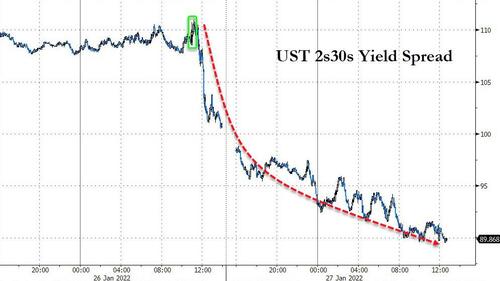 Source: Bloomberg
The 7s10s curve is on the brink of inverting (joining the 20s30s segment of the curve which has been inverted for 3 months). Bear in mind, apart from 3/9/2020, the 7s10s spread has not closed flatter than this...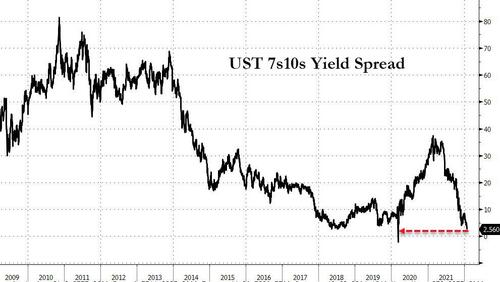 Source: Bloomberg
In fact, the yield curve has been flattening from the 2Y maturity out since Powell's Pivot in late November...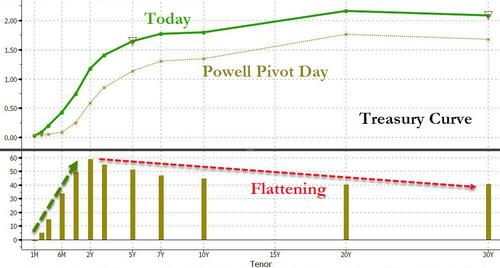 Source: Bloomberg
The short-end is now pricing an 80% chance of a 5th rate-hike by Dec 2022... (and a 25% chance of a 50bps hike in March)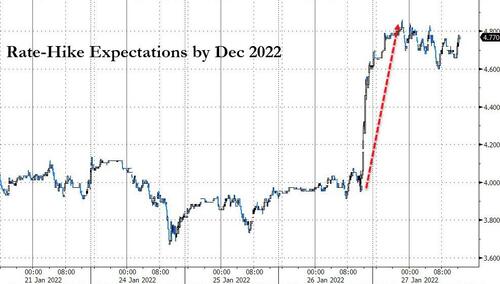 Source: Bloomberg
The dollar continued its rip higher pushing towards the highs from December's FOMC meeting spike...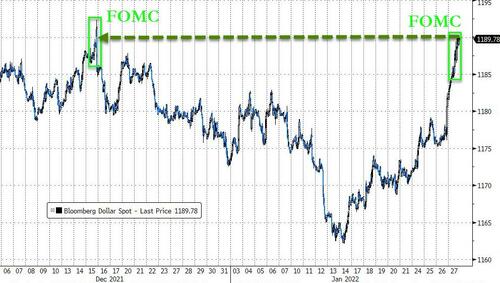 Source: Bloomberg
Bitcoin slipped back below $36k...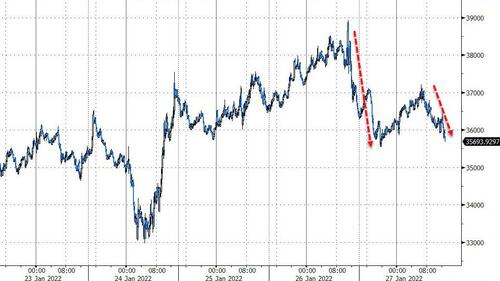 Source: Bloomberg
Gold puked to $1800 amid hawkish Fed speak but buyers reappeared. However, as stocks started breaking down and rate-hike odds lifted, gold tanked back below $1800...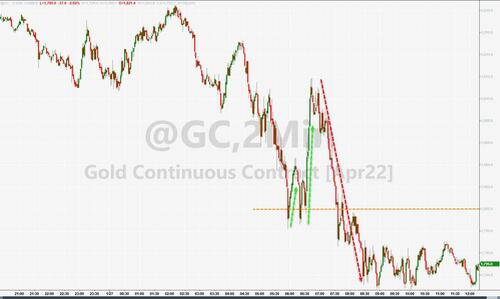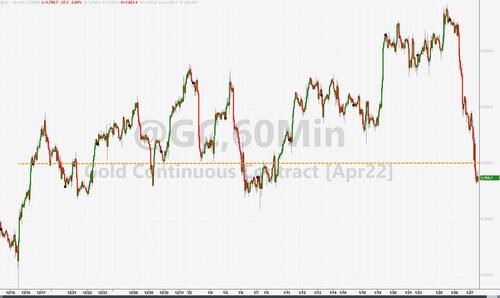 WTI fell back below $87 at today's settle...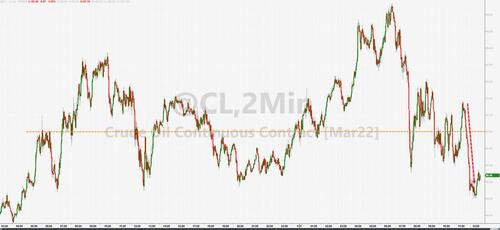 NatGas futures had a 'moment' into expiration today with the Feb 22 contract exploding over 50% higher into its close...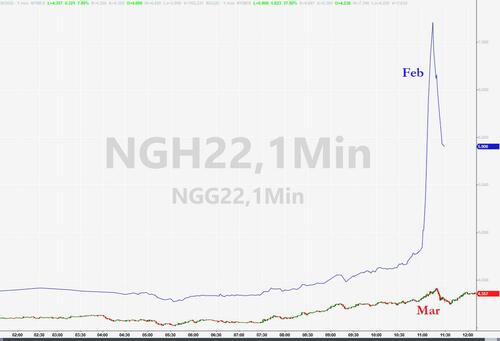 That's quite a squeeze into contract expiration...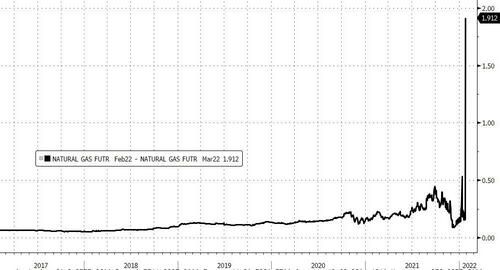 Finally, just like the overnight ramp last night reassured many dip-buyers, investor sentiment is at historically pessimistic levels...
Investor sentiment is at historic pessimism.

Worse than MARCH 2020.

Worse than DECEMBER 2018.

Even in 2008 – similar spikes led to violent Bear Market rallies.

And lastly – when investors finally got this negative, the 2000-2002 Tech Crash was *over*. pic.twitter.com/o1fhONVIHC

— Macro Charts (@MacroCharts) January 27, 2022
For some clarity on what just happened, where we are, and what happens next Brent Kochuba from SpotGamma and Darius Dale from '42 Macro' break down macro implications of The Fed Meeting and analyze the options markets impact...