---
Reddit Traders Send ASO Soaring After-Hours Following Big JPMorgan Block Sale
Update (1750ET): After getting clubbed like a bay seal overnight - thanks to JPMorgan's big block sales after-hours - Academy Sports & Outdoors (ASO) spiked after hours tonight following an appearance by Justin Zhen of Thunknum on CNBC's Fast Money suggesting that the stock had become the newest darling among the Reddit traders.
ISI Evercore analyst Greg Melich also appeared in the clip, offering the fundamental case for ASO longs, forecasting $3 in EPS next year, and calling the stock cheap.
It appears Zhen could be on to something as ASO was the 3rd most discussed stock on WallStreetBets today (and extremely bullish biased)...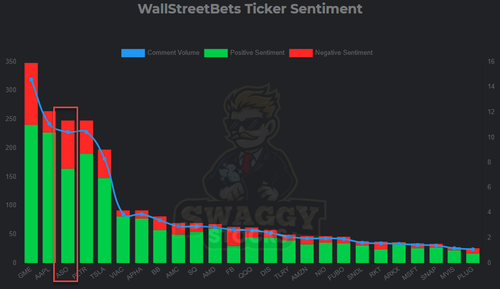 And even though sentiment faded off this week (interest peaked on April 6th - the day before the big JPM block sale)...
Zhen's comments appeared to trigger a whole new buying panic in the stock...
We wonder how long this one will last?
With a short-interest-to-float ratio of around 40...
We suspect it could have legs.
*  *  *
In the aftermath of the Archegos blow up, the biggest nightmare on Wall Street - where there is never just one cockroach - is that (many) more Archegos-style, highly levered "family office" blow ups are waiting just around the corner.
Well, in a transaction after the close that is sure to spark much heated controversy tonight and tomorrow morning, Bloomberg announced that JPMorgan was offering a 9 million block of Academy Sports and Outdoors (ASO) stock. Since this is virtually identical to what happened two Fridays ago when similar public BWICs by Goldman and other banks proceeded to unwind the Archegos portfolio, the immediate question on everyone's lips is whether a second highly levered family office has blown up.
There are more similarities: the block offered by JPM is massive: the 9MM shares represents almost a quarter of ASO's float and roughly 10% of ASO's total outstanding shares.
In a notable tangent, it worth noting that ASO, which was IPOed by PE firm KKR in October, has Tiger Global as one of its top holders. Granted, nobody but KKR has a public stake worth 9 million shares.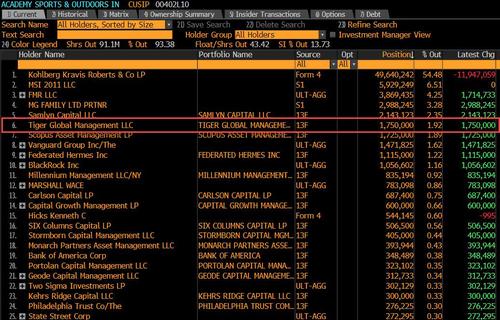 Furthermore, in what may have been an Archegos-style levered attempt to squeeze the shorts using billions in TRS leverage, ASO stock - whose market cap is $2.8 billion - had surged 25% in the past month... only to tumble 6% after hours.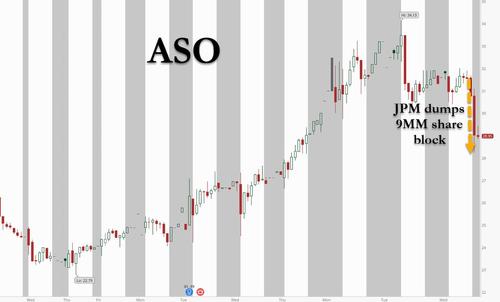 While there are no clear catalysts that could have forced a margin call on the yet-unknown fund (if indeed this is another Archegos), on Tuesday, the stock did drop sharply at the open from $34 to $31, although if that modest drop alone was enough to force margin calls we dread to imagine just how much leverage this fund was using...
We leave readers with the following observation from Bear Traps report author Larry McDonald:
As the calendar turns to April, the words we have lived by for nearly twenty years come to mind. "Higher prices bring out buyers, lower prices bring out sellers - size opens eyes."

Over the last week, it was the size of the losses inflicted on Wall St. banks - all delivered from one SINGLE family office that has caught our attention. Eight days after the Archegos hit - the scared rabbits across the Street have only been able to quantify a $10B to $12B loss, this fact gives the word "insult" new meaning.

Of course, the pain inflicted comes after the Robinhood blowup, the Melvin Capital collapse and the Greensill implosion in Europe, all idiosyncratic, NOT. The Nasdaq bulls talk up "one offs" - but the these events are piling up which points to a classic, systemic leverage breaking point. The size and breadth of today's bull camp incentivizes market participants to downplay encroaching risk.

Almost everyone is fully invested and using leverage for more juiced returns. This crowd will go out of their way to tell the bartender it's only midnight - when a glance toward the watch says it's half past 2AM. Just think about how long it takes Wall St. banks to come clean to leverage losses. History tells us - the lonely truth will join us one drop at a time.

Bull markets never, EVER die of valuation old age, its the leverage blow-up which triggers the deleveraging and takes the madness out of the crowd. Just look at the ARK ETFs, the marginal - over the top buyer is taking the sword as we speak.

Every hedge fund compliance officer across the Street is now in search of the next Archegos, and they have as much trust in their prime broker as the lovely Marylin Monroe had in the playboy that was JFK. There are times to take on more risk and other inflection points which whisper into the wise man's ear, "reach across the velvet and pull some chips off the table." This is one of them, let the mad mob chase.

For much of the last six months we have been in the growth to value camp, pounding the table on the migration of capital running out of Big Tech over to equities in the commodity sector. As most of our long term clients know, we have never been more bullish. Our focus has been on rotation - NOT a drawdown leaking across asset classes. Today, we must make a stand. It's time to take down risk positions across the board and let the fools chase.

The fundamental, bottom line problem with extreme frothy priced assets, any meaningful risk threat will deliver sharp drawdowns. We are far better off raising dry powder to deploy into more attractive price points.