---
Another One Dies: MTV News To Shut Down As Paramount Slashes Workforce
First BuzzFeed, then Vice News, and now MTV News. One by one, the dominos are falling as woke "media giants" are winding down operations as ad revenue craters. 
According to The Hollywood Reporter and Variety, Paramount Global slashed its US workforce by 25% and ended its iconic music video network's news division after three decades. 
Chris McCarthy, who heads Paramount Media Networks, MTV, and Showtime, wrote in a memo to staff Tuesday, "However, despite this success in streaming, we continue to feel pressure from broader economic headwinds like many of our peers." 
 "As a result, we have made the very hard but necessary decision to reduce our domestic team by approximately 25%," McCarthy said. "
He continued:
"This is a tough yet important strategic realignment of our group. Through the elimination of some units and by streamlining others, we will be able to reduce costs and create a more effective approach to our business as we move forward." 
The axing of MTV News comes after being on the air for 36 years. The outlet's coverage focused on music, politics, sex, pop culture, and more (such as woke programming). 

Last week, the parent company Paramount Global posted dismal quarterly earnings and slashed its quarterly dividend. Shares plunged as much as 29% last Thursday (the largest one-day collapse in decades).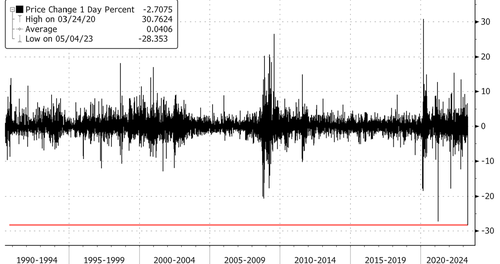 The media company cited a plunge in traditional TV revenue for its struggles. CEO Bob Bakish told investors that the company is "navigating a challenging and uncertain macroeconomic environment, and you see the impact of that on our financials, as the combination of peak streaming investment intersects with cyclical ad softness."
The latest data from Bloomberg shows Paramount Global has approximately 24,500 employees as of the end of 2022.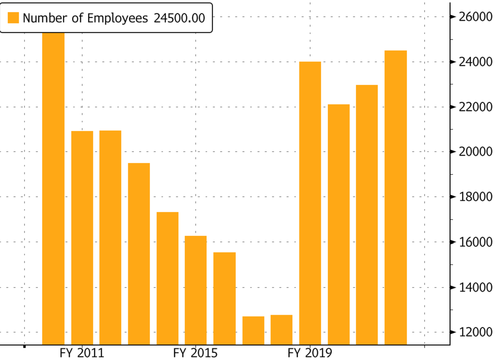 ... and by the way, the future of television news, might be on Twitter. 
We're back. pic.twitter.com/sG5t9gr60O

— Tucker Carlson (@TuckerCarlson) May 9, 2023
So within a month, BuzzFeed News, Vice News, and MTV News have collapsed. Who is next?
Loading...