---
Another Travel Weekend From Hell: 950 US Flights Canceled, And Thousands More Delayed
Another wave of turbulence rocked the US airline industry as hundreds of cancellations and thousands of delays made air travel an utter nightmare on Sunday. 
The flight-tracking website FlightAware reported 950 flight cancellations and more than 7,700 delays across, into, and out of the US on Sunday. 
Chicago O'Hare International Airport recorded the most cancellations and delays yesterday, with 12% of all flights canceled and over 40% of flights delayed. The reason for air travel disruption was heavy rain across the Chicago metro area.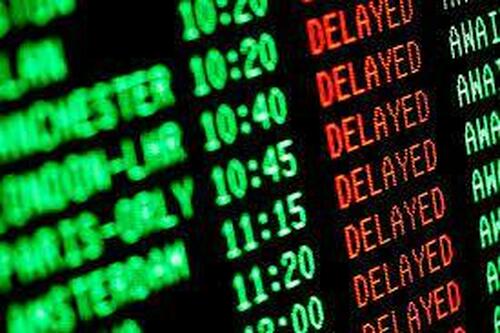 The US airline with the most canceled flights was Southwest Airlines, coming in at 181 cancellations. The airline also delayed 1,532 flights, the most of any airline. American Airlines was second in terms of cancellations and delays.  
Southwest told Bussiness Insider:
"We've been working through a variety of weather-related challenges over the last few days. We appreciate our Customers' patience as we work to get them to their destinations safely and as quickly as possible."
Saturday was no better, with a total of 657 flight cancellations and 7,267 delays within, into or out of the US. 
Besides weather, travel disruptions have also been tied to a severe pilot shortage. United Airlines CEO Scott Kirby recently warned: 
"The pilot shortage for the industry is real, and most airlines are simply not going to be able to realize their capacity plans because there simply aren't enough pilots, at least not for the next five-plus years." 
Meanwhile, the airline industry group Airlines for America (A4A) has blamed a shortage of Federal Aviation Administration staff for "crippling" East Coast air traffic. The group's members include American Airlines, Delta, United, Southwest, JetBlue, Alaska Airlines, and shippers FedEx and UPS.
The latest delays and cancelations come as Transportation secretary Pete Buttigieg attempts to resolve air travel disruptions this summer. 
Buttigieg, after this weekend, you might want to get back to work...