---
Are Surging 'Anti-ARKK' ETF Inflows A Sign That Cathie Wood's Funds Are Ready To Rebound?
ARK Investments has seen its ETFs, including ARK Innovation (ARKK), ARK Genomic Revolution (ARKG), ARK Fintech Innovation (ARKF), and ARK Next Generation Internet (ARKW), monkey hammered this year on inflationary pressures and prospects of at least four rate hikes by the end of the year (crushing the high duration hyper-growth stocks that Cathie Wood embraces).
ARK's primary ETF, ARKK, has underperformed both the broad market and tech-heavy Nasdaq index this year, down some 24% YTD and halved over the last year.
SARK does well when ARKK shares decline by using swap contracts to short the fund. The anti-ARKK ETF has had an impressive ten trading days of positive inflows.
Meanwhile, Cathie Wood's sinking ARK has been a boon for Tuttle Capital Short Innovation ETF (SARK), an anti-ARK ETF that bets against Wood's big wager on disruptive tech. Investors have poured a whopping $234 million into SARK. 
"I'm honestly not surprised at it [SARK] just taking in money," said James Seyffart, Bloomberg Intelligence ETF analyst.

"The trend is your friend and for ARK right now the trend is still negative."
Of course, the Anti-ARKK AUM remains considerably smaller than Cathie Woods', but at the rate of divergence, who knows how long that will last?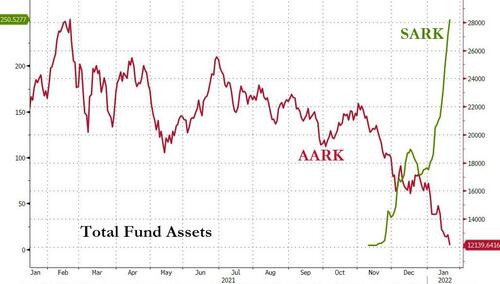 Bloomberg Intelligence's senior ETF analyst Eric Balchunas said, "any indie ETF that gets over $200 million in assets has beaten the odds, let alone doing it in its first three months." 
In December, Wood told Bloomberg her flagship fund's underperformance has caused her to "go through some soul-searching." 
 "I've never been in a market that is up -- has appreciated -- and our strategies are down," Wood said. 
She continued:
"When we go through a period like this, of course, we are going through soul-searching, saying 'are we missing something?'" 
Wood has been actively buying the dip of profitless tech stocks, but on Friday, we noticed instead of buying the dip as the market plunged, her fund was an active seller. That could only suggest ARKK's redemptions may be pressuring its cash cushion.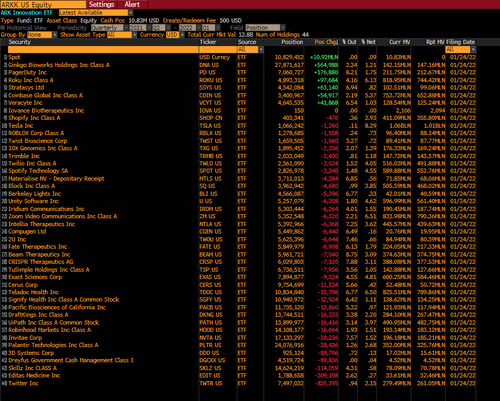 She was quoted last week as saying - somewhat desperately - that "the real bubble could be building in such so-called 'value' stocks," adding, "the valuations of many innovation-related stocks have been cut in half." 
Wood's strategy of buying profitless tech stocks and expensive hyper-growth names is no match for this inflationary/hawkish environment...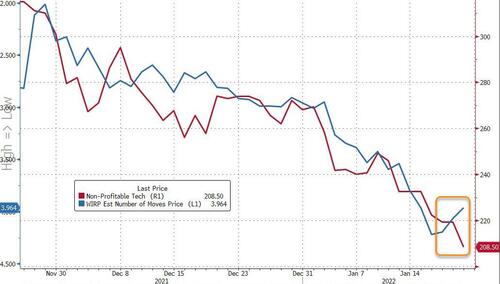 However, as billionaire investor Warren Buffett once opined, "when there's blood on the streets, you buy." And a buying opportunity into beaten-down ARKK could emerge as soon as next week as JPMorgan and Goldman Sachs' economists both agree there will be no hawkish surprises from the Federal Reserve's FOMC meeting next week.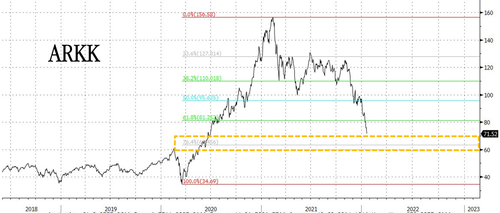 Goldman sees "the conditions in place for a large cover rally into and around the FED next week and when month-end new capital comes back into the equity markets, with corporates dry powder," and Fed Speakers and Buybacks emerge from their blackouts.
With "most-shorted" stocks at their most-oversold since the lows in March 2020, markets are indeed primed for a face-ripper of a dead-cat bounce...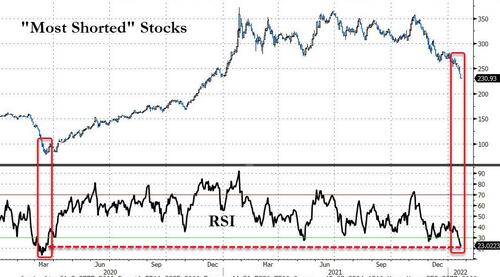 For more color on the possible squeeze that may emerge as early as next week, Bank of America published an analog, comparing dot-com high-flyer Invesco (rel. to BRK) with current (or should we say recent) high-flyer ARKK (also rel. to BRK). ARKK's demise has followed a very similar trajectory with each bounce being sold and once could argue we are overdue for a bounce (and primed from a squeeze perspective). However, if the analog holds, the ultimate low is a lot lower...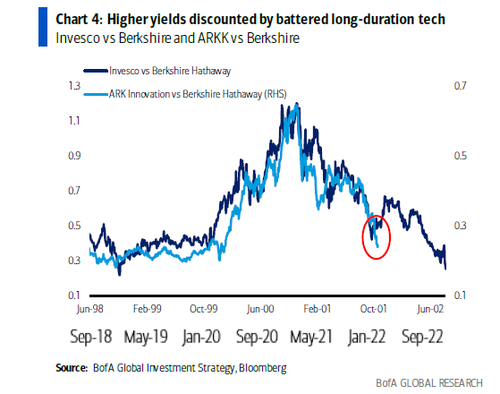 Of course, there is always the risk that Powell could upset markets, but then again, a market crash would be absolutely devastating for the America's net worth (and implicitly its economy) considering US financial assets are now 6.3x greater than US GDP...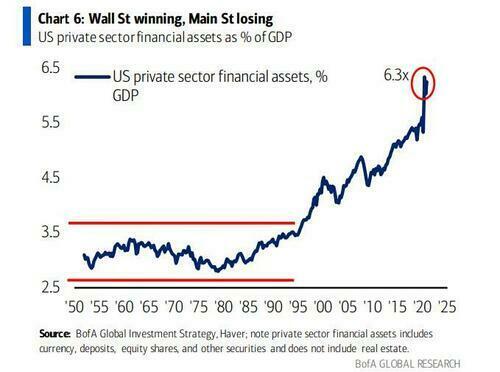 Is it any wonder that President Biden is already blaming Powell for the pain to come (from inflation or a market crash).