---
Premium
"Apocalypse Postponed": Hartnett Says "Fade S&P Above 4,200, Q1 Highs Before Valentine's Day"
Some of Wall Street's most prominent bears - such as Marko Kolanovic (he of BTFD every week for much of 2022 fame) and Michael Wilson - will have to think carefully if they want to quadruple down on their bullishness in their next weekly reports now that stocks have solidly broken out above all technical resistance levels, briefly risen above 4200, and generally refuse to sell off despite today's stellar (if goalseeked) jobs numbers and very poor earnings from the GAMMA stocks. Others, such as BofA Michael Hartnett, who took a contrarian route to the conventional bears (which these days is everyone) and predicted a first half meltup (peaking at 4,200) before a second half dump (similar to Deutsche Bank), will be able to take yet another victory lap.
But while it's not his style to rub a correct call in clients' faces, in his latest note Hartnett does point out that the rally which he said would take stocks to 4,200 - and guess where spoos peaked on Thursday...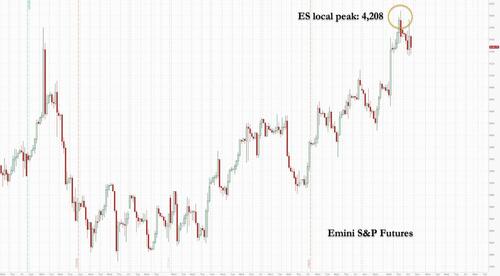 Loading...