---
Apple Orders 30% iPhone Production Ramp, Signaling "Bright" Outlook With American Economy Still In Shambles
Apple disappointed Wall Street in October when it reported a 20% drop in YOY iPhone revenue during its Q4 (remember, Apple runs on its own quarterly timeline) earnings report, something management tried to dismiss as simply a lull before the 5G upgrade "supercycle" was unleashed by the iPhone 12 generation of phones.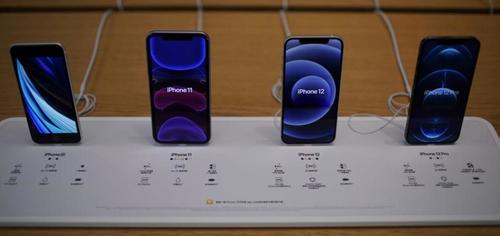 As Tim Cook has been saying for years now, Apple is no longer all about the iPhone. The company finding more and more ways to diversify away from its dependence on the iPhone, the most revolutionary consumer tech product of the 21st Century (so far, at least), including investing more in its effort to design its own chips.
Services, and, of course, the app store, are also critical components of its growth strategy.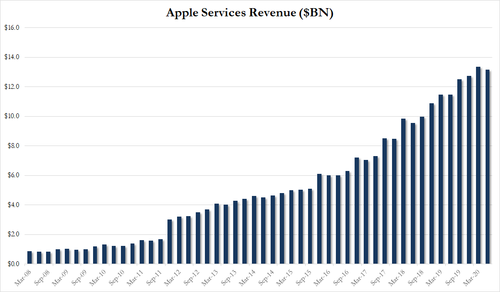 And when it comes to EPS, Apple's aggressive buybacks program helps to juice the numbers generated by the business, keeping shareholders fat and happy.
When the world was exploding thanks to the coronavirus earlier this year, iPhone sales plunged (though Apple has done its best to obscure this by no longer breaking out sales figures on individual products). One team of analysts from KeyBanc estimated, using fancy internal credit card data, that iPhone sales plunged 77% in April alone. 
Apple has been pretty cagey this year about its iPhone sales forecasts during earnings calls. Instead, it has doubled down on a strategy of managing market expectations via leaks, oftentimes to outlets like Nikkei, which has published many scoops sourced to insiders at Apple suppliers, boasting about orders to boost production for iPhones, or other devices (but most frequently the iPhone, or at least so it seems).
Well, one of those reports hit Tuesday morning when Nikkei reported that Apple is doubling down on the 5G supercycle theory, despite growing doubts from telecom executives about the pace of the network rollout, by drawing up plans to produce as many as 96 million iPhones in the first half of 2021, a 30% YoY increase.
Offering a hint that Apple is making some allowances for the new post-COVID economic reality, the company is including pre-5G iPhone 11 range and iPhone SE in the production rollout.
Apple plans to produce up to 96 million iPhones for the first half of 2021, a nearly 30% year-on-year increase, after demand for its first-ever 5G handsets surged amid the pandemic, Nikkei Asia learned.

The Cupertino-based tech giant has asked suppliers to build some 95 million to 96 million iPhones, including the latest iPhone 12 range and the older iPhone 11 and iPhone SE, multiple people familiar with the matter told Nikkei Asia -- though industrywide shortages of key components could threaten that target.

The tentative full-year forecast that Apple shared with its suppliers suggests it plans to build up to 230 million iPhones in 2021, including both old and new models, the people said. This would mark a 20% rise from 2019, though the target will be regularly reviewed and revised in response to any changes in consumer demand, they added.
One of these anonymous supplier executives whom we mentioned above even told Nikkei that the outlook for the upcoming quarter, at least as far as their production levels are concerned, is "quite bright".
"The planned production for the next quarter and the following quarter have been decided and the outlook is quite bright," an executive at a key Apple supplier told Nikkei. "The iPhone 12 Pro, and iPhone 12 Pro Max are especially stronger than we estimated, while the demand for iPhone 12 is in line with the forecast, but iPhone 12 mini is a bit sluggish," the person added.
To be sure, the iPhone 12 sales have gotten off to a surprisingly strong start this year. Apple is hoping that the work from home craze and 5G rollout will mean that this sales bump was more than just a blip of conspicuous consumption as the American "haves" engage in a little retail therapy after a trying year that has seen workers rely on their gadgets more than ever before.
Some are even hoping that the sales will be so strong, that they might even match, or at least come close to, the record sales "peak" from 2015. Apple is also preparing "aggressive" production ramps for other gadgets expected to be in high demand as people and workers continue to adjust to working from home, per Nikkei.
Much of that improvement came from the iPhone 12 range -- Apple's answer to the 5G smartphone offerings of Samsung Electronics and Huawei Technologies -- which has enjoyed strong demand since hitting store shelves this quarter. The tentative production plan for 2021 is nearly on par with the record 231.5 million iPhones shipped in 2015. Apple is also preparing an aggressive production schedule for its high-end computers, including the MacBook Pro and iMac Pro, for 2021, two other people familiar with the matter said. The company is in the midst of replacing Intel central processors in its computer lineups with self-designed CPUs built using technology from British chip designer Arm. Apple already introduced three MacBook models powered by its M1 central processor in late 2020 and announced it will take about two years to fully transition to CPUs designed in-house. The U.S. tech giant is also working on a new Apple TV, a home entertainment device for video-on-demand services, for next year, one of the people said.
Of course, that's a pretty high bar to set. The market seemed to appreciate it, as Apple shares climbed in premarket trade.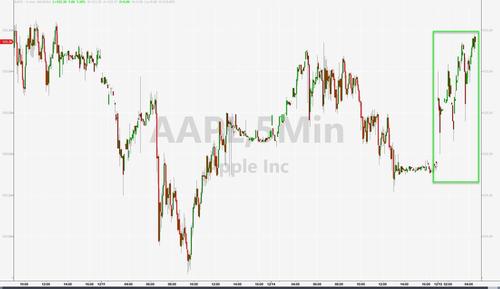 But analysts probably shouldn't put too much stock in this news. After all, it's a reason it's not coming from Apple directly.