---
Apple Shares Slump After Evercore Warns Of "Surprisingly Negative" Chinese Smartphone Data
Apple shares were down 100bps in late afternoon trading, bouncing between the $445-$447 range. Shares were then pressured lower, down 175bps to $442 handle, at around 14:10ET, or around the same time headlines from investment bank Evercore hit the wires, warning about new smartphone data from China is "surprisingly negative."  
*CHINA SMARTPHONE DATA SHOWS BIG DECLINE IN QTR START: EVERCORE
*CHINA SMARTPHONE DATA IS `SIGNIFICANT DETERIORATION': EVERCORE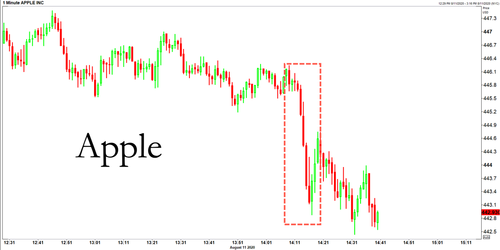 Evercore is suggesting Chinese consumption in the back half of the year is slumping, shreds apart the narrative of a "V-shaped" recovery. China accounted for 15% of Apple's total revenue during 2Q20, any slump in Chinese smartphone sales would materially impact Apple, or perhaps explains why folks are selling the stock and asking questions later.  
Apple shares trade, at about a 41% premium to its 200 daily exponential moving average.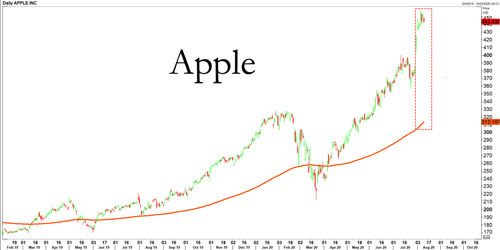 Earlier in the day, Evercore's founder and senior chairman Roger Altman warned there's a big disconnect between the stock market and the US economy. 
What this all means is that investors have misjudged the shape of the recovery, they're looking out years from now while they need to focus on today's reversing recovery and deep economic scarring. When, and that is if, the market wakes up from its Fed-induced twilight period, a readjustment to reality could start the next decline in stocks.
For what could happen next, read "Gary Shilling Sees 1930s-Style Decline In Stock Market."