---
Apple Signs Multibillion Dollar Deal With Broadcom For "Made In USA" 5G Parts
Apple has signed a new multiyear, multibillion-dollar deal with Broadcom to develop 5G radio frequency components, Bloomberg reported, sending the stock of the chipmaker higher in premarket trading.
In a statement, Apple said that the collaboration will include wireless connectivity components, and added that the components will be designed and built in several US manufacturing hubs including Fort Collins, Colorado, where Broadcom has a major facility.
"We're thrilled to make commitments that harness the ingenuity, creativity, and innovative spirit of American manufacturing," said Tim Cook, Apple's CEO. "All of Apple's products depend on technology engineered and built here in the United States, and we'll continue to deepen our investments in the U.S. economy because we have an unshakable belief in America's future."
Apple already helps support more than 1,000 jobs in Fort Collins, and the partnership will enable Broadcom to continue to invest in automation projects, Apple said.
The iPhone maker is spending tens of billions of dollars to develop 5G technology in the US. It said that these investments "are part of the commitment Apple made in 2021 to invest $430 billion in the U.S. economy over five years. Today, Apple is on pace to meet its target through direct spend with American suppliers, data center investments, capital expenditures in the U.S., and other domestic spend."
Qualcomm shares fell 2% after the news. Broadcom rose about 3%.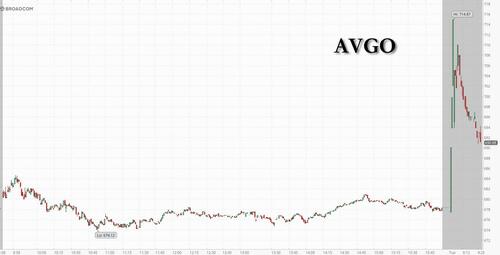 Loading...