---
Apple Pares Much Of Drop During Earnings Call
Update 6:00pm:  Apple has staged a remarkable reversal after hours, and erased almost the entire loss after the company said that it expects a 5% impact from FX rates in Q2, and also expects iPhone revenue growth to accelerate in Q2. CEO Tim Cook was also asked whether the move to higher ASPs for the iPhone is sustainable in light of the sharp decline in sales, and whether this will continue in a worsening economy. Cook said the 14 Pro and 14 Pro Max did extremely well until the supply-chain constraints. He says this is definitely a "strong Pro cycle" and credits the new features in the device. He says he's happy that Apple is now shipping to the demand.
Tim Cook also said that AI is critical to Apple and mentions features like crash-and-fall detection and the use of AI in features like EKG on the Apple Watch. He says AI will effect everything the company does, including all products and services.
Apple is quite bullish on India and other emerging markets, with CEO Tim Cook saying the company will soon open its first retail stores in India. He also said Apple saw marked improvement in China in December (versus November) after another round of Covid re-openings.
As Bloomberg notes, the company also stuck to a line that revenue and sales of individual product categories would have been higher if not for supply-chain constraints and issues stemming from the macroeconomic environment.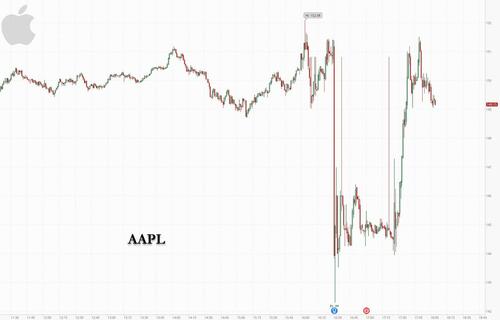 * * *
With both Amazon and Google sliding after reporting disappointing earnings and mixed guidance, it was all up to the world's biggest company, AAPL, to provide some hail mary for the tech earnings season which for better or worse is concentrated in a one hour stretch this afternoon. Alas, it was not meant to be and after missing on the top and bottom line, AAPL has joined the parade of selling and tumbled after hours due to numbers which the market was clearly not impressed with.
EPS $1.88 vs. $2.10 y/y, missing estimate $1.94
Gross margin $50.33 billion, -7.2% y/y, missing estimate $52.03 billion
Revenue $117.15 billion, -5.5% y/y, missing estimate $121.14 billion

Products revenue $96.39 billion, -7.7% y/y, missing estimate $98.98 billion
IPhone revenue $65.78 billion, -8.2% y/y, missing estimate $68.3 billion
Mac revenue $7.74 billion, -29% y/y, missing estimate $9.72 billion
IPad revenue $9.40 billion, +30% y/y, beating estimate $7.78 billion
Wearables, home and accessories $13.48 billion, -8.3% y/y, missing estimate $15.32 billion
Service revenue $20.77 billion, +6.4% y/y, beating estimate $20.47 billion
Greater China rev. $23.91 billion, -7.3% y/y, beating estimate $21.8 billion

Cash and cash equivalents $20.54 billion, -45% y/y, estimate $29.91 billion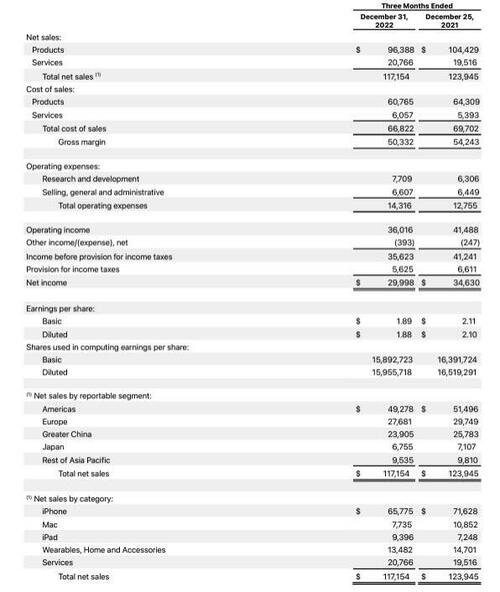 And here is AAPL's diluted EPS in context: needless to say, could have been better.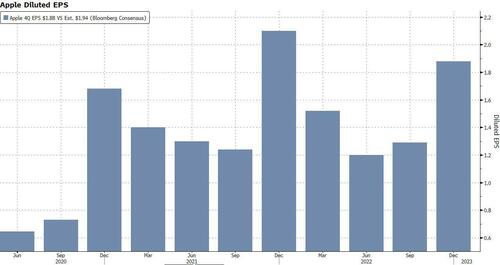 Commenting on the quarter, Tim Cook said that "during the December quarter, we achieved a major milestone and are excited to report that we now have more than 2 billion active devices as part of our growing installed base."
CFO Luca Maester chimed in: "our record September quarter results continue to demonstrate our ability to execute effectively in spite of a challenging and volatile macroeconomic backdrop. We continued to invest in our long-term growth plans, generated over $24 billion in operating cash flow, and returned over $29 billion to our shareholders during the quarter. The strength of our ecosystem, unmatched customer loyalty, and record sales spurred our active installed base of devices to a new all-time high. This quarter capped another record-breaking year for Apple, with revenue growing over $28 billion and operating cash flow up $18 billion versus last year."
Going back to the results, Apple missed consensus revenue in most product categories, with the exception of iPads, to wit:
IPhone revenue $65.78 billion, missing estimate $68.3 billion
Mac revenue $7.74 billion, missing estimate $9.72 billion
Wearables, home and accessories $13.48 billion, missing estimate $15.32 billion
IPad revenue $9.40 billion, beating estimate $7.78 billion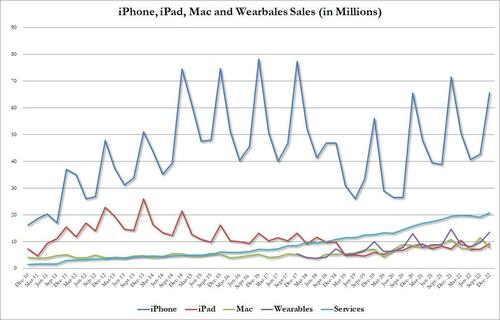 Of note: Apple recorded its first decline in iPhone revenue since the third quarter of 2020; yet in context, the 8% drop was still less than the 20% decrease reported by Samsung. Other major smartphone providers that have yet to report are expecting to see double-digit losses. Ironically, Apple may have fared comparatively well on smartphone revenue.
The silver lining: service revenue $20.77 billion, +6.4% y/y, beating estimates of $20.47 billion...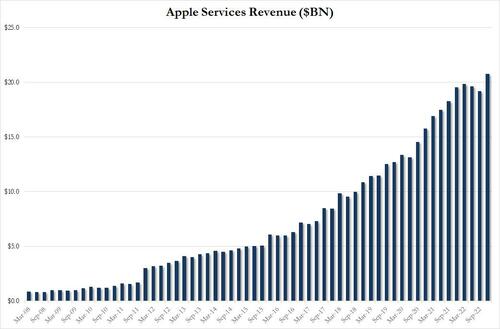 ... and rose 6.5% Y/Y, an improvement from last quarter's 5.0%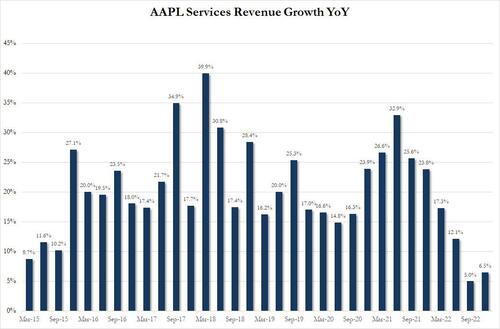 One other place where investors were pleasantly surprised was China sales, which at $23.91 billion, beat the estimate of $21.8 billion by more than $2 billion.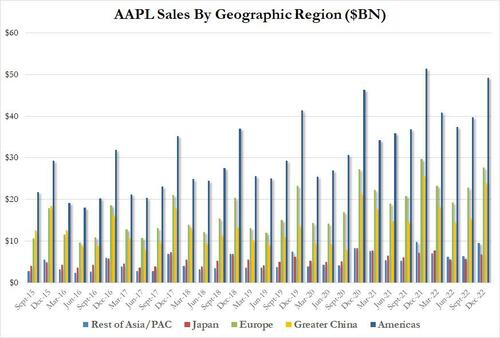 None of that changes the fact that AAPL's sales by region were uniformly negative across the board.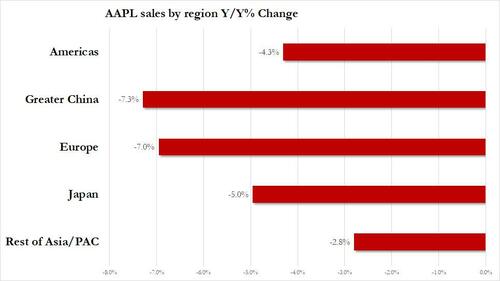 And another potential problem: AAPL's gross cash continues to slide, dropping to $165 billion, the lowest since June 2014...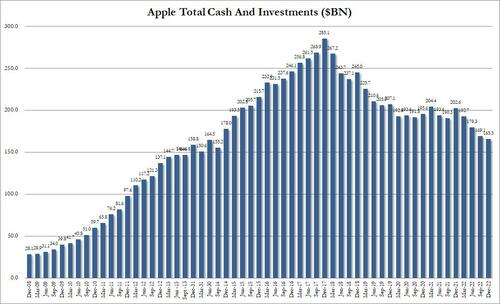 ... while cash net of debt rebounded modestly from $49 billion to $54 billion, just above a 12 year low with the company having spent hundreds of billions on stock buybacks. Let's hope that Apple doesn't actually need to use that cash.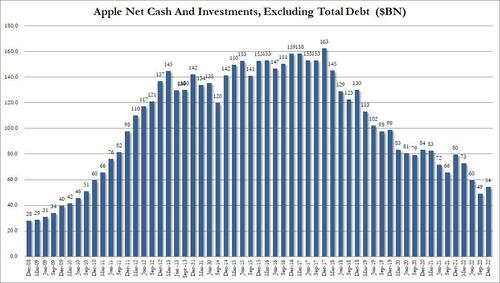 Commenting on the results, Bloomberg writes that the results show that Apple hasn't been able to dodge the tech slowdown afflicting many of its competitors. Demand for smartphones and computers has slumped in the past year, and Covid-19 restrictions in China added to Apple's woes during the holiday sales period. Timing was another issue: The company didn't launch new Macs and HomePods until recent weeks, missing the end of the first quarter.
In response to these disappointing earnings, the stock predictably slumped as much as 4% before recouping some losses, although even with the drop it is back to where it was... yesterday.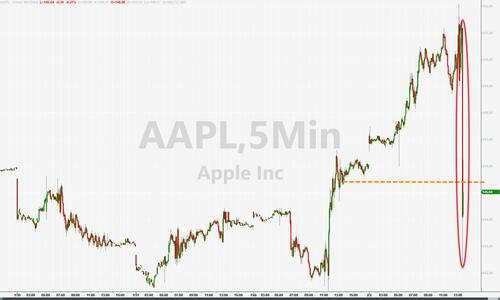 Loading...