---
Apple Soars After Blockbuster Quarter: Sales, EPS Smash Expectations, Buyback Boosted To $90BN
On the back of disappointing earnings from Netflix and Microsoft, offset by strong reports from Google and Facebook, traders were keeping a close eye on AAPL results this afternoon for a FAAMNG tiebreaker with Amazon still set to report tomorrow. And much to the delight of bulls, one quarter after Tim Cook's company reported blockbuster earnings including its first ever $100BN quarter on the back of the iPhone 12 release, moments ago AAPL reported earnings that once again blew away expectations on the top and bottom line, coupled with the announcement that its buyback is being increased to $90BN!
Here are the details:
Q2 Rev. $89.58BN, up a whopping 54% Y/Y and smashing estimates of $77.30BN
Q2 EPS $1.40, beating estimates of 99c, and more than double the $0.64 a year ago.
Q2 iPhone Revenue $47.94BN, up 66% Y/Y from $28.9BN, and also smashing estimates of $41.49B
Q2 Products revenue $72.68BN, +62% y/y, and almost $10BN above the estimate $63.13 billion
Q2 Net Income more than doubled to $23.6 billion from $11.25 billion a year ago
Some more details from the quarter:
Mac revenue $9.10 billion, +70% y/y, estimate $6.80 billion
IPad revenue $7.81 billion, +79% y/y, estimate $5.65 billion
Wearables, home and accessories $7.84 billion, +25% y/y, estimate $7.52 billion
Service revenue $16.90 billion, +27% y/y, estimate $15.65 billion
Greater China rev. $17.73 billion, +87% y/y
Earnings snapshot: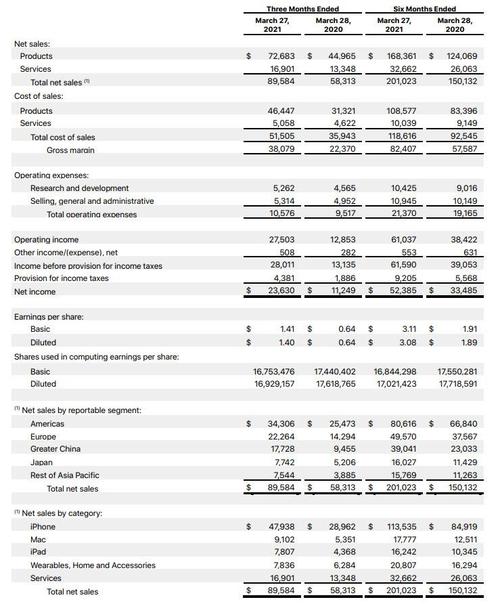 And in case the results were not impressive enough, the company also boosted its existing buyback authorization to $90BN - bigger than the market cap of 350 companies in the S&P500 - while also increasing its dividend by 7% to 22 cents from 20.5 cents previously. This follow's Google's $50BN buyback announcement yesterday.
Some more details:
While Mac revenue soared 70% to $9.1 billion, compared to $5.35 billion a year earlier (and above the $6.8 billion estimate) and iPad sales also surged by 79% to $7.81 billion, the highlight was iPhone sales which exploded by a whopping 66% to $47.9BN, up from $28.9BN, and blowing away expectations of $41.5BN.
As Bloomberg notes, this is a sign of significant demand for the iPhone after years of concerns that Apple buyers weren't keen to upgrade their devices. The iPad has also seen a marked rise in demand that coincided with the Covid-19 pandemic, which left people stuck at home, with a need to educate and entertain their children and themselves.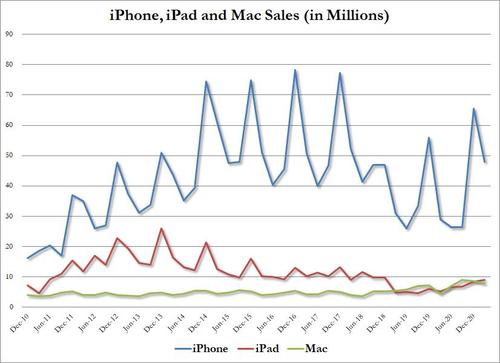 The geographic breakdown was striking, and shows the base effect in its full glory, with all regions posting double-digit growth, and Rest of Asia close to triple digits.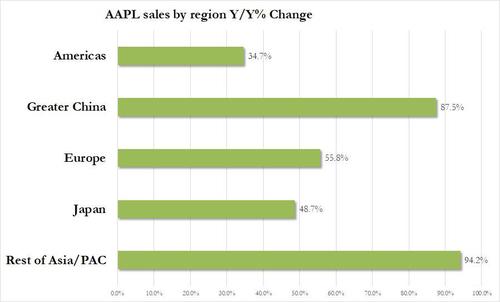 And in dollar terms: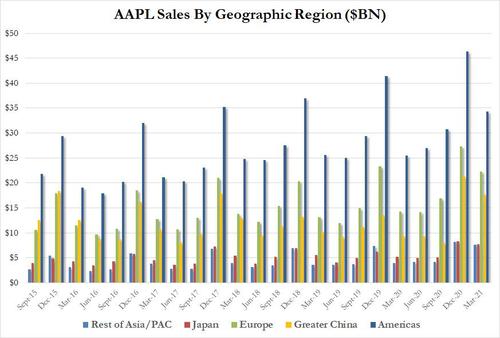 The closely watched Services soared to $16.901BN, beating expectations of $15.65BN...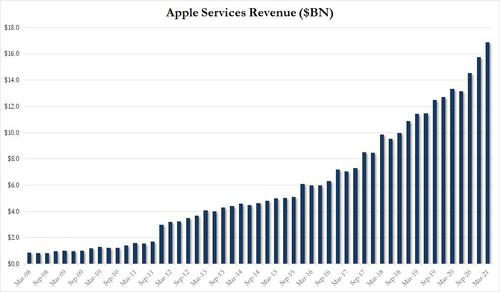 .... and up 26.6% from the $13.3BN a year ago.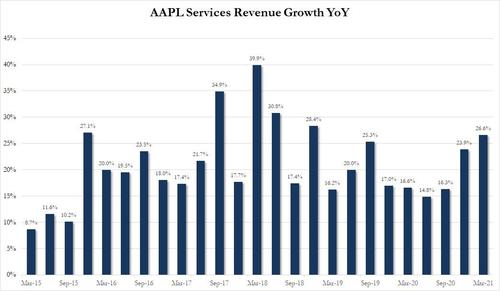 Unlike the brisk growth in Services, Apple's Wearables, Home, and Accessories segment had more muted growth relative to other categories, with total revenue rising 25% to $7.8BN from $6.3BN. As Bloomberg further adds, the HomePod, Apple's competitor to the Amazon Echo and Google Home devices, has struggled to stand out in the marketplace.
Unlike many of its peers, Apple said that it saw no material issue with supply chain constraints, while CEO Tim Cook said that "this quarter reflects both the enduring ways our products have helped our users meet this moment in their own lives, as well as the optimism consumers seem to feel about better days ahead for all of us. Apple is in a period of sweeping innovation across our product lineup, and we're keeping focus on how we can help our teams and the communities where we work emerge from this pandemic into a better world."
Commenting on the quarter, Apple's CFO Luca Maestri said that "these results allowed us to generate operating cash flow of $24 billion and return nearly $23 billion to shareholders during the quarter. We are confident in our future and continue to make significant investments to support our long-term plans and enrich our customers' lives."
"We are proud of our March quarter performance, which included revenue records in each of our geographic segments and strong double-digit growth in each of our product categories, driving our installed base of active devices to an all-time high" he added.
A quick look at the company's gross and net cash showed a rebound in the quarter, with the gross number rising from $195.6BN to $204.4BN, the highest in 5 quarters, while net cash was flat at $83BN, a level where it has been for the past year.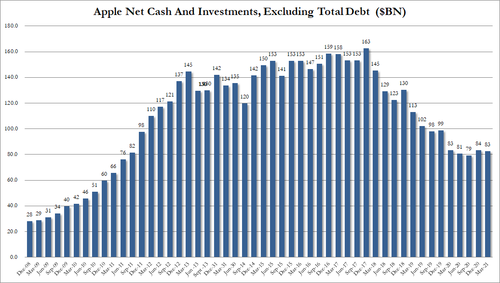 * * *
Following the stellar quarter, some key U.S.-listed Apple suppliers also rose in postmarket trading: Skyworks Solutions +3.4%, Cirrus Logic +1.7%, Broadcom +1.2%, Micron Technology +0.5%, Taiwan Semiconductor Manufacturing Co. +0.4%. It's also worth noting that Qualcomm, the world's largest smartphone chipmaker, gave a bullish forecast for the current quarter also after the market close. Those shares were up more than 5% in extended trading.
As for AAPL itself, the company soared in kneejerk response rising 3% to $138 after hitting $139.50 earlier.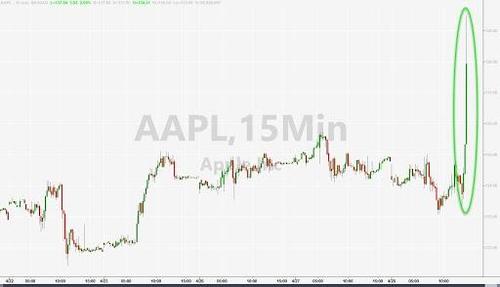 Perhaps the only blemish this quarter is the question some are asking: with more people getting vaccine shots and returning to the office, were this quarter's results the high-water mark for Apple's performance, especially with Macs and iPads? We will find out in three months.