---
Apple Soars After Smashing Expectations In Record Revenue Quarter
Two days day after Microsoft barely avoided a collapse into the hawkish Powell abyss, and one day after Tesla reported earnings that sent its stock crashing, investors held on to hope that at least the world's largest company and one of the very few gigacaps generals still standing, Apple, would somehow pull a rabbit out of its magic hat of tricks and report solid earnings pulling the Nasdaq out of what appears to be an almost certain bear market.
It won't be easy: while the holiday quarter is always Apple's largest, this time it's also expected to be Apple's largest in its history. On the Q4 earnings call, CEO Tim Cook said Q1 2022 revenue would top Q1 2021 revenue of $111.4 billion. So, at the very least, Apple needs to hit that mark to appease investors (any miss here and welcome Nasdaq bear market). But that may not be enough, since Wall Street consensus is even more aggressively, calling for Apple to report revenue of $119.05 billion, clearly an all-time record (Cook said in Q4 that Q1 earnings will have been even $6 billion stronger if not for the ongoing impact of the global chip shortage).
The bullish case is that if Apple beats Wall Street expectations on the iPhone, Services Mac, and Wearables/Home/Accessories, it would be reporting new all-time highs in terms of revenue for those categories. Surely that would be something Apple will tout heavily in its remarks. On the other hand, even the smallest weakness will be hammered by a market that so far has shown zero forgiveness now that the Fed is in hike it till you break it mode.
So with that in mind, was Apple able to save the Nasdaq from freefalling after hours and potentially starting the next bear market?
It appears that - at least at first glance - the answer is a resounding yes as Apple has done it again, and after reporting not only a record quarter that was up 11% Y/Y, but also a big beat on the top and bottom line, its stock is rising sharply after hours and pulling the Nasdaq along with it.
Here are the details from the just concluded holiday quarter:
Revenue $123.945 billion, beating estimates of $119.05 billion, and up +11% y/y from $111.439.
EPS $2.10 beating estimates $1.90, and up from $1.68.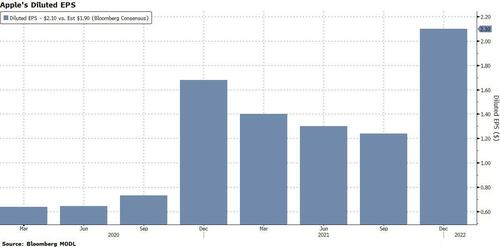 A breakdown by product category:
IPhone revenue $71.63 billion, +9.2% y/y, and beating estimates $67.74 billion
Mac revenue $10.85 billion, +25% y/y, and beating estimate $9.53 billion
IPad revenue $7.25 billion, -14% y/y, and missing estimate $8.11 billion
Wearables, home and accessories $14.70 billion, +13% y/y, beating estimate $14.16 billion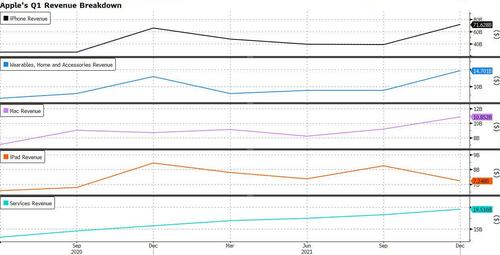 And some more details:
Service revenue $19.52 billion, +24% y/y, beating estimate $18.64 billion
Greater China rev. $25.78 billion, +21% y/y
Gross margin $54.24 billion, +22% y/y
Earnings snapshot: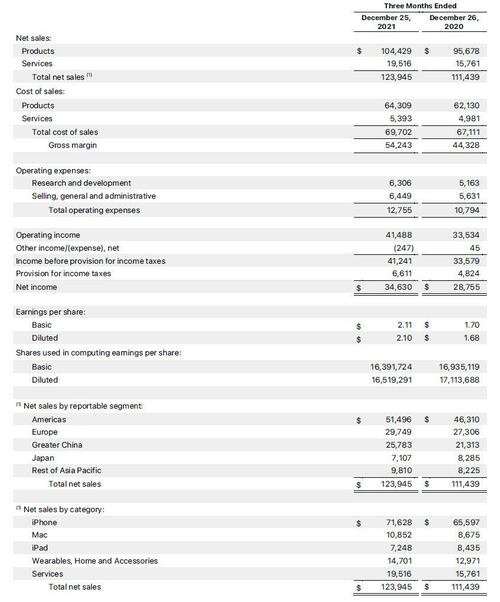 Commenting on the quarter, CFO Luca Maestri said that "the very strong customer response to our recent launch of new products and services drove double-digit growth in revenue and earnings, and helped set an all-time high for our installed base of active devices," said Luca Maestri, Apple's CFO.
Maestri also said that the company was returning even more cash to shareholders: "These record operating results allowed us to return nearly $27 billion to our shareholders during the quarter, as we maintain our target of reaching a net cash neutral position over time." This is up from $24 billion last quarter.
Perhaps most importantly, Maestri told CNBC that he sees easing of supply chain issues in the current quarter due to ongoing work with suppliers. He clarified that supply chain issues cost more yhan $6 BN in qtr, in line with guidance.
Still, a recurring theme for investors has been the chip shortages that are impacting major segments of the economy. Apple said it's not immune and missing out on billions of revenue because it can't get enough parts. And sure enough, Tim Cook said that supply chain constraints in Q1 were worse than in Q4.
Aside from that, Tim Cook was delighted: "This quarter's record results were made possible by our most innovative lineup of products and services ever. We are gratified to see the response from customers around the world at a time when staying connected has never been more important. We are doing all we can to help build a better world — making progress toward our goal of becoming carbon neutral across our supply chain and products by 2030, and pushing forward with our work in education and racial equity and justice."
As Bloomberg notes, that commentary and his CFO's don't tell us much about what happened behind the scenes and is in line with Apple's recent shift to linking itself to societal issues rather than trumpeting it's own successes.
As noted above, AAPL beat on all sales categories, with IPhone sales hitting $71.63 billion, +9.2% y/y, and above estimates $67.74 billion. Yet even after this record quarter, total iPhone sales remain below the peaks hits in 2016-2017. The only product miss was in iPad sales, which printed $7.24 billion, below the estimate of $8.1 billion. This comes despite the launch of the new iPad mini and a refresh to the low-end model. That said, there is an explanation for the miss and it's actually bullish: the iPad was a product that became a darling during the pandemic lockdowns as everyone switched to living life through a screen. So perhaps the drop in demand is further evidence that the world is exiting the covid pandemic.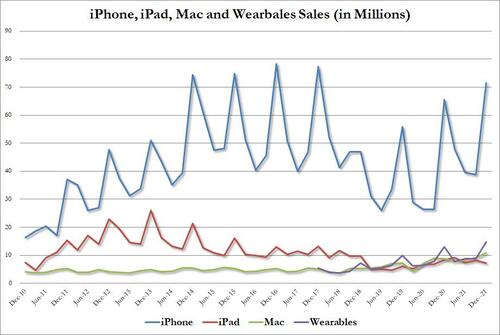 Wearables was also a record, with the new watch getting a special mention and in particular its health-related functions. That health-related functionality and business is still in its early innings, Cook said. The big beat in product sales was boosted by yet another record quarter for AAPL's Services division which rose to $19.52BN, beating expectations of $18.64BN...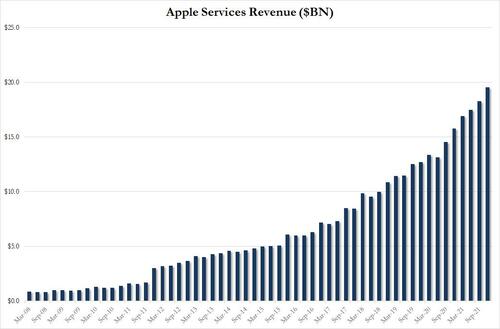 ... and up 23.8% from the $15.7 a year ago, although a slight drop sequentially from the 25.6% increase last quarter.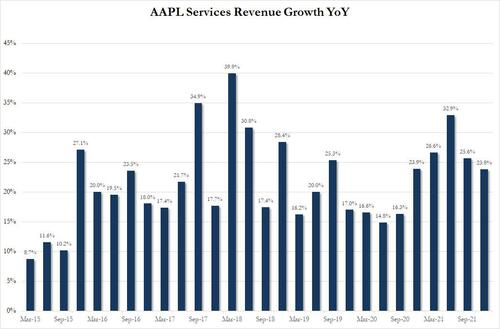 As Bloomberg notes, these numbers are especially impressive given how constrained the iPhone 13 and Apple Watch Series 7 were during Q1. Through December, shipments were delayed by several weeks. That has eased into Q2, so one could expect a strong follow up quarter.
Summarizing revenue growth by segment:
Total revenue grew 11% Y/Y
iPhone sales up 9.2%
Macup 25%
iPad down 14%
Wearables up 13%
Services up 24%
The geographic breakdown was also solid: every area showed a boost in sales, apart from Japan. The Americas remains its largest sales area with $51.59 billion of revenue in the quarter. China was up nicely too at $25.8 billion, a gain of about $4 billion from the same period a year earlier.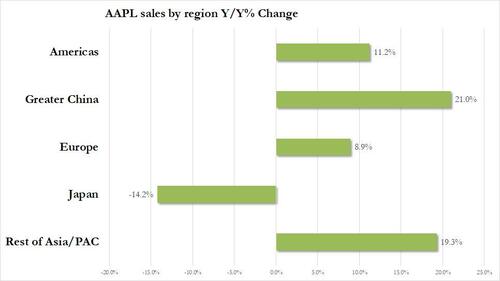 And in dollar terms: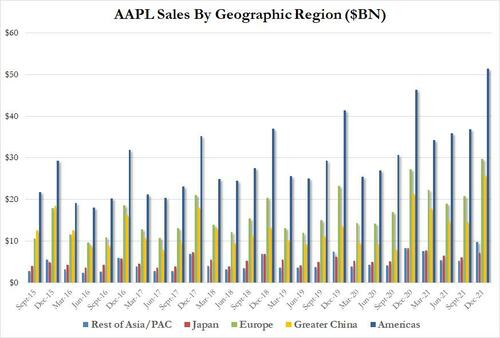 Still, a reminder that as we head towards the conference call (and as IBM shorts learned the hard way), Apple hasn't given a formal forecast for the current period, but may make some hints during the earnings call. We'll be relying on some contextual remarks, mostly from CFO Luca Maestri, again. As Bloomberg notes, analysts will try a number of different ways to extract details on product lines and what to expect going forward. If history is a guide, they'll only get partial answers.
Finally, a quick look at the company's gross and net cash showed a rebound in net cash, which rose to $80BN, up from $66BN in last quarter, which was the lowest level seen since March 2011.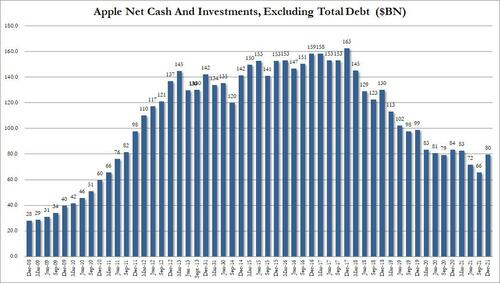 The stock initially couldn't believe just how good the results were but has since regrouped and is surging higher, up almost 4% in after hours trading...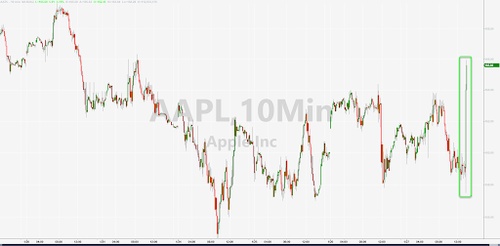 Apple's US suppliers are also up in postmarket trading with gainers including Skyworks Solutions +1.2%, Qorvo +1.5%, Qualcomm +1% and Taiwan Semiconductor Manufacturing Co. +0.6%. Most importantly, the news helped boost the Nasdaq to a 1.1% gain...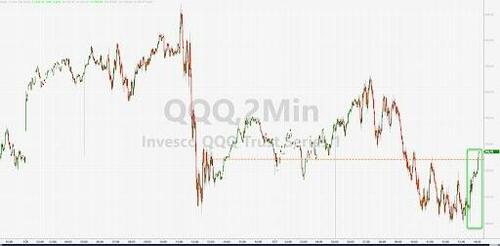 ... and battered big-tech stocks look set to climb on Friday if Apple's post-market rally holds. As is the S&P, whose biggest stock S&P 500 is advancing 3.4%.