---
April Payrolls Smash Expectations After Huge Downward Revisions; Black Unemployment Hits Record Low
Ahead of today's jobs report, which we previewed earlier and where median consensus expects a drop in payrolls to 185K (which would be the lowest since 2021) with unemployment rising to 3.6%, many joked that at this point the job report is so rigged and "adjusted" that Biden's Dept of Labor may as well just keep going with fabricated numbers until the 2024 election. After all, one look at the chart below which shows the number of consecutive beats heading into today's print, confirms what a farce the "data" has become: everything in the name of a beat and a favorable press conference soundbite.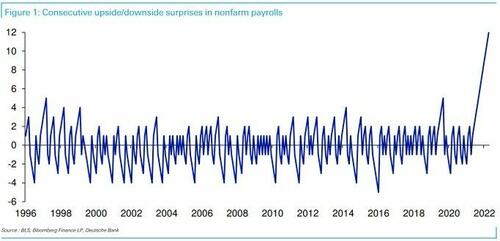 Well, the cynics were right once again because moments ago the BLS reported a record 13th consecutive month of payrolls beating expectations...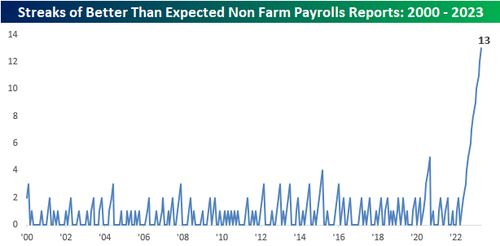 ... as April payrolls reportedly rose by 253K, a big jump from the the March number...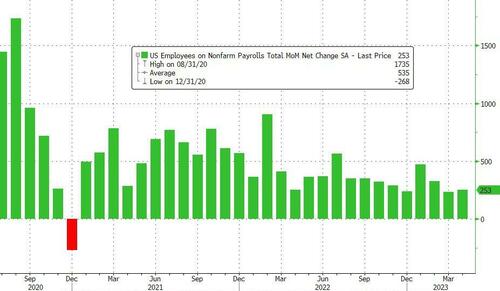 ... and what is a 3-sigma beat of expectations of 185K.
And speaking of previous prints, the March number was unexpectedly revised sharply lower, from a consensus-beating 236K (exp. was 230K) to a huge miss at 165K, a number which surely would have impacted the Fed's thinking and potentially put a premature end to the rate hikes. But wait there's more, because February was also revised lower by 78K, from +326,000 to +248,000, which would also have missed the whisper estimate.  With these revisions, employment in February and March combined is 149,000 lower than previously reported. And then there was a downward revision in January too... Combined, this is how the downward revision looked: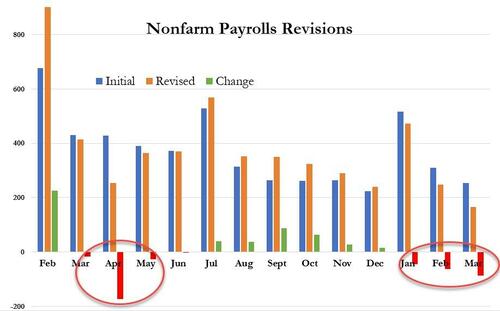 And just like that, we get confirmation that every BLS number is only gamed to beat the current month consensus estimate so that Biden's admin can take props for handling the labor market ":better than expected."
Turning to the unemployment rate, which we expect will also be revised dramatically higher just after the 2024 presidential election, it unexpectedly dropped from 3.5% to 3.4%, (an in fact 3.39% unrounded) stronger than consensus expectations for an increase to 3.6%.  Among the major worker groups, here are the the unemployment rates for adult men (3.3%), adult women (3.1%), teenagers (9.2%), Whites (3.1%), Blacks (4.7%), Asians (2.8%), and Hispanics (4.4%). Of note, the unemployment rate for blacks dropped to a record low.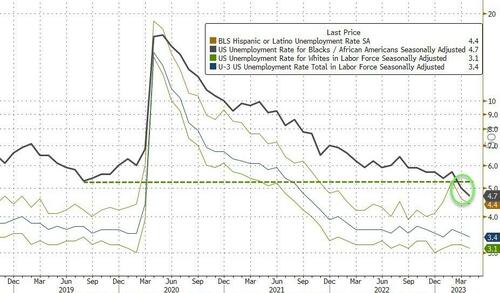 There were no surprises for the participation rate which at 62.6%, came right on top of expectations.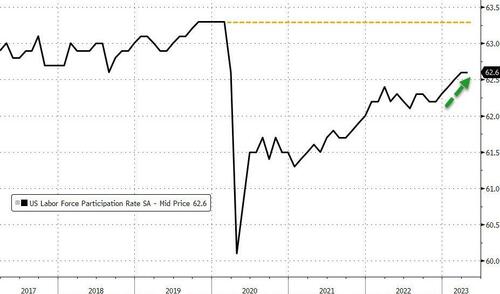 There was more: with most third party metrics showing a continued drop in wages, the BLS once again decided to portray the data in the best possible light for Biden, with average hourly earnings rising to 4.4% from 4.2%, (revised to 4.3%) and above the estimate of 4.2%...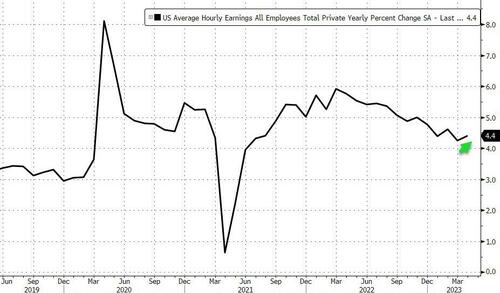 ... which translated into a remarkable 0.5% increase for the month of April alone.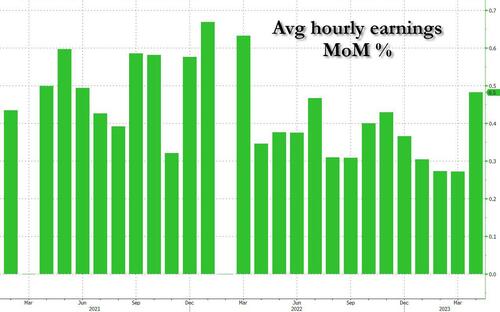 Some more details from the report:
The number of job losers and persons who completed temporary jobs decreased by 307,000 in April to 2.6 million.
The number of persons jobless less than 5 weeks decreased by 406,000 to 1.9 million in April. The number of long-term unemployed (those jobless for 27 weeks or more) changed little over the month at 1.2 million and accounted for 20.6 percent of the total unemployed.
The number of persons employed part time for economic reasons, at 3.9 million, was little changed in April. These individuals, who would have preferred full-time employment, were working part time because their hours had been reduced or they were unable to find full-time jobs.
The number of persons not in the labor force who currently want a job increased by 346,000 over the month to 5.3 million. These individuals were not counted as unemployed because they were not actively looking for work during the 4 weeks preceding the survey or were unavailable to take a job.
Among those not in the labor force who wanted a job, the number of persons marginally attached to the labor force increased by 191,000 to 1.5 million in April. The number of discouraged workers, a subset of the marginally attached who believed that no jobs were available for them, was little changed over the month at 364,000.
Looking at the actual job changes in April, employment continued to trend up in professional and business services, health care, leisure and hospitality, and social assistance.
Employment continued to trend up in professional and business services (+43,000). Over the prior 6 months, the average monthly gain in the industry was 25,000. In April, professional, scientific, and technical services added 45,000 jobs. Employment in temporary help services continued to trend down over the month (-23,000).
Employment in health care increased by 40,000 in April, compared with the average monthly gain of 47,000 over the prior 6 months. Over the month, employment continued to trend up in ambulatory health care services (+24,000), nursing and residential care facilities (+9,000), and hospitals (+7,000).
Employment in leisure and hospitality continued to trend up in April (+31,000), largely in food services and drinking places (+25,000). Leisure and hospitality had added an average of 73,000 jobs per month over the prior 6 months.
In April, social assistance added 25,000 jobs, in line with the average monthly gain of 21,000 over the prior 6 months. Individual and family services added 21,000 jobs over the month.
Employment in financial activities increased by 23,000 in April, with gains in insurance carriers and related activities (+15,000) and in real estate (+9,000).  To say that this is a laughable lie is an overstatement.
Government employment continued its upward trend in April (+23,000). Government had added an average of 52,000 jobs per month over the prior 6 months.
Employment in mining, quarrying, and oil and gas extraction rose by 6,000 in April and has risen by 102,000 since a recent low in February 2021. Nearly all of the April job gain occurred in support activities for mining.
Employment was little changed over the month in other major industries, including construction, manufacturing, wholesale trade, retail trade, transportation and warehousing, information, and other services.
According to the BLS excel model, almost no job saw a drop in workers.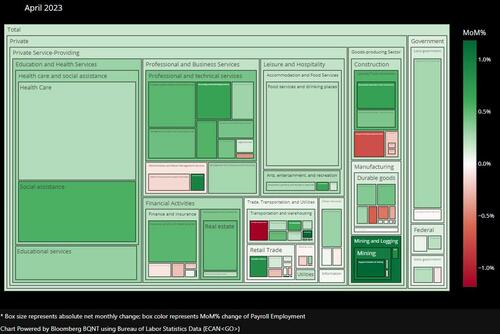 * * *
The data, should one choose to believe it, "takes the risk of a near-term rate cut off the table," says Ian Lyngen of BMO Capital Markets, hence the big moves in 2-year Treasuries. and the payroll report "leaves the wage-inflation spiral concern very topical ahead of next week's CPI print, according to Lyngen.
"Treasuries sold off in the wake of the data; a move driven primarily by the front-end of the curve. If nothing else, this will reinforce the Fed's bias to retain terminal for an extended period of time. We continue to like fading near-term rate cut expectations as Powell emphasizes the effectiveness of the macroprudential tools in containing banking sector contagion. From here, the performance of regional bank equities will be in focus and in this context it is difficult to want to go into the weekend with a significant duration short in place -- so watch for covering into the close."
Commenting on the report, Seema Shah, chief global strategist at Principal Asset Management said that "the Fed's dilemma of price stability versus financial stability continues to heat up. The economy is showing minimal signs of slowing even as the regional banking space faces significant stress. Markets have been hoping for slower economic data, in the hope that it will give the Fed space to cut rates. Today's jobs report has delivered the exact opposite."
Others underscored the Fed's dilemma: here is Bloomberg chief US economist Anna Wong who writes that "April's surprisingly robust jobs print shows that banking-sector strains since Silicon Valley Bank failed haven't yet affected the labor market. This print may erode Fed officials' confidence in their assessment that rates are sufficiently restrictive, and slightly boosts the probability of another rate hike at the June FOMC meeting."
"That said, it takes time for tighter credit conditions to flow through to the real economy, and the central bank will consider those lags. We expect credit conditions to tighten sharply in the second half of the year, and will likely see clearer signs of labor-market easing by the June FOMC meeting."
Finally, despite Goldman predicting that a 253K print would be in the 0-1% selloff bucket...
>275k S&P sell off 100 – 200bps
180k – 275k S&P sells off 0 – 100bps
125k – 180k S&P rallies 0 – 150bps
75k – 125k S&P sell off 50 – 150bps
<75k S&P sells off at least 200bps
... futures are trading near session highs for now, perhaps realizing that today's jobs report is far less important (especially after Powell said wage growth no longer matters) than Monday's SLOOS report, which will paint a far more accurate - and unrevisable - picture of the economy.
Loading...