---
"Literally Shocking Data" - April Payrolls Miss Huge, Just 266K Jobs Added Below Expectations Of 1 Million
With expectations of today's payroll print soaring, consensus expecting a whopping 1 million number and some forecasters calling as high as 2+ million, few were prepared for a miss (just 2 forecasters out of 79 were calling for a sub 800,000 print). And of course the market gods made sure to inflict the most possible pain on as many as possible, with the BLS reporting an April payroll of just 266K in April, a huge miss compared to the 1 million consensus estimate.
The miss was a 3.7 sigma miss to expectations....

... and the second biggest miss in history.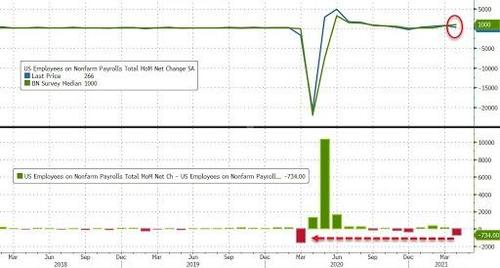 While the change in total nonfarm payroll employment for February was revised up by 68,000, from +468,000 to +536,000, the change for March was revised down by 146,000, from +916,000 to +770,000. With these revisions, employment in February and March combined is 78,000 lower than previously reported.
Commenting on the data, Bloomberg notes that the payroll data was "literally shocking" with the headline job growth of just 266k, an unemployment rate of 6.1%, and earnings growth of 0.7%" all speaking to a lack of low-skilled job additions." The figure was particularly weak given the revisions of -78k over the past couple of months.
The Household Survey data showed that while the number of employed people rose by 328K to 151.176MM, the number of unemployed rose for the first time in months, up 102K from 9.710MM to 9.812K as the civilian labor force jumped to 160.988MM from 165.558MM.
The unemployment rate also missed, printing at 6.1%, well above the 5.8% expected. Whites (5.3 percent), Blacks (9.7 percent), Asians (5.7 percent), and Hispanics (7.9 percent) showed little or no change in April.
Meanwhile, employment for those without a college education was still 8.3% below pre-pandemic levels in April versus 9% in March.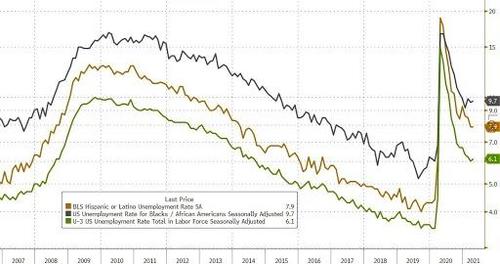 As Bloomberg notes, looking at the demographic cross-tabs by race and ethnicity and gender in the household survey, Hispanic or Latino men now claim the smallest employment shortfall, with total employment for that group 4.6% below pre-pandemic levels. Black or African American women still claim the largest shortfall, with employment 7.7% below pre-pandemic levels. But they were also the biggest gainers in April versus March levels.
The disappointing April payrolls leaves overall employment 8.2 million jobs short of its pre-pandemic level and is consistent with recent comments from company officials highlighting challenges in filling open positions. While job gains accelerated in leisure and hospitality, employment at temporary-help agencies and transportation and warehousing declined sharply.
The labor participation rate also disappointed, printing at 61.7%, above the 61.6% expected, but still higher than last month's 61.5%. The underemployment rate also fell to 10.4% from 10.7%.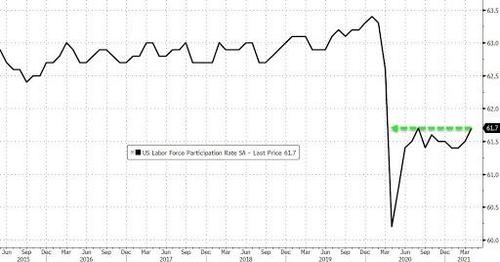 Another disappointment, if paradoxical, is that while the street was preparing for the first ever annual decline in hourly wages, the print was actually +0.3%, as fewer lower paying jobs were added. The average hourly earnings for all employees on private nonfarm payrolls increased by 21 cents to $30.17, following a decline of 4 cents in the prior month. In April, average hourly earnings for private-sector production and nonsupervisory employees rose by 20 cents to $25.45.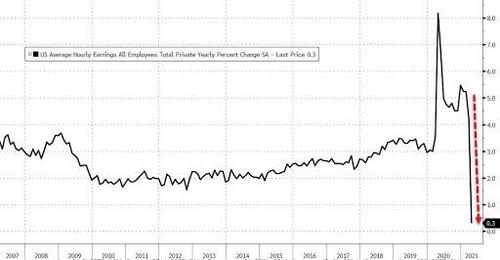 Not helping the hourly earnings print was an increase in the actual number of hours worked: the average workweek for all employees on private nonfarm payrolls increased by 0.1 hour to 35.0 hours in April. In manufacturing, the workweek and overtime were both unchanged over the month, at 40.5 hours and 3.2 hours, respectively. The average workweek for production and nonsupervisory employees on private nonfarm payrolls was unchanged at 34.4 hours.
Digging deeper in the report we find that workers unable to work due to bad weather was just 46K, while the historical average for April is 74k employees unable to work due to poor weather conditions.
Broken down by sector, in April, notable job gains in leisure and hospitality, other services, and local government education were partially offset by losses in temporary help services and in couriers and messengers.
Employment in leisure and hospitality increased by 331,000, as pandemic-related restrictions continued to ease in many parts of the country. More than half of the increase was in food services and drinking places (+187,000). Job gains also occurred in amusements, gambling, and recreation (+73,000) and in accommodation (+54,000). Although leisure and hospitality has added 5.4 million jobs over the year, employment in the industry is down by 2.8 million, or 16.8 percent, since February 2020.
Employment increased by 44,000 in the other services industry, with gains in repair and maintenance (+14,000) and personal and laundry services (+14,000). Employment in other services is 352,000 below its February 2020 level.
Employment in local government education increased by 31,000 in April but is 611,000 lower than in February 2020. Federal government employment increased by 9,000 over the month.
Employment in social assistance rose by 23,000, with about half of the increase in child day care services (+12,000). Employment in social assistance is 286,000 lower than in February 2020.
Employment in financial activities rose by 19,000 over the month, with most of the gain occurring in real estate and rental and leasing (+17,000). Employment in financial activities is down by 63,000 since February 2020.
Within professional and business services, employment in temporary help services declined by 111,000 in April and is 296,000 lower than in February 2020. Business support services lost jobs in April (-15,000), while architectural and engineering services and scientific research and development services added jobs (+12,000 and +7,000, respectively).
Within transportation and warehousing, employment in couriers and messengers fell by 77,000 in April but is up by 126,000 since February 2020. Air transportation added 7,000 jobs over the month.
Manufacturing employment edged down in April (-18,000), following gains in the previous 2 months (+54,000 in March and +35,000 in February). In April, job losses in motor vehicles and parts (-27,000) and in wood products (-7,000) more than offset job gains in miscellaneous durable goods manufacturing (+13,000) and chemicals (+4,000). Employment in manufacturing is 515,000 lower than in February 2020.
Retail trade employment changed little in April (-15,000), following a gain in the prior month (+33,000). In April, employment declined in food and beverage stores (-49,000), general merchandise stores (-10,000), and gasoline stations (-9,000). These losses were partially offset by employment increases in sporting goods, hobby, book, and music stores (+20,000); clothing and clothing accessories stores (+10,000); and health and personal care stores (+9,000). Employment in retail trade overall is 400,000 lower than in February 2020.
Employment in health care changed little in April (-4,000), as a job gain in ambulatory health care services (+21,000) was largely offset by a job loss in nursing care facilities (-19,000). Health care employment is down by 542,000 since February 2020.
Employment in construction was unchanged over the month. Employment in the industry is up by 917,000 over the year but is 196,000 below its February 2020 level.
In April, employment changed little in other major industries, including mining, wholesale trade, and information.
To summarize: there was not nearly enough jobs as employers can't find workers who opt for government stimulus instead; and the poor jobs number ensures that even more stimulus will be handed out, ad inf.
According to Minneapolis Fed president Neel Kashkari, there are people who are holding off re-entering the job market as they take unemployment benefits -- thinking the market will be even stronger in a few months when those payments run out.
"We know that dynamic is there. We also know there are massive childcare shortages that are holding back families from re-entering the workforce. That's disproportionately affecting women. And there are still a lot of people nervous about the virus."
That said, Kashkari also said that most of those factors holding people back from re-entering the workforce "should work themselves out" over the next few months if vaccinations continue.
And of course, it wouldn't be Kashkari if he didn't explain that today's dismal jobs report is just what the Fed wanted:
"For all those people who've been saying, 'Oh my gosh, the Fed needs to normalize quantitative easing,' today's jobs report is just an example of, we have a long way to go, and let's not prematurely declare victory."
Curiously, the White House had already planned a high-level response to this report. Joe Biden is meeting with his economic team and Treasury Secretary Janet Yellen will be attending the White House press briefing later today. It will be interesting to see how Biden spins this huge disappointment, which if nothing else, will allow the Fed to avoid taper talk for at least a few more months.
As for markets, the initial reaction is that bad news is good news, with tech stocks soaring as the short squeeze we warned about yesterday is in full force.