---
Archegos Fallout Tops $10 Billion As UBS, Nomura Report More Losses
For the world's bulge-bracket banks, the Archegos blowup is the gift that keeps on giving: Just when analysts thought that the busted family office's prime brokers had disclosed all of their losses, UBS surprised them by revealing in its Q1 earnings report that it had booked a $774MM loss due to the fund's implosion. Meanwhile, Japan's Nomura revealed that its losses had climbed to $2.85 billion, though the losses straddled two fiscal years, with 245.7 billion yen (about $2.27 billion) booked in the year ending in March, and another 62 billion yen ($573.4MM) for the fiscal year that started in April. Like Morgan Stanley, UBS determined that its losses from Archegos weren't significant enough to warrant an announcement ahead of a scheduled earnings release.
That $2.3 billion in red ink helped push Nomura to its worst quarterly loss since 2009.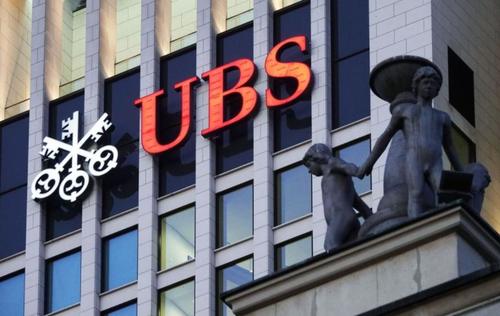 These latest disclosures brought the total losses from the Archegos blowup to more than $10 billion (keep in mind, this is at the high end of the range anticipated by JP Morgan analysts in a note to clients last month). This makes the Archegos blowup one of the "the worst trading incidents in finance in years," according to WSJ.
UBS CEO Ralph Hamers, who took the reins of Switzerland's biggest bank by assets in November, told analysts and reporters that he is taking the fallout from Archegos very seriously, and that the bank is reviewing its risk management controls. However, unlike its crosstown rival, Credit Suisse, UBS's investment bank still posted a strong profit. Ultimately, the Archegos losses took $434 million off net profit during the first three months of the year. UBS said that it had exited all of its Archegos positions as of April 23, and that any additional losses booked in Q2 were "immaterial". UBS added that FINMA has not issued any enforcement actions, instructions for risk reduction or capital add-ons at this point. Its total losses tied to Archegos amount to $861 million ($774 million for Q1 + $87 million for Q2).
Fortunately, like other banks, UBS's investment bank was bolstered by the revenue bonanza from underwriting debt and stock deals, which was up 69% in the quarter thanks to the SPAC boom.
Meanwhile, Deutsche Bank, which reports earnings on Wednesday, JPMorgan and Citigroup all managed to limit losses or avoid them all together.
In addition to UBS and Nomura, Credit Suisse Group AG lost $5.5 billion, Morgan Stanley lost $911 million and Mitsubishi UFJ Group warned of a $300 million hit. Goldman Sachs reported minimal losses, after the Vampire Squid and Morgan Stanley were the first to break ranks after all of Archegos's prime brokers proposed an ad hoc plan whereby all the brokers would hold the line. But once Morgan and Goldman started dumping Archegos' positions in massive block trades, the cat was out of the bag, prompting all of the brokers to follow suit. For CS, which had the largest exposure to Archegos relative to the bank's size, the heavy losses drove CS to its second straight quarterly loss, prompting the bank to fire a host of senior employees, including its risk-management chief along with the leaders of its prime brokerage and investment banking units.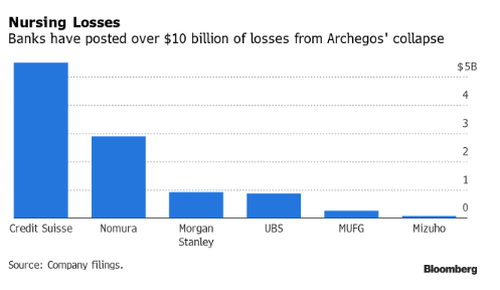 Source: Bloomberg
The fury directed at Credit Suisse management has metastasized in recent weeks - driven not just by the Archegos blowup, but by the collapse of Greensill, a trade finance firm that had sold billions of dollars in dodgy assets to CS and its clients - into a campaign to oust a board member at the bank's annual meeting on Friday. Harris Associates and Norges Bank Investment Management said they would vote against the reappointment of Andreas Gottschling, chairman of the bank's risk committee.
The Archegos fallout has inspired regulators in the US and Europe to push for more stringent exposure requirements for "family offices", like Archegos, which was founded by Bill Hwang, the former head of Tiger Asia, who has hired a high-profile PR team in the wake of his firm's collapse. Hwang used absurd levels of leverage to beef up his holdings, and for a while it worked: his personal fortune swelled by several orders of magnitude - from $300 million to some $20 billion, collateral that was then rehypothecated among various prime brokers to magnify the fund's positions to more than $100 billion, making Hwang - via his bankers - one of the biggest shareholders in ViacomCBS.
Guggenheim's Scott Minerd recently warned that another Archegos-style blowup is extremely likely, especially if resurgent inflation or some other destabilizing force triggers a sudden selloff in equity markets.