---
Archegos Margin Call Stocks Slide Despite Lack Of New BWICs
Update (845am): well that didn't take long to reverse: after ramping to session highs around the time the first US traders walked into their desks, the margin call stocks have since reversed and we trading near session lows as the US open nears and perhaps on expectations of a new round of BWICs from Goldman
* * *
One day after a historic plunge in several media and Chinese tech stocks which was started by the following BWIC from Goldman...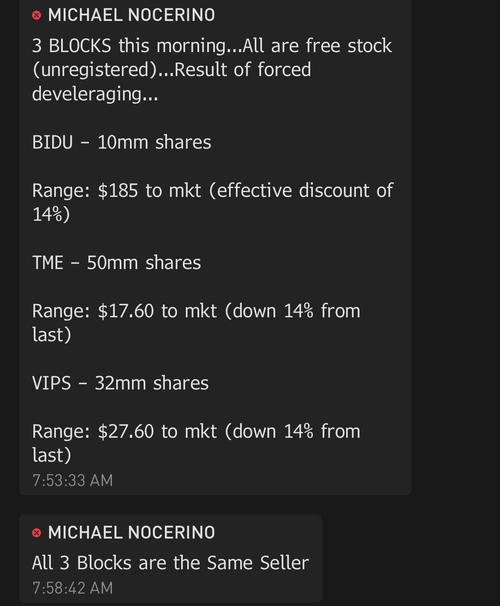 ... which we now know was the result of Archegos capital's terminal margin call, which may or may not be continuing today.
So while we wait to see if we get any new BWICs from Goldman, Morgan Stanley or other Prime Brokers hit, there has been a reversal in the impacted stocks, with ViacomCBS, Discovery and a group of Chinese ADRs now trading mostly higher premarket, reversing earlier declines.
A ViacomCBS block trade that launched on Sunday has priced at $47 per share, Bloomberg reported, after shares were said to be offered at $46-$47. As a result, ViacomCBS Class B shares were back down to $47.1, after rising up 1.5% to $48.94 premarket, They plunged 27% on Friday.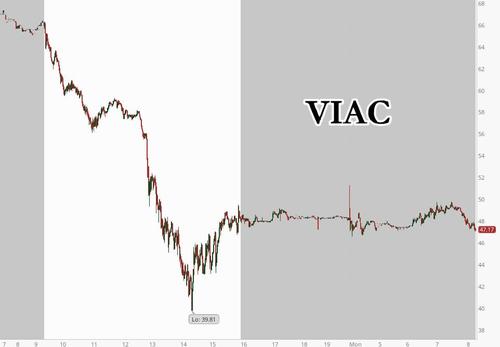 Discovery shares, which also tumbled 27% Friday, rose 4.1% premarket before fading much of the gains.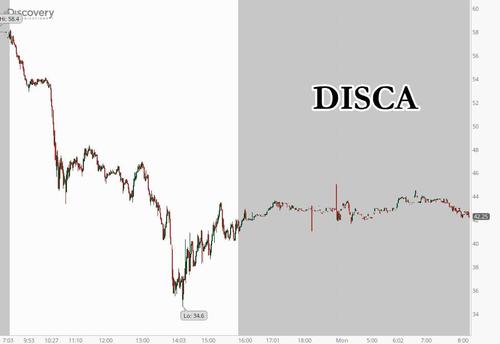 Shares in most of the other stocks involved in the block trades also rose: Tencent Music Entertainment rises 5.5%, reversing an earlier drop; Baidu rises 1.5%, also reversing an earlier drop, while Vipshop +0.1%, iQiyi +0.5%, Farfetch -1.9% and GSX Techedu -1.3%.