---
Arizona Considers $5.5 Billion Water Desalination Plant, 200-Mile Pipeline From Mexico To Combat Drought
Arizona's Water Infrastructure Finance Authority has been tasked with reviewing a proposal for a multibillion-dollar project to construct a water desalination plant in Mexico that would pump water through a 200-mile pipeline to the border state as part of an effort to counter its drought-driven water uncertainty. 
The Arizona Republic said the state water finance board recently passed a non-binding resolution supporting a potentially massive seawater desalination plant in Mexico's Sea of Cortez that Israel-based desalination plant operator IDE Technologies would construct.
Through reverse osmosis membranes, the plant would separate salt from seawater and pump the fresh water through a pipeline across the Mexico-US border to a reservoir west of Phoenix. IDE said the new plant could replace declining Colorado River water that flows through the Central Arizona Project's aqueduct.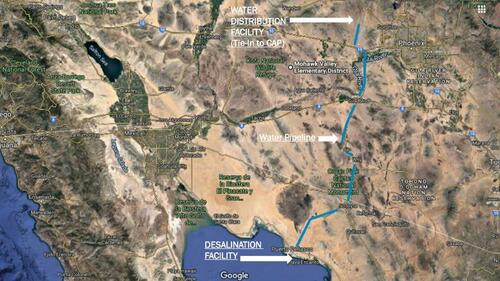 IDE claims the new plant could supply 300,000 acre-feet of water or enough for a million households. IDE aims to begin operations at the new plant by the second half of 2027.
The proposal still requires further review and support from the US and Mexico. 
Andy Tobin, a member of the water finance board and a former speaker in the Arizona House of Representatives, said, "folks are running out of water," suggesting "the risk here clearly, in the case, outweighs the rush" to get this project underway to prevent a worsening water crisis. 
If Arizona commits to the project, residents in Maricopa, Pinal, and Pima counties would pay higher water costs but at least won't have a fear of running out of water. 
The proposal also includes securing water for Mexico. The project could cost upwards of $5 billion to construct. Plans for a water desalination plant show the drought-stricken state quickly needs a solution to new water sources. 
Loading...