---
ARK Funds Could "Take In More Cash Than Blackrock" In December, ETF Expert Balchunas Says
The market distortions created by an engineered gamma squeeze of the NASDAQ know no bounds.
Yesterday we published a report highlighting Bloomberg's ETF expert Eric Balchunas' take on how ARK Funds could wind up becoming victims of their own success. 
Many of Balchunas' assumptions relied on sustained massive inflows into the ARK family of ETFs - notably its ARKK ETF - which we noted yesterday is currently seeing inflows of about $400 million per day.
And heading into the end of the holiday week, it doesn't look like those inflows are going to let up in the slightest. Balchunas took to Twitter on Thursday morning to note that ARKK had another record inflow of $380 million yesterday and that ARK Funds as a whole took in $814 million, lifting the family's AUM to $36.2 billion. 
In fact, that haul was so massive that Balchunas noted that ARK has a chance of taking in more cash than Blackrock in December. The funds are on pace to bring in $11 billion, he said.
ARK has legit shot at taking in more cash than BlackRock in December. They on pace to hit about $11b for the month, altho BlackRock can see big bumps, esp in Dec. pic.twitter.com/6fPPjEb9sg

— Eric Balchunas (@EricBalchunas) December 24, 2020
As we said, the continued flows are notable because Balchunas put out a great piece on Wednesday describing how the ARKK ETF could actually become a victim of its own success if cash continues to come in at the rate with which it has stacked up the last few years. 
ARK Innovation ETF, AUM...
Dec 2015: $8.2 million
Dec 2016: $12 million
Dec 2017: $376 million
Dec 2018: $1.1 billion
Dec 2019: $1.9 billion
Dec 2020: $18.4 billion$ARKK

Data via @ycharts pic.twitter.com/KthCtHxhVr

— Charlie Bilello (@charliebilello) December 23, 2020
Balchunas noted the ETF could have capacity issues due to it taking "in more in the past two weeks than in its first five years". ETFs don't have the option of closing, like mutual funds do, if they become to big. He notes that ARKK's $18 billion could "make it difficult to move in and out of smaller stocks".
"This one ETF has more in assets than the other 240 actively managed equity ETFs combined," he pointed out.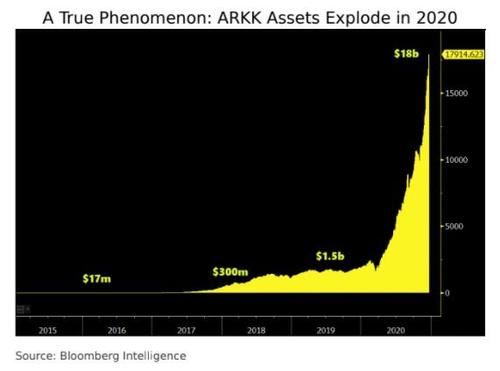 He also noted that the fund is naturally going to have to morph into a large-cap fund. "ARKK has shown a notable shift away from smaller companies and toward larger ones this year," he wrote, claiming the firm's "bulging assets" are likely the reason.
ARK's large cap exposure has jumped 10% to 77% of its portfolio this year, while small cap exposure has gone to "almost nothing" from its previous 13%. The number of small cap investments has also been cut in half, coinciding with the firms "massive" inflows. 
Most of the ARK ETFs saw record flows last night. All told the ARK Fam took in about $1b based on Monday's $2b in volume, which means 50% of its volume was creates, wow. So lookout for another $1b+ in flows tonight based off Tue's $2.3b in volume (ARK reports shares T+1). pic.twitter.com/WvTfQeYIzR

— Eric Balchunas (@EricBalchunas) December 23, 2020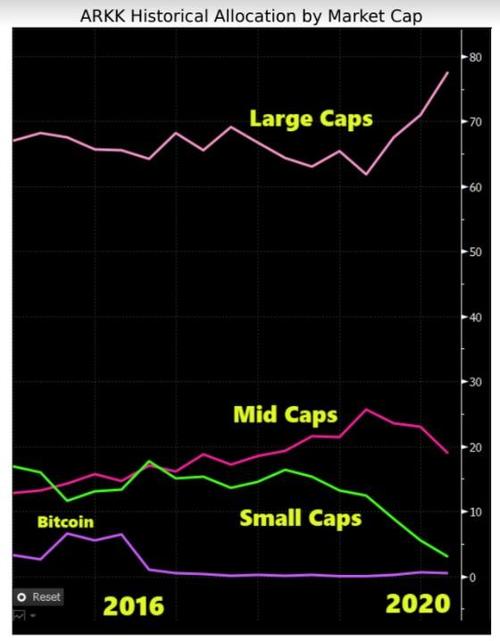 The company now owns substantial portions of other companies, as noted above. It holds 10% of the float of 15 companies - including 12% of PagerDuty - which it only owned 3% of at the beginning of the year. 
"At $50 billion in assets, a 2% allocation to a typical small-cap company would translate to about 40% ownership," Balchunas said. 
Balchunas predicted that unless there is a market correction, inflows will continue - just as we are seeing this week.
The ETF, which traded $2 billion in volume earlier this week, is trading about 44x more than it averaged this spring. He called ARKK the "biggest craze" since the DXJ - the currency hedged ETF that saw its outperformance turn to underperformance before losing "almost all of its $19 billion in assets". 
Dude.. $ARKK and $ARKG are 5th & 6th OVERALL in volume today. Trading more than $EEM, $HYG, all the Sector SPDRs. It's a literal stampede to get in. This is not normal. pic.twitter.com/GkVyCwGMwc

— Eric Balchunas (@EricBalchunas) December 22, 2020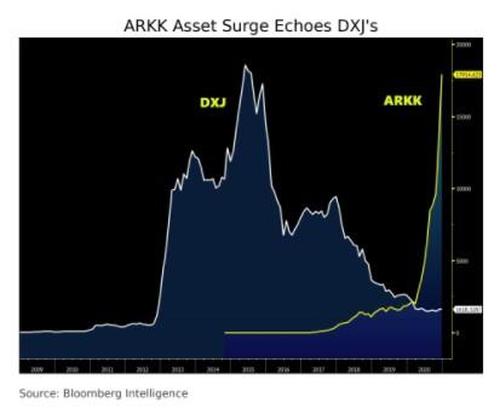 The note also pointed out that ARKK charges about 3x the average ETF at 75 bps. It also says that the ETF is 6th in potential fee revenue versus being 69th in assets. 
One note for context. Yes, ARKK makes a lot for an ETF, but it's nickel dime for legacy active MFs. EG Fidelity contrafund alone pulls in about 8x ARKK despite seeing like $35b in outflows (doesnt' matter tho aum still higher bc bull mkt subsidy)

— Eric Balchunas (@EricBalchunas) December 23, 2020
Recall, last week we noted that Cathie Wood would likely maintain control of ARK. Last month, the news broke that she was at risk of losing control due to Resolute Investment Managers exercising a call option from years prior that would make it majority owner of the business. 
We noted that back in November, ARK was delivered notice from Resolute Management Investors that they would be taking control of her firm due to an option in a deal Wood had negotiated back in 2016. The power shift, which Pensions & Investments noted last month wasn't especially amicable, came due to a 2016 agreement between Resolute and ARK, where RIM acquired a minority stake in the investment manager - with a call option "to purchase a controlling voting and equity interest in (ARK) that is exercisable in 2021."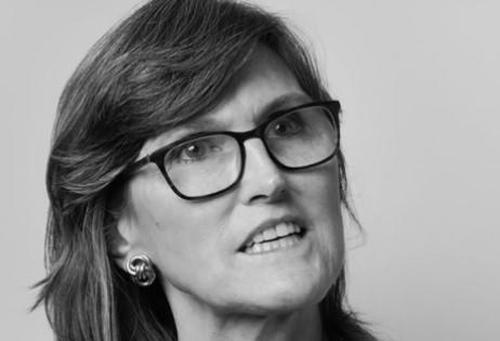 At the time the intent to exercise was announced, Wood had said: "On behalf of the employee-owners of ARK, we are disappointed that Resolute Investment Managers and its private equity owner, Kelso & Co., have chosen to issue this unwelcome notice that they intend to seize control of our business."
In speaking to Bloomberg last week about the potential power shift, Wood said: "That has quieted down and we are in negotiations, We wanted to be fair and square with our partner, and I think things will work out."