---
ARKK Traded $4.5 Billion Worth Of Shares On Monday
Monday likely marked a much needed gasp of air for Cathie Wood and those holding her ARK Innovation Fund (ARKK).
The fund, which is down 22% year to date according to Bloomberg, was able to finish the trading day on Monday up 2.82% at $73.54 per share after falling as low as $64.98, which marked a new 52 week low for the asset manager's flagship fund.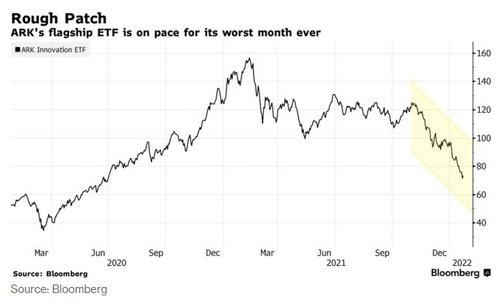 After being down as much as 9.1% during the intraday session, ARKK rebounded with the rest of the market starting at about noon eastern time and, by the close, had posted what felt like one of its few meaningfully positive green days in 2022 so far. 
Names like Shopify and Roku, which have been decimated over the last 2 months, helped ARKK's turnaround, rising 6.4% and 3.4% respectively. Surprisingly, the fund's biggest weighting, Tesla, still finished the day losing -1.47% and closing at $930 per share. 
Bloomberg ETF expert Eric Balchunas noted at the end of the cash session that the ETF had traded an "astonishing" $4.5 billion worth of shares, which was more than major ETFs like GLD, TLT and EEM. Balchunas called it "arguably good sign for ARK longevity" that people like to trade the ETF like a sector ETF.
$ARKK traded an astonishing $4.5b worth of share today. For context, that's more than any of these: $EEM, $GLD, $TLT, $F, $DIS. It also did another $2.7b in options volume. Again, this is arguably good sign for ARK longevity, ppl like to trade it, like a sector ETF. pic.twitter.com/xzuGR8FBPR

— Eric Balchunas (@EricBalchunas) January 24, 2022
Cathie is likely hoping that she can string a couple more green days together heading into the end of January. Recall, just yesterday Zero Hedge contributor Quoth the Raven pointed out that Wood, in the absence of her funds performing well, was instead switching how she reports her ARKK ETF's performance on its website. 
The ETF's "return" box on its website conveniently switched from a YTD return to a 5 year (annualized) return as of 12/31/2021, he wrote. Prior to that, in late December, QTR had also posted that Wood had "revised" language in an investor blog where she projected 40% annualized returns for her ARKK fund for the next five years.