---
ARK's "Space Exploration" ETF, Which Includes Names Like Netflix And John Deere, Starts Trading Today
ARK Invest's forthcoming Space Exploration ETF - which will trade beginning Tuesday under ARKX - was the talk of the town on Monday.
But it may not have been for the right reasons. ARK released the components to its forthcoming ETF, which had many on social media baffled as to some of its choices for its new product.
For example, some asked why the "Uber Eats of China" would be included in a Space Exploration ETF.
Maybe I'm missing something, but the ARK "Space Exploration ETF" includes Meituan, the Uber Eats of China. Do they even know that Meituan's "Space Pod" is actually just a food delivery robot. Dafuq? pic.twitter.com/vQwsPSzBiV

— Keubiko (@Keubiko) March 29, 2021
We questioned why the ETF would include names like John Deere...
Deere already makes Mars tractors pic.twitter.com/O6BHZ5iS3c

— zerohedge (@zerohedge) March 30, 2021
While others pointed out that ARK's ETFs are now apparently investing substantial size in other ARK ETFs - a strategy that seems slightly dangerous.
The second biggest weighting in ARK's Space ETF is ARK's own 3D printing ETF. This is wonderful pic.twitter.com/SflnM6u8mV

— Quoth the Raven (@QTRResearch) March 29, 2021
Among other notable names in the "Space Exploration" ETF were Netflix and online Chinese retailer JD.com. Regardless of what type of reasoning has been concocted behind the scenes at ARK to justify these purchases, we will soon which way the winds are going to blow on the new ETF, as ARKX will begin trading today, Tuesday.
ARKX is the first new "product" from Cathie Wood and ARK since 2019. Wood already has five actively managed funds and two that track indexes. While 2021 has been rocky for many of them, ARK continues to get play in the financial media due to ARKK's meteoric rise of 154% over the last 12 months (which, again, was mostly attributable in our opinion to a gamma squeeze in Tesla and the NASDAQ). 
Matt Benkendorf, chief investment officer of Vontobel Quality Growth, said: "It's certainly what the market has appetite for right now. Ark has shown a tremendous propensity to attract money, and all eyes are on them."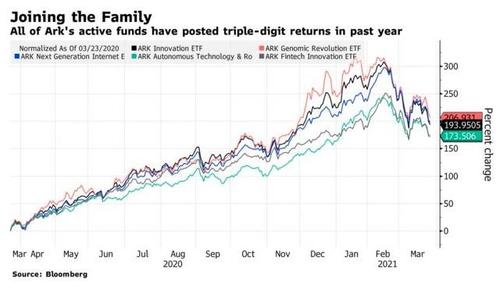 "They've certainly built up a loyal following of investors that will seed that fund well. It just seems like a good encapsulation of the market moment that we started the year in, with all the money going into these super high-growth, long-term ideas," said Ross Mayfield, investment strategy analyst at Baird.
Retail investor Mark Leclair told Bloomberg he "already set aside some money" to invest in ARKX: "I'm going to jump all over that. Cathie is doing her own research and analysis, and she is making conclusions that the Street just doesn't see. It really aligns with what I believe in which is trying to make smart investments in industry disruptors."
We noted months ago that short interest in ARK funds had "exploded" after ARK's banner 2020. Short interest as a percentage of shares outstanding for the firm's flagship $21 billion ARK Innovation ETF spiked to an all time high of 1.9% from just 0.3% two months ago, according to data from IHS Markit Ltd. and Bloomberg. 
We were one of the first to highlight how the law of large numbers could eventually stand in the way of Cathie Wood's success. So far, Wood has been able to avoid catastrophic collapse - but if you feel the gamma squeeze ending in the NASDAQ has only just started the volatility, the rest of 2021 could be one for the ages. 
Recall, days ago, we said the ETF could launch as soon as this week.