---
ARK's Wood Predicts "Very Serious" Commodities Correction, Claims EVs Will Keep Oil From Rising
During ARK's monthly webinar yesterday, Cathie Wood reached back and delivered what are likely to be some of her "greatest hits" when looking back on 2021. While it certainly takes a "visionary" to buck trends, Wood made some predictions during her webinar that we can only describe as bold.
In what many would argue is the beginning of a monstrous inflationary commodities supercycle, Wood took to her platform to suggest that, instead, we were heading for a large correction in commodity prices.
Of course, continued inflation and a rise in commodities (especially oil) would likely continue to drag investor cash out of the types of equities Wood has stocked her flagship ARKK fund with, from top to bottom. Ergo, her comments yesterday reminded us of the scene in the movie Liar, Liar, when Jim Carrey is asked why he is objecting to testimony in the courtroom and he replies frankly to the judge: "Because it's devastating to my case!"
First, Wood channeled her inner Gartman to opine on oil, stating there would be "a very serious correction in commodity prices" and stating she would be "surprised" if oil prices hit $70 again, according to Kitco News.
"Yields for the benchmark 10-year Treasury will likely stay within a range between 1.5% and 3% while oil prices are unlikely to go above $70 per barrel," she continued.
Apparently unaware that petroleum and oil are used for things other than vehicles, Wood said on her call that "electric vehicles will keep crude from breaking out."
"The scramble is more today than what we've seen in any other cycle. We will have a very serious correction in commodity prices. Many consider what has happened in the last 3 months to be the equivalent of the tech and telecom bust. We do not believe that this is the case in the least," Wood said.
She also called for deflation to be the zeitgeist in coming years: "Deflation, rather than inflation, will likely be the dominant theme in global markets in the years ahead due to technological innovation," she also said, apparently unaware of anything the Federal Reserve has been doing for the last 18 months. 
"While the investor rotation into value stocks has been 'powerful,' high-growth stocks remain attractive," she proclaimed, continuing to talk her book. 
Meanwhile, over in the world of copper and oil - well, we'll just leave these here...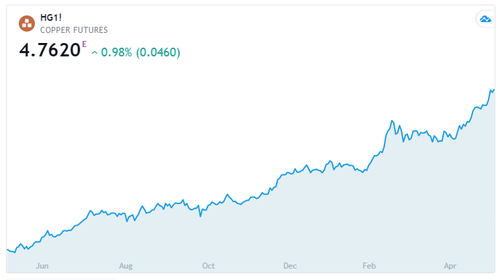 \
(Charts via DailyFX.com)