---
An Artist Dropped An $11.7 Million, 410lb Gold Cube In Central Park For A Day This Week
For one day and one day only, an $11.7 million gold cube sat in the middle of Central Park, protected by its own security detail.
The cube, called The Castello Cube, was the brainchild of German artist Niclas Castello, according to Artnet. It was made of 24-carat, 999.9 gold and weighed in at 410 pounds. Castello "is known largely for his sculptures and paintings partly inspired by artists like Jean-Michel Basquiat and Andy Warhol," Artnet wrote. 
It placed in Central Park for only one day this week, Wednesday. 
Castello told Arnet it was "a conceptual work of art in all its facets" and that he sought to "create something that is beyond our world—that is intangible."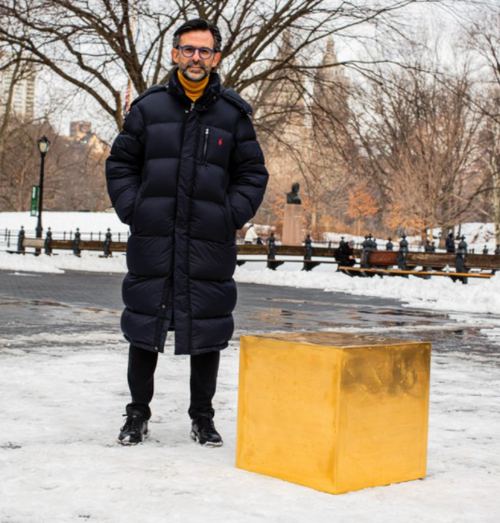 And what would art be nowadays without tying it to a cryptocurrency? That's exactly what Castello did, launching The Castello Coin alongside his physical artwork. The coin is available for purchase at an initial price of €0.39 ($0.44), the report says. There will also be an NFT auction later in February. 
Viennese gallerist Lisa Kandlhofer told Artnet: "The cube can be seen as a sort of communiqué between an emerging 21st-century cultural ecosystem based on crypto and the ancient world where gold reigned supreme."
The art was custom cast at a foundry in Aarau, Switzerland and needed a custom kiln due to its size and the temperatures needed to melt it. 
After leaving Central Park, the cube made its way to a "private dinner on Wall Street", the report says.