---
Aspen's Mansion Market Hit By 'Deep Freeze' As Normalcy Returns
Aspen, Colorado's luxury real estate market has cooled after a surge of wealthy folks fled US cities during Covid to the mountain resort town 8,000 feet above sea level. Bloomberg states year-to-date dollar volume for mansion contracts is down a whopping 40% compared to the same period last year as real estate faces a headwind thanks to a series of interest rate hikes by the Federal Reserve. 
Tim Estin, a broker with Aspen Snowmass Sotheby's International Realty, wrote in a new report that Aspen real estate has dramatically slowed in the first half of 2023. 
"The market has returned to pre-pandemic "normalcy" of the 2016-2019 years, a theme mentioned throughout the year so far," Estin wrote, adding "normalcy" means an "active market but not the explosive 'urban exodus' market of 2020-2022." 
Jennifer Banner, a Christie's International Real Estate Aspen Snowmass broker, said, "Inventory is still historically low." 
Estin said there were 175 property listings as of June, an increase from record lows in 2022, yet still significantly below the June 2019 average of 318 listings.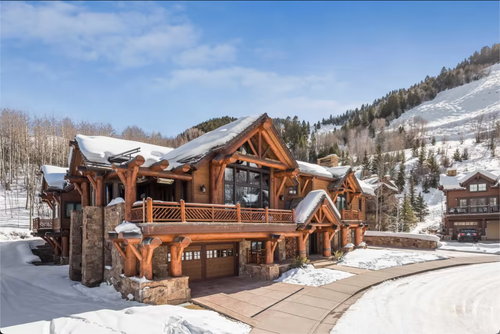 "Aspen is unique. We have very limited supply and great demand. So when we don't have a lot of inventory to sell, our sales decrease. It's not necessarily the lack of interest in being here; it's the lack of options for potential buyers," Steven Shane, a broker with Compass Inc., who, at the end of May, sold a $65 million mansion in downtown Aspen.
Low inventory is the reason why prices have remained stable. Bloomberg said, "As of June 31, the average price per square foot of a single-family home in Aspen was $3,150, more than three times the figure in 2019: $1,048 per square foot. Between Q2 of 2022 and Q2 of 2023, the average home sale price per square foot was up 6%." 
Jonathan Miller, president and chief executive officer of appraiser Miller Samuel Inc., said, "Even though the majority of buyers pay in cash, Fed policy is reflective of not just mortgage rates, but also the financial markets. And this is a very affluent market. They watch the market, and it just adds a layer of uncertainty. As a result—whatever housing market you're looking at in the US—nearly all of them have seen fairly large declines from unusually elevated levels in the past couple of years."
Brokers said high-end homes over $10 million should experience continued strength this year. Some expect prices to cool but will never return to a pre-pandemic level. "I believe there'll be an adjustment, but certainly not to pre-Covid levels," Shane said. 
So a combination of tighter financial conditions and mounting macroeconomic uncertainty has sent a deep freeze through Aspen's mansion market. 
Loading...