---
Fed President: We Should Have A Discussion About Guaranteed Basic Income
Earlier today we briefly touched upon the recent chaos in 10Y yields and Eurodollars, sparked by growing source of much consternation and confusion at the Fed, namely the timing of the next QE taper, which if the 2013 example holds, would lead to a catastrophic market crash. We quoted DB's Jim Reid who wrote that "we've only had 7 business days this year and we've already had a full 360 degree tapering debate played out by the Fed." It's not just tapering, mind you: the same clueless hacks who brought the global economy beyond the edge of collapse and only the injection of $4 billion in liquidity per day ($120BN/30) is keeping everything from imploding, are just as confused about when to hike rates. Consider the following recent statements:
Bloomberg also picked up on this point and echoed our observations, writing that "Federal Reserve officials are beginning to split over when they may need to start pulling back on their massive monetary stimulus, drawing nervous glances from investors who remember how markets were roiled during the 2013 taper tantrum."
In the past week, four of the Fed's 18 policy makers have publicly raised the prospect they may discuss reducing bond buying -- currently running at $120 billion a month -- by year's end. In contrast, several others have called the debate premature and Fed Vice Chairman Richard Clarida, the most senior central banker to weigh in, has said he doesn't expect any changes before 2022.
He may not expect it, but traders are: investors ramped up yields on Treasuries to nearly 1.20%, before two strong auctions helped ease rates which were redlining to the point that stocks started selling off. It also prompted coordinated verbal intervention by two of the Fed's top three officials: Fed vice chair Clarida and governor Lael Brainard spoke on Wednesday and each sought to assure markets that no tapering, and certainly no rate hikes are coming any time soon.
To wit, Brainard pushed back against suggestions the central bank could taper its bond-buying program later this year, arguing the U.S. economy will need that monetary support for "quite some time."
"The economy is far away from our goals in terms of both employment and inflation, and even under an optimistic outlook, it will take time to achieve substantial further progress," Brainard said Wednesday in a virtual speech to the Canadian Association for Business Economics. "Given my baseline outlook, I expect that the current pace of purchases will remain appropriate for quite some time."
Clarida went further - as in beyond the purposefully nebulous "quite some time" - and said that the Fed will not raise interest rates until inflation has been at 2% for a year.
"I went into this quite skeptical about makeup strategies as a practical tool for central banks. And you'll see that there really is not much of a make-up element in this at all, other than we're not going to lift off until we get 2% inflation for a year."
Those two are the doves. What about the hawks?
One among them is Atlanta Fed president, Raphael Bostic, who felt the need to make amends for his blasphemy from last week when he said last Thursday that the U.S. economy could be stronger than expected by midyear, which could lead to an earlier-than-expected tapering of bond purchases.
"In our statement, we said we wanted to make significant progress towards the goal. I don't think we necessarily have to get to the goal," Bostic said in a televised interview with Fox Business recorded Wednesday and broadcast Thursday.
He then shocked markets when he said that "I'm definitely open to the possibility that we may pull it back sooner than people expect" and added that "coming into the summertime, going into the fall, this economy should be rolling pretty well, if the vaccine distribution happens in an appropriate way. If it rolls well, we may see a lot more strength than I think some people are projecting."
The implication was clear: tapering could begin as soon as this fall.
Oops: bonds immediately puked at this mere hint that tapering could start in just a few months, and sent 10Y yields surging until the Fed entered full jawboning and damage control mode.
Yes bizarrely, not having learned his lesson, on Monday Bostic once again hit the newswires with his surprising forecast that the Fed could hike rates as soon as mid-2022 or early 2023.
"I do think there is some possibility that the economy could come back a bit stronger than some are expecting," Bostic said on Monday.

"If that happens, I'm prepared to support pulling back and recalibrating a bit of our accommodation and then considering moving the policy rate. But I don't see that happening in 2021. A whole lot would have to happen for us to get there. And then we will see into 2022, maybe the second half of 2022 or even 2023 where that might be more in play," Bostic says in virtual discussion hosted by the Rotary Club of Atlanta
And since tapering would need to take place at least 6-9 months before this, the rates selloff resumed. It's also why both Clarida and Brainard had to step up today and explain there would be no rate hikes until 2023 at the earliest.
Well, since "three times is enemy action", Bostic - who wasn't done - and made a third appearance within a week the very next day, took every precaution not to screw it up again, which is why - wearing his best viral expert hat - he said that the distribution of vaccines in the U.S. is off to a slow start and continued delays would lead to a weaker, more protracted economic recovery.
"This is a huge logistical challenge and there have been hiccups to start," he says. If there are delays, "then that real recovery is not going to start for that much longer and it will be more difficult and more protracted."

"Until the public-health issues get resolved, the economy will not be able to just move forward in a robust and strong way as possible" he said adding that getting the population vaccinated is "hugely important."
"We might actually see rebounds in inflation that are stronger than what people are expecting and we have got to leave ourselves open to that possibility. I'm going to be watching very closely to see how strongly inflation rebounds and I am hopeful we will get to our 2% target faster rather than slower."
Yes, yes... all predictable damage control for a central bank which is only obsessed with keeping risk assets high and yields low.
But what did surprise us, is what he said at end of that presentation - which incidentally was in the form of a virtual Q&A session hosted by none other than Goldman Sachs. Because what the Atlanta Fed president briefly touched upon next, is precisely the endgame: namely guaranteed government income to those who want it... for life. Also known as Universal Basic Income.
While Bostic was laconic and did not say much, what he did saw was sufficient revealing to know what's about to come next:
"The guaranteed basic income discussion is an important one. I think that conversation is one we should continue to have and think about."
What's universal basic income, you ask? Think helicopter money and magic money tree, on steroids.
And with that all discussions about rate hikes, "taperings", or anything else for that matter is moot, because the only way the conversation about guaranteed basic income - where the Treasury sells unlimited amounts of debt to "fund" UBI, debt which is purchased by the Fed - makes any sense is if the Fed ensures that rates can never again rise. Which is why all those traders panicking about rising yields, or CTAs who are now shorting 10Y yields, and as the following chart from Goldman confirms, they are - just as we said they would once yields rose above 1.10%...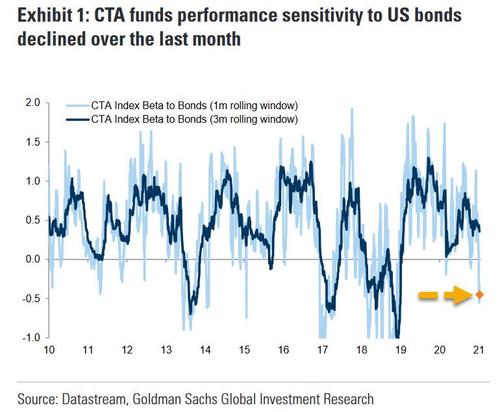 ...can relax: yes, yields can go up, they may hit 1.50%, even 2.00% or slightly more, but that's it because at that point the Fed will have to regain control, and it will, as the alternative is the bursting of the biggest bubble in history and the end of the western way of life.