---
Bank Of America Will Start Bundling EV Charging Stations With EV Auto Financing
Oh good, more debt.
As if we didn't have enough of a looming problem in the world of automobile loans, Bank of America is now starting a new trend: tucking more items into their auto loans. In this case, they are starting to bundle at-home electric-vehicle chargers as part of their auto loans, according to a new report from Bloomberg this week.
The bank says it is "anticipating demand for the products will increase as buyers turn away from gas-powered cars". And while the bank may be right, the chargers will add to the amount financed by borrowers when they take on their auto loan - at a time when auto loans are teetering on the brink.
Fabien Thierry, head of consumer vehicle products, told Bloomberg: "Bank of America has been supporting the electrification, and we've been saying that we want to be one of the EV financing leaders."
He said he believes the bank is the first to offer the service. The charging stations can range from $200 to $2,000 generally, while the average price for an electric vehicle in the U.S. is about $65,000. 
Thierry said that more EV-centered initiatives are on their way for the year ahead.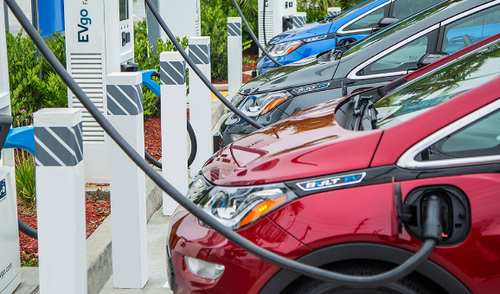 For those readers who are unfamiliar with the auto space, we urge you to read some of our recent articles on the topic of car prices - which alongside housing, has been the biggest driver of inflation in the past 18 months - and more specifically how these are funded by the US middle class, i.e., car loans, and last but not least, the interest rate paid for said loans. Here are a few places to start from the second half of 2022:
Recall, we wrote months ago that at this stage in the looming credit bubble, people were starting to take on second auto loans with the knowing intent on defaulting on their first.
As Twitter's CarDealershipGuy - who claims to be an anonymous auto-industry CEO and whose analysis has been featured in places like the NY Post and who frequently Tweets about the state of the auto market - laid out a long thread:
"This morning I discovered something *extremely* alarming happening in the car market, specifically in auto lending. I'm now convinced that there is a massive wave of car repossessions coming in 2023," he wrote.
Recapping much of what we said above, he noted that over the past 2 years, many people took out exorbitant loans on cars and while car values were inflated (and still are) but many people simply had no choice and bought an overpriced a car. Then, echoing the Fitch assessment, he notes how those buyers are underwater: "Car valuations are now plummeting. Some cars have declined in value as much as 30% y/y. And these same people that took out these big loans are now 'underwater'. Basically, they owe banks more on these cars than they are worth. And the banks are well-aware of this."
The punchline is his personal experience from late last week. "This morning, one of our General Managers opened up DealerTrack — a portal that dealers use to communicate with auto lenders — and highlighted something very concerning. 9 of our lending partners have started WAIVING 'open auto stipulations' for consumers."
What this means, he explained, is that once consumers are stuck with a vehicle they paid too much for, they can't trade it in without putting some money up front to cover the difference of what is owed on it versus what it is worth. At that point, he notes, "Dealer can't sell consumer a car, Consumer can't buy a car, And, you guessed it, lender can't finance a car!"
The lender then knows that most consumers are stuck and waives the open auto stipulation - meaning they allow the consumer to buy the new car with a second loan knowing they already have a first one. But the lender does it because they know that the buyer will default on the old, other car.
Cue default avalanche: "This is NOT normal. But it's the only way lenders can finance cars and dealers can put cars on the road. And the implications of this will be tons of repossessions," the CEO wrote.
Loading...