---
With Bakhmut Hanging In Balance, Will Putin Order Takedown Of Wagner Boss?
The bizarre spat between Wagner mercenary group and the regular Russian military chain of command has continued exploding into public view, now reaching a full-blown crisis for Moscow as the fate of the Bakhmut front hangs in the balance.
Wagner chief Yevgeny Prigozhin claimed Friday that the Russian army is abandoning its positions near Bakhmut. "This is not called regrouping, this is fleeing," he said in audio statement posted to Wagner's social media channels.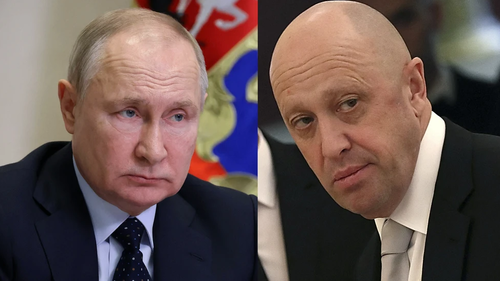 He additionally alleged that Russian troops "simply went fleeing" from positions around the north and south of the strategic Donetsk city. "The flanks are failing. The front is collapsing," he added.
But the defense ministry (MoD) was quick to reject the new assessment from Prigozhin, who this week has been begging for more ammunition, while threatening to pull his forces if resupplies continue to be blocked or falter. The MoD said their are units being regrouped and progress is being made.
Prigozhin retorted that "Attempts by the defense ministry in the information field to sugarcoat the situation - it's leading and will lead to a global tragedy for Russia." Prigozhin has previously called the generals "clowns". Further according to statements from the Wagner chief this week:
"Those territories that were liberated with the blood and lives of our comrades … are abandoned today almost without any fight by those who are supposed to hold our flanks."

Earlier in the week, Prigozhin marred Russia's May 9 Victory Day celebrations with public and foul-mouthed criticisms of the country's top military officials.

"Today they [Ukrainians] are tearing up the flanks in the Artemovsk [Bakhmut] direction, regrouping at Zaporizhzhia. And a counteroffensive is about to begin," he said Tuesday. "Victory Day is the victory of our grandfathers. We haven't earned that victory one millimetre."
Without doubt Prigozhin has seen his political star rise following Wagner's spearheading victory in places like Soledar. He's also a personal friend (and formerly his chef) of President Putin, but many are starting to ask: how far can Prigozhin go with his blasting both military and political leadership?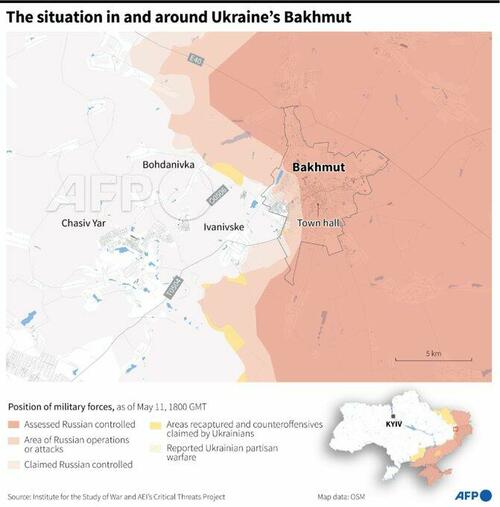 At this sensitive moment where the tide of the Ukraine war hangs in the balance for the Kremlin (Bakhmut long being seen as a strategic 'turning point' in the east), how politically expendable is Prigozhin? How much can he get away with? He seemed to even reference Putin derogatorily as a "happy grandfather" who is ignorant of the real situation on the ground.
There are Western media reports that the Kremlin is preparing to take down or silence the Wagner chief...
"If it goes on like this, the official security forces will definitely stop it."https://t.co/GQha2Uqn9q

— The Daily Beast (@thedailybeast) May 10, 2023
The Washington-based hawkish Institute for the Study of War is posing this key question, among others:
It may seem surprising in a country where criticizing the military can potentially cost a person a spell in prison that Prigozhin gets away with strident criticism of Putin's generals. But Putin presides over what is often described as a court system, where infighting and competition among elites is in fact encouraged to produce results, as long as the "vertical of power" remains loyal to and answers to the head of state.

But Prigozhin's online tantrums to be crossing the line to open disloyalty, some observers say.

In a recent Twitter thread, the Washington-based think tank Institute for the Study of War said, "If the Kremlin does not respond to Prigozhin's escalating attacks on Putin it may further erode the norm in Putin's system in which individual actors can jockey for position and influence (and drop in and out of Putin's favor) but cannot directly criticize Putin."

Speculation then centers on whether Prigozhin is politically expendable, whether his outbursts are a sort of clever deception operation — or, more troublingly for Putin, whether the system of loyalty that keeps the Kremlin running smoothly is starting to break down.
2/ #Prigozhin referred to a "happy grandfather" figure who "thinks that he is good" during a discussion of ammunition shortages and #Russia's future prospects in #Ukraine.

— ISW (@TheStudyofWar) May 10, 2023
Adding to the pressure on the Kremlin, Western headlines are beginning to take note that Prigozhi's tirades are now seeming to take aim at Putin himself. One reads: "Humiliation for Vladimir Putin as boss of the Russian private military company goes into public meltdown."
Prigozhin invited the leaders of Russian defense ministry to Bakhmut to stop their fleeing troops. He also said that Wagner PMC was "using their ammunition to stop the fleeing servicemen of the Russian army".

(From Prigozhin's response to Viktor Sobolev, member of defense… pic.twitter.com/zxcfZPTeu1

— Anton Gerashchenko (@Gerashchenko_en) May 12, 2023
How far can Prigozhin go?
Loading...