---
Bank of America Issues $2 Billion Bond To Fight "Race Inequality"
In our bizarro world in which the Fed, having failed at sparking wage inflation (and is now hiding behind the semantic construct of Average Inflation Targeting which gives it leeway to keep rates at zero for decades to come), has instead pivoted to levitating the stock market as the primary source of social wealth creation, is now seeking to combat climate change,  has become an expert epidemiologist,  and has even been tasked with ending racial inequality (which is delightfully paradoxical since it is the Fed that is behind the biggest wealth divide in history), it should probably come as no surprise that banks which are behind the biggest corporate debt bubble in history, are now selling debt under the absurd virtue-signaling guise of "fighting racial inequality."
No really: last week Bank of America issued a $2 billion bond (on which it was also the sole bookrunner) which aims to advance racial equality, economic opportunity and environmental sustainability.
The initiative, backed by the high priests of all that is virtuous including BofA Vice Chairman Anne Finucane and Chief Operating Officer Tom Montag, is the company's eighth environmental, social and governance (ESG) themed bond, bringing its total issuance in the category to $9.85 billion, the bank said in a statement .
The bond offering, which priced earlier in the week, has an explicit "social portion" for the use of proceeds which will be dedicated to "help reduce inequalities for Black and Hispanic-Latino borrowers and communities" including:
Mortgage lending, construction loans and other financing and investments relating to single or multi-family housing or affordable housing projects;

Financing for medical professionals to create or expand medical, veterinary and dental practices;

Supply chain finance loans to be offered directly to minority-owned business enterprises;

Deposits and equity investments in Black and Hispanic-Latino Minority Depository Institutions that are also Community Development Financial Institutions;

Equity investments in Black and Hispanic-Latino owned or operated businesses
"Our focus on sustainable finance is one of the ways we drive responsible growth. By addressing these critically important issues through ESG-themed securities, we are offering a way for fixed income investors to be part of social and environmental change, and drive solutions through the debt capital markets," said vice chairman (shouldn't that be chairwoman?) Anne Finucane, who leads the company's ESG, sustainable finance, capital deployment and public policy efforts. "Our communities and the environment are inextricably linked, and Bank of America cares deeply about both and continues to explore innovative ways to enable investors to use their investments to help address these societal challenges."
"We want to be an example for other issuers," Karen Fang, the bank's head of global sustainable finance, said in an interview with Bloomberg. "It doesn't matter if it's a bull year or a bear year, we need to be committed to these causes."
What BofA really means is that it has tapped into a surging market where fellow virtue-signalers - in hopes of reducing the heat they are under from an increasingly angry public - buy the bonds to have a token claim that they too are among society's most noble. Kinda like donating a small fraction of one's income to charity each year in order to (hopefully) wash away far greater sins, something the Clinton foundation grasped decades ago.
As a result, companies looking to fund ESG projects are tapping the green-bond market at the fastest monthly pace ever according to Bloomberg, with September's global green-bond issuance already exceededing $30 billion, beating the prior record of $26 billion set in November 2018. And, as Bloomberg adds, "issuance is expected to remain brisk as companies see an opportunity to show their green credentials and potentially reduce funding costs while investors increasingly focus on sustainability."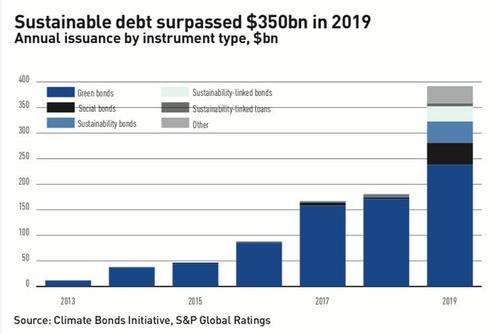 In short, investors hope to signal their virtue by buying green bonds - they certainly aren't buying the bond for its generous coupons: the BofA bond will pay interest semi-annually at a fixed rate of 0.981% for the first four-years, and quarterly at a floating rate thereafter. At the same time issuers allocate a small portion of the proceeds to noble ESG causes, thus absolving them of all their non-ESG sins.
The virtue signaling doesn't stop there: while BofA did not spent any money placing the bond as it itself underwrote it, it threw a few nickles at "minority-owned broker dealers" who served as joint lead managers, including Loop Capital Markets, Ramirez & Co., Inc. and Siebert Williams Shank.
"I don't think that trend will diminish even in the face of market volatility," said Andrew Karp, the bank's head of global investment-grade capital markets. "ESG activity will no doubt grow in the months and years to come."
Virtue signaling aside, what is the real story? Well, within a year, the bank said it would publish a report on the bond's asset allocation, and it will be updated as long as the notes remain outstanding. We won't be surprised to find that the "non-social portion" of the use of proceeds was somehow used to repurchase BofA's non-ESG stock.