---
Bank of America: Silver Could Hit $50 "In The Near Term"
A little over two months ago, Bank of America became gold's biggest cheerleader on Wall Street (and has been spot on so far) in predicting that the price of the yellow metal would hit $3000 in about 18 months due to "loose monetary and fiscal policies around the world" and with the US elections scheduled for November and the EU's Recovery Fund in place from January 2021, the bank expects that demand will remain supportive next year, even though the pandemic continues to be an immense risk.
The current macro-economic backdrop is also bullish for the precious metals, with gold benefiting from record low real rates, at the same time as central banks are backstopping fiscal spending.
But it's not just gold that stands to rise by about 50% according to BofA: silver also benefits from this macro backdrop but demand should also strengthen on the back of a so-called "green" stimulus as most stimulus proposals have some environmentally clean aspect to them; As a result, BofA also sees silver rising to $35/oz as a feasible target next year, but more importantly highlights that "the white metal could rally to $50/oz in the medium-term."
Below are some more details on BofA's bullish case:
As the bank explains, similar to gold investors have raised their exposure to the white metal over concerns about the current economic policy. Yet, with silver more exposed to industrial demand, these purchases did not matter during the lockdowns, with the gold:silver ratio peaking at 124, and still a ways away from its long-term average of 59x.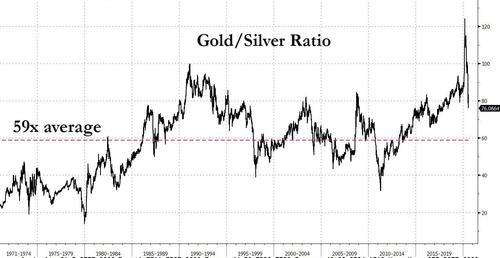 Since then, silver has strongly outperformed gold as some offtake from manufacturers has come back. In addition, the prospect of further fiscal easing has also been supportive. Linked to that, BofA notes that the policy outline of US presidential candidate Joe Biden has caught the market's attention. Perhaps the most ambitious goal in his plans is the 2050 target for achieving net-zero emissions across the US, if he is elected. Over the last fifteen years, US emissions have fallen more than 15%.  Yet the drop has been attributable in part to a decline in industrial activity and coal plant retirements that were quickly replaced by combined cycle natural gas plants.

Going forward, in our view, substantial emissions reductions will be needed from all sectors of the economy in order to achieve this goal.
Biden's climate plan also targets zero emissions from the power sector by 2035, which would require an overhaul of the industry. Coal, natural gas, and petroleum generated more than 60% of the power in the US in 2019 and nearly all CO2 emissions. According to Biden's climate plan, an emissions-free power sector may be achieved through a combination of changes. First, increased end consumer efficiency, which would help cap or reduce power demand over time. Second, the power sector would need to build grid scale storage to support substantial increases in renewable power generation. Third, fossil fuel power generation would need to be replaced with renewables, nuclear, and other low/no carbon alternatives and negative carbon energy technologies would likely be required to offset any remaining fossil fuel powered generation.

Sticking with the last point, a potential increase in photovoltaics matters particularly for silver, which is a key ingredient in solar panels. Indeed, an accelerated de-carbonisation of the US power sector alone could boost annual global silver demand from 2285t in 2020 to an average of 4272t over the next 15 years.
Looking at the potential implications of that, market balances have averaged +1100t in the past five years (2016-19) and with limited supply increases currently in the pipeline...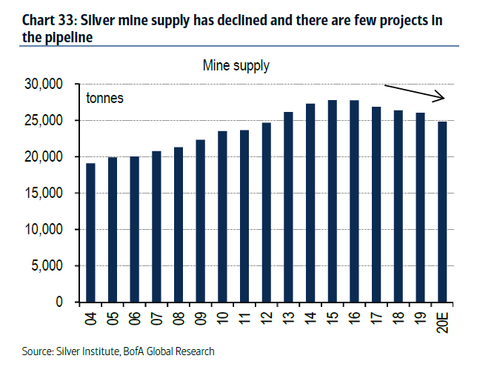 ... the potential demand additions could push silver into a sustained deficit.
Why is this important? Because as BofA concludes "the last time this happened between 2006 and 2011, the precious metal rallied to $50/oz, a price level we would see within reach this time around as well."