---
Banks & Black Gold Bounce As Bonds & Bullion Breakdown Ahead Of Fed
An ugly Philly Fed Services print was offset by soaring existing home sales data (thanks to a brief drop in mortgage rates), but risk appetites continued to grow today with stocks up and bonds down (in price) ahead of tomorrow's big day for Powell. Of course Yellen said "s'all good" about the US financial system, you'll forgive us for not taking her word for it...
First Republic screamed over 50% higher at today's peak (which had some technical relevance)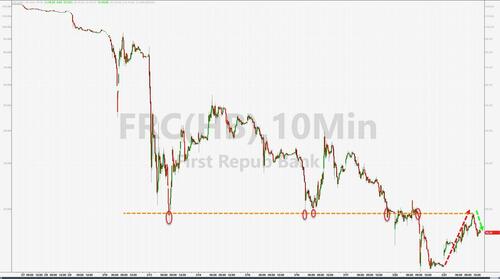 Regional Banks jumped 5% today, up to the upper band of the recent range...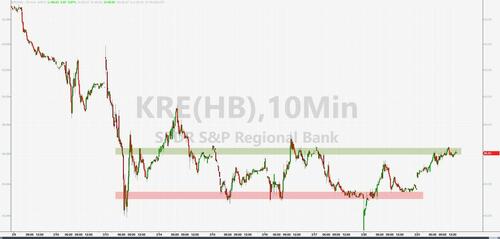 Most notably, rate-hike odds soared today with a 25bps hike tomorrow now priced at an 80%-plus chance...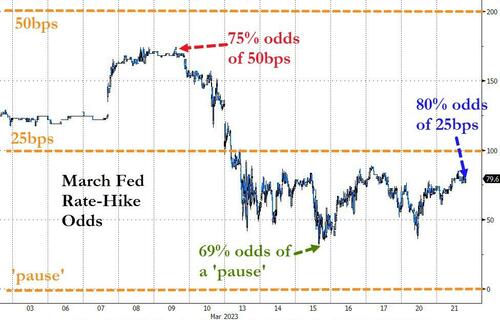 Source: Bloomberg
Fed Fund futures have gone on a wild ride leading up to the March meeting with 77.5 bps between the implied high and low rate.
The only other months since 1994 to see such extreme volatility in Fed Fund futures were January and September of 2001, January and October of 2008. and March 2020.
And traders shifted significantly hawkishly across the rest of the STIRs market. The terminal rate rose to +36bps from here, but perhaps of most note is that the market has shifted December from -110bps (below today's rate) to -20bps in the last 24 hours (erasing 3 25bps cuts by year-end)...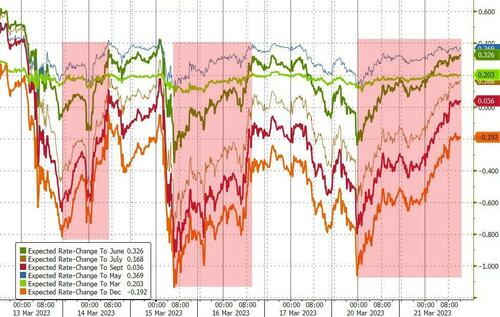 Source: Bloomberg
Treasury yields soared further today, extending yesterday's bounce (the short-end underperformed dramatically with 2Y +20bps, 30Y +6bps on the day). 2Y Yields are now up 34bps from Friday (30Y +10bps), but it's the scale of the swings that continues to confound (2Y up 55bps from yesterday's lows). Interesting that the bulk of the selling was once again during the European session...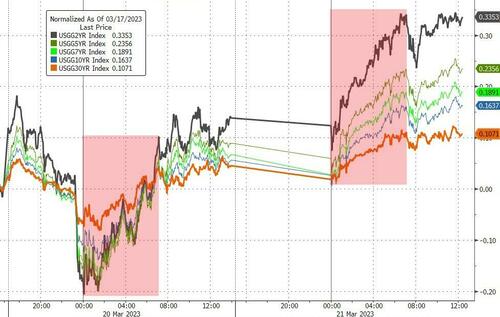 Source: Bloomberg
As Goldman's Chris Hussey notes, yields on 2-year Notes are up 24bp to 4.15% - seemingly reflecting the relaxing financial tensions. But the rise in yields also may indicate that markets expect that the potential disruption to the economy that we have seen over the past 2 weeks is not likely to derail growth enough to suppress inflation.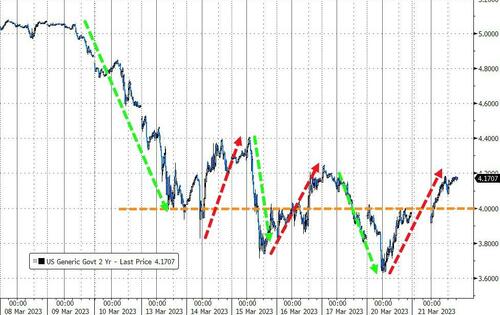 Source: Bloomberg
German 2Y yields surged 26bps - the biggest jump since 2008 - and up 52bps from yesterday's lows...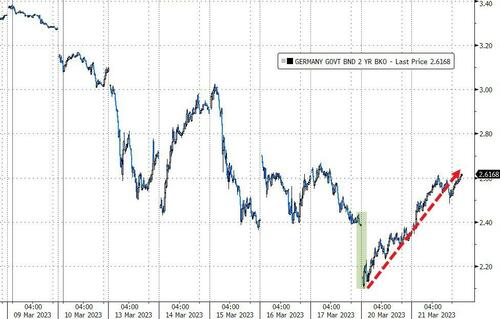 Source: Bloomberg
On the credit side, Deutsche Bank and UBS both saw spreads compress... but they remain elevated...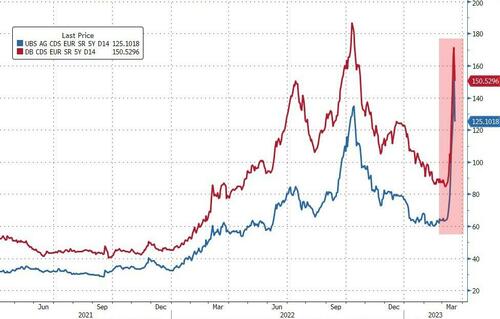 Source: Bloomberg
All the US Major equity markets rallied today, led by Small Caps and Nasdaq (Dow lagged but was still green). We note a lot of the buying came during the European session and stalled shortly after the US cash open...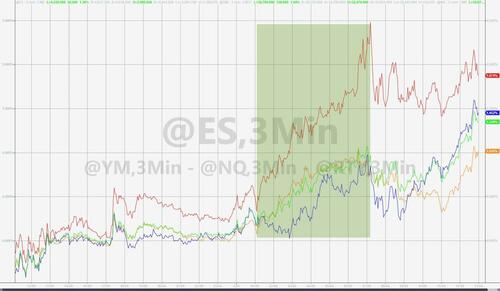 It had the feel of a classic squeeze day with 'most shorted' stocks up almost 5% on the day...
Source: Bloomberg
The S&P 500 perfectly rallied up to its 50DMA today..
The afternoon ramp to the 50DMA was helped along by positive delta flow from 0DTE traders...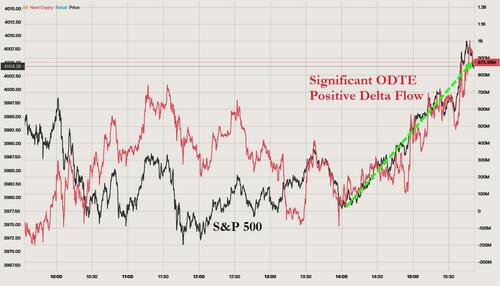 VIX was clubbed like a baby seal today, bacxk below 22...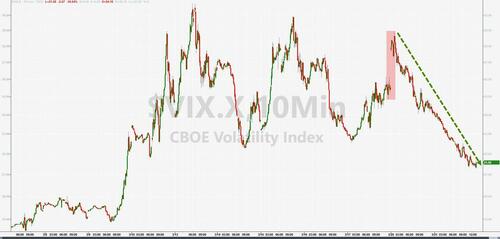 The dollar slid lower for the 4th day in a row (8th down day in last 9 days) to one-month lows...
Source: Bloomberg
Bitcoin managed to scramble back above $28,000...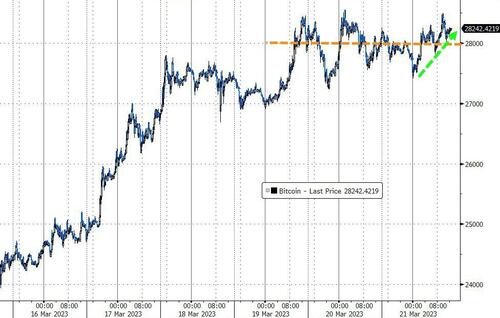 Source: Bloomberg
Ethereum jumped back above $1800 today...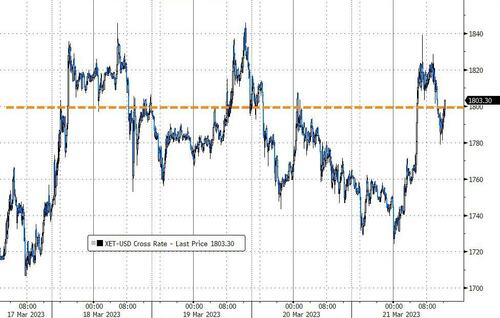 Source: Bloomberg
Oil prices bounced to the upper-end of their recent range with WTI testing up towards $70 ahead of tonight's API print...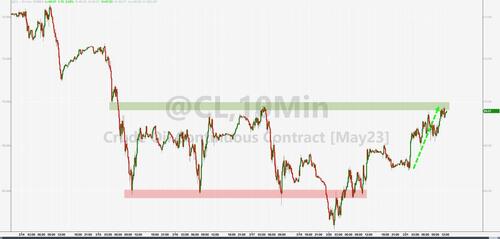 Gold slipped further today, back below $1950...
Finally, while Bond rate vol has narrowed modestly, we remain in a period of extreme uncertainty with regard to Treasuries...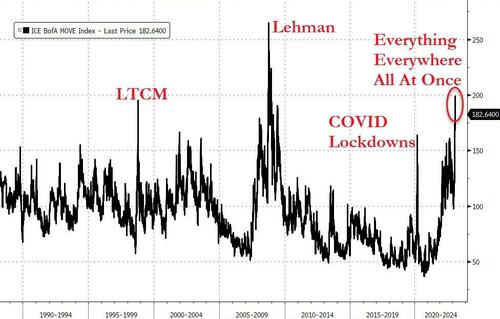 Source: Bloomberg
Will Powell's utterances tomorrow take this down further, or stoke the fears more?
Loading...