---
"We've Seen This Before": Wall Street Responds Negatively To Bed Bath & Beyond's New Strategy
Update (1251ET): Bed Bath & Beyond Inc. shares plunged as much as 28% after the home-goods retailer published a new business strategy to convince institutional desks it has a credible plan for survival. 
We spoke with at least one institutional trading desk specializing in consumer discretionary who said they've all but given up on Bed Bath & Beyond and left the 'meme stock' for the 'apes.' 
Several other desks, such as one at Wells Fargo, said the job cut plan, store closures, new financing, and a pivot away from private label leave "plenty of unanswered questions." 
Here's what Wall Street is saying about Bed Bath & Beyond (list courtesy of Bloomberg's First Word):
"Following yet another strategic change at BBBY, we can't help but feel like we've seen this movie before—and it didn't end particularly well," writes Wells Fargo analyst Zachary Fadem, who rates the stock underweight, PT $3.

The announcements today, including the capital raise, more restructurings and pending store closures, seemed "inevitable," with comp. declines of ~25% YTD and 1H cash burn of some $820m 
Details on near-term operations -- margins, inventory, cash trajectory, etc. -- are "simply too slim to be more constructive" 
Sees "few reasons" to think comps/margins can "structurally improve from here"

Vital Knowledge's Adam Crisafulli writes that while financing may provide some added "breathing room," it is unlikely to make suppliers "feel that much more comfortable about shipping product to the company."

"Really hard to get excited about this stock given enormous macro headwinds (slowing consumer spending, a post-pandemic shift away from housing-related spending, etc.) and immense company-specific problems," including another "very large free cash outflow," he says
Investors wanting exposure to this segment would find better places for their cash in homebuilders or retailers like RH or ETD

New financing provides a "temporary reprieve from questions about its financial viability," though the issue now becomes whether BBBY can "find ways to lure shoppers back," according to Insider Intelligence senior analyst Zak Stambor.

The retailer will need to start with "sharply distinguishing its brand from the competition," and executing on that strategy is "key" 
Effort to use private labels to help BBBY "stand out from the competition" has fallen "flat" as the pandemic "disrupted the global supply chain," and BBBY's "scaled back inventory left customers with few alternatives when an item was out of stock"
In order for BBBY's new Welcome Rewards program -- or any rewards program, for that matter -- to be effective, it needs to "clearly and effectively communicate the benefits of the program. That's easier said than done."
Analysts currently have 12 sells, four holds, and one buy on the retailer -- this reflects that a turnaround in the company is becoming less likely.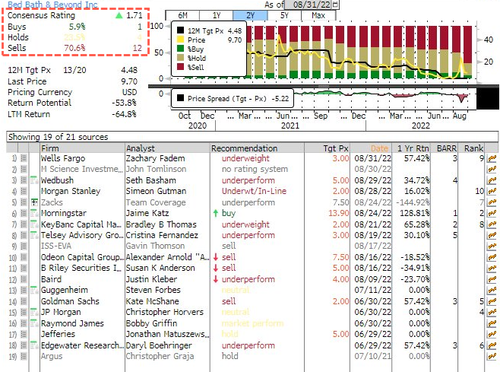 Let the apes have this one... 
* * * 
Update: Following the SEC filing to sell more shares, Bed Bath & Beyond released a statement about its strategic and business update that will result in store closures and a reduction of its workforce. The home-goods retailer also announced new financing commitments. 
Bed Bath & Beyond will close approximately 150 lower-producing banner stores. It will also be exiting a third of its Owned Brands by discontinuing three of its nine labels (Haven, Wild Sage, and Studio 3B). 
Another cost-cutting measure will be the reduction of 20% of its workforce. 
The company also announced it had secured financing commitments of more than 500 million in new financing, including a newly expanded $1.13 billion asset-backed revolving credit facility and a new $375 million "first-in-last-out" facility. 
Shares extended declines on the second part of the news following the S-3 shelf filing earlier this morning. Shares are down more than -22%.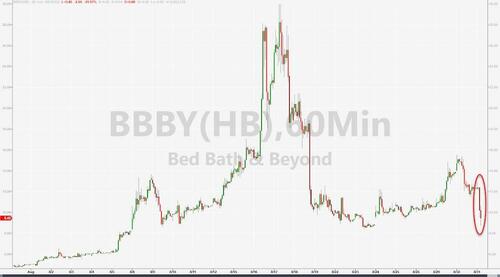 Activist investor Ryan Cohen unloaded his shares just before all of this news -- how much of his decision to exit the 'meme stock' was based on what was coming down the pipe?
* * * 
Bed Bath & Beyond shares plunged premarket Wednesday as retailer traders who piled into the 'meme stock' were greeted with an unwelcoming SEC filing by the home-goods retailer to sell shares of its common stock. 
"We may offer, issue and sell shares of our common stock from time to time," the form S-3 shelf filing read. Reuters said the stock offering is up to 12 million shares. 
Under the "Use Of Proceeds" section of the filing, the company said it would "use net proceeds from any sale of the securities described in this prospectus for our general corporate purposes, which may include repayment of our indebtedness, future repurchases of our common stock and financing possible acquisitions." 
Shares in the meme stock plunged as much as 21% as of 0715 ET on fears stock sales would drown the equity. 
It's been a rollercoaster of a ride for traders after the stock jumped from a low of $5 at the beginning of August to an intraday high of $30 by mid-month. The stock has since round-tripped after activist investor Ryan Cohen dumped his stake and worries over company finances. 
"They are running out of cash and desperately need to raise cash just to keep the business going," Jim Dixon, equity sales trader at Mirabaud, was quoted by Reuters. 
30-day volatility in the stock surged to a record high this month on the wild swings.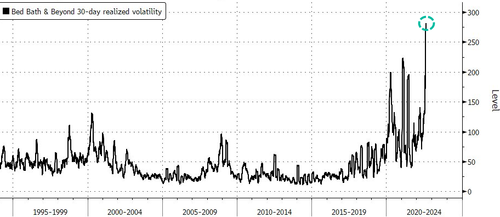 More than 2 billion shares have changed hands in recent weeks as retail traders flooded into a company with cash burn issues.