---
Behind The Nasdaq Weakness: Goldman Downgrades Tech To Neutral
Amid the stock slide this morning, tech is getting hit especially hard, and one key driver for this is the overnight downgrade of the tech sector from Overweight to Neutral by Goldman Sachs, to wit:
We make four sector changes: we upgrade Banks and Autos to Overweight (bothfrom Neutral), and we downgrade Tech to Neutral and Food, Beverages & Tobaccoto UW (from Neutral). We also take off our long-held Long view on our Digital Economy basket(GSSBDIGI). We add a Long recommendation on our Recovery (GSSTRCOV)basket vs. SXXP.  This joins our Fiscal Infrastructure spending basket (GSSTFISC),which we continue to recommend.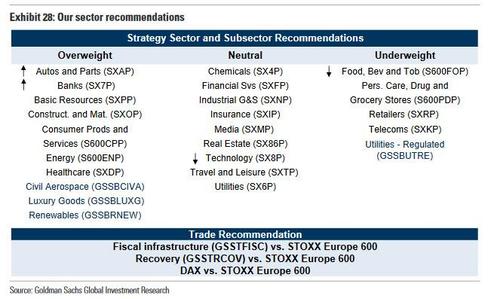 The reasoning behind the downgrade is hardly a secret, and follows a similar move by Bank of America from two weeks ago when BofA chief equity strategist Savita Subramanian said that "it's time to buy value." While we will share some more details from the Goldman report, which oddly enough shares the BofA title "Time for Value", here are the highlights:
One of the most enduring features of the post-GFC period has been the secular outperformance of Growth vs. Value. There have been rotations, but these have generally been short-lived.

The drivers of this long-term trend are well understood – low rates, low inflation and low economic growth.

We think these drivers for the most part remain in place; the secular trends still favour growth or growth-defensive stocks (such as the GRANOLAS).

But, in the next few months we expect some policy and economic shifts that support a temporary rotation; and these rotations can be quite large.There have been 15 into Cyclicals and out of Defensives since the GFC, lasting on average 4 months and delivering 15% outperformance for Cyclicals. Value stocks also outperform during these shifts – albeit by less.

These rotations occur when BYs are rising (which GS expects) and when growth is improving (which GS expects).

While highly uncertain, our economists expect that the FDA will approve at least one vaccine this year and that large shares of the US and European populations will be vaccinated by the end of Q2-2021 and Q3-2021, respectively.

A 'Blue wave' outcome in the US election and a rise in fiscal spend would also be supportive.Finally, while not a catalyst, we also factor in the extreme valuation discount of Value
Still, putting the recent weakness in context, NQs are down having faded the furious Monday gamma meltup, but remain well above levels seen last Friday.