---
Berkshire Continued To Dump Banks, Bought New Stakes In Pharma Giants In Q3
While there were no dramatic changes in Berkshire's Q3 13-F, unlike last quarter when the purchase of Barrick Gold sparked speculation that the anti-gold Warren Buffett was turning against fiat currencies, there were quite a few notable changes in the conglomerate's holdings.
Starting at the top, Berkshire - which reported a total of $228.9 billion in publicly disclosed long holdings across 46 issuers - trimmed its top, AAPL position, by 36.3MM shares from 980.6MM (pre split) to 944.3MM (post split), as the value of Berkshire's AAPL holdings as of Sept 30 rose to $109.4 billion, up from $89.4BN as of June 30. Incidentally, in Q3 Berkshire reported that "confidential information has been omitted from the public Form 13F report and filed separately with the U.S. Securities and Exchange Commission."
As Buffett trimmed his Apple position, he added to his 2nd biggest holding, Bank of America stock, which saw the increase of 85 million shares bringing his total holdings to 1.01 billion shares, of $24.3 billion.
And while the 90-year-old billionaire added to BofA, he accelerated his liquidation of most other bank positions, including another 46% cut in Wells Fargo shares, a 64% drop in PNC, a 36% cut to his M&T holdings, and almost completely sold out of JPM, where his position declined by 96% to less than 1 million shares from 22.2 million last quarter.
Perhaps most notable is that as Buffett trimmed cut his bank positions, he made a major new purchase of healthcare and pharma companies, for the first time revealing positions in Abbvie, Merck, Bristol-Myers Squibb and Pfizer, perhaps on a bet that the covid pandemic will continue pushing these potential vaccine makers higher.
As Bloomberg writes, "it looks like Berkshire Hathaway was looking for some exposure to the vaccine makers. It added positions in Merck and Pfizer. But look which vaccine candidate (tapped by "Operation Warp Speed") is outperforming." Yes, the one Buffett did not buy.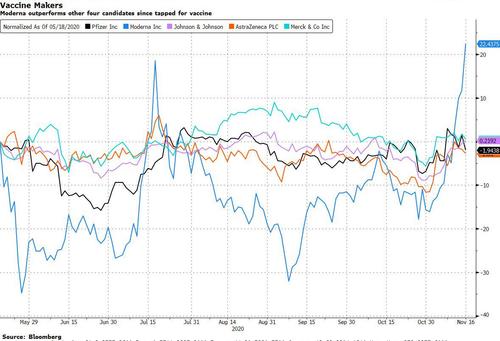 Finally, Berkshire reported a new stake in Snowflake (this was known previously) of 6.1mm shares equivalent to $1.5BN, and also a previously unknown position in T-Mobile amounting to 2.4 million shares, or just $276MM worth.
Oh, and perhaps in response to all the blowback, Buffett did trim its' Barrick Gold position by 42% to 12MM shares from 20MM.
A full breakdown of Buffett's Sept 30 holdings is below: