---
Beyond Meat Slashes Outlook As Fake Meat Demand Falls  
The implosion of Beyond Meat Inc. suggests that the plant-based meat trend might just be a fad. Consumers are now favoring real meat as the company issued a profit warning for the third quarter as demand for fake meat sags.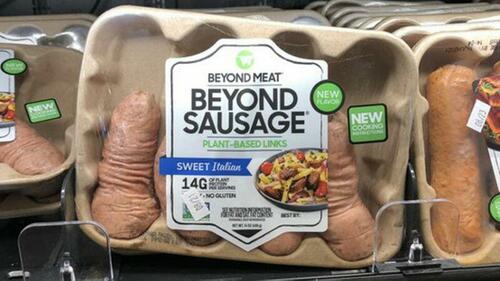 On Thursday, Beyond Meat slashed its revenue forecast for the year for the second time in months: 
Year Forcast
Sees net revenue $330 million to $340 million, saw $360m to $380m, estimate $366 million (Bloomberg Consensus)

Still sees operating expenses up to $245 million, estimate $239.9 million

Still sees capital expenditure $10 million to $15 million, estimate $21.7 million
The plant-based food company expects revenue of about $75 million for the third quarter, well below $88.5 million Bloomberg Consensus. 
Preliminary Third Quarter Results 
3Q Prelim Rev About $75M, Est. $88.5M

3Q Prelim FCF $7.6M, Est. $12.4m

Doesn't Expect to Sustain Positive FCF in 4Q, Est. -$24.9m
The company's net revenues for the third quarter were primarily affected by:
Decreased sales volumes in U.S. retail and foodservice channels, largely due to continued and increased weakness in the plant-based meat category

Less effective promotions, worsened by fixed-fee promotional programs that failed to boost sales as expected

A shift in product sales mix towards lower sales of core products like Beyond Burger, Beyond Beef, and Beyond Sausage, compared to certain non-core products such as Beyond Steak, Beyond Chicken Tenders, Beyond Popcorn Chicken, and Beyond Chicken Nuggets.
The struggling plant-based food company also said its global operations are 'under review' as it cuts 19% of its global non-production workforce after growth failed to materialize.
Even with today's dismal report, the company's shares unexpectedly jumped 9% in the early cash session. This surge is likely attributable to a substantial short position. About 40% of the float, or 24.7 million shares, are short.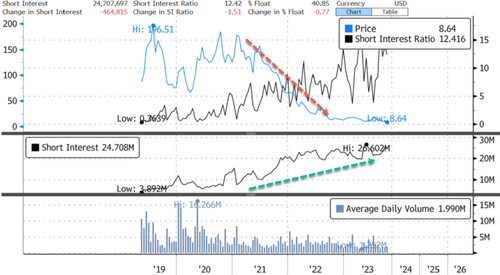 Just a fad. 
This is yet more proof Americans don't want to eat fake meat, nevertheless insects. 
Loading...