---
Biden Bans Travel From India Amid COVID Crisis As Vaccine Supplies Run Dry
The COVID-19 situation in India has continued to worsen late this week as the country reported another daily record of nearly 400K (386.6K) newly confirmed COVID-19 cases on Friday, while more than 3K new deaths were recorded.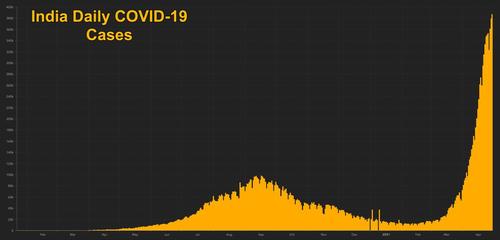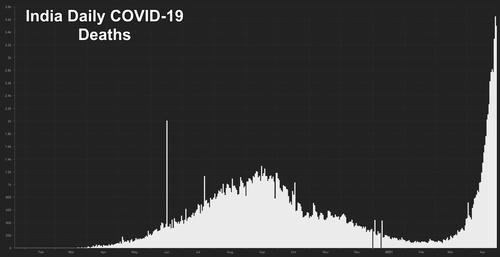 And while multiple Indian states close vaccination sites due to shortages of supplies, Reuters reports that President Joe Biden is expected to impose new travel restrictions on India starting Tuesday that will bar most non-US citizens from entering the US, according to White House sources.
The new restrictions are being imposed on the advice of the CDC "in light of extraordinarily high COVID-19 case loads and multiple variants circulating in India," the official said. A formal announcement is expected on Friday and the policy will take effect on Tuesday, May 4.
As a reminder, here is Joe Biden's views of flight bans in March 2020...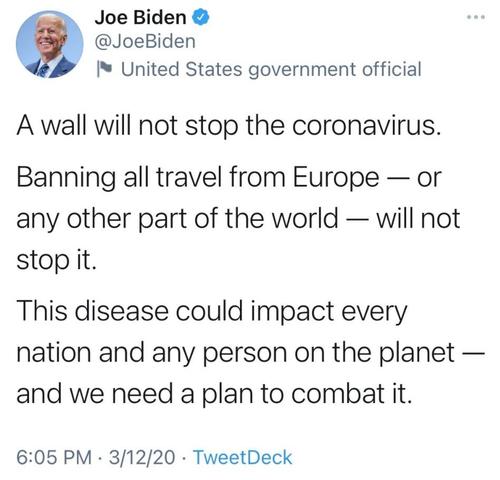 That didn't age well did it.
The policy means most non-US citizens who have been in one of those countries - and now India - within the last 14 days are not eligible to travel to the US China and Iran are also both covered by the policy.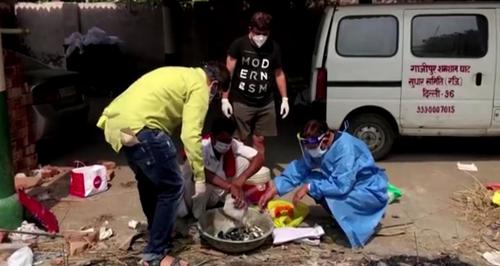 Biden in January issued a similar ban on most non-US citizens entering the country who have recently been in South Africa. He has also reimposed an entry ban on nearly all non-US travelers who have been in Brazil, the UK, Ireland and 26 countries in Europe that allow travel across open borders.
Meanwhile, India - the country that has more vaccine-producing capacity than any other in the world - has reportedly run out of vaccines, leaving residents who signed up for a jab unable to get one.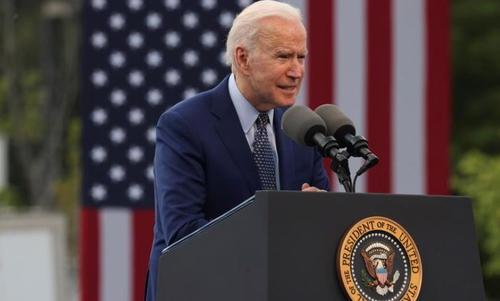 The shortage is undermining a plan to ramp up and widen inoculation from Saturday. Mumbai's government announced that 94 vaccination centers in the city would be closed from Friday through Sunday due to "non-availability of vaccine stock." Shortages cropped up in other places, including New Delhi and other states.
Only about 9% of its 1.4 billion people have had a dose. India has struggled to increase capacity beyond 80 million doses a month due to lack of raw materials and a fire at the Serum Institute, which makes the AstraZeneca vaccine.
Of course, while Indian states have run out of vaccines, many states in the US are watching unused jabs pile up.
Total deaths have surpassed 200K this week and cases are nearing 19MM, nearly 8MM new cases since February alone as mutant strains and a number of "super spreader" events - political rallies and Hindu religious celebrations - are believed to have triggered the latest run-up in cases. Medical experts say real numbers may be five to 10 times higher than the official tally. Patients have been begging for spaces in hospitals while oxygen tanks are scarce and prized.
Other countries have imposed similar travel restrictions on India, including the United Kingdom, Germany, Italy and Singapore, while Canada, Hong Kong and New Zealand have suspended all commercial travel with India.