---
Biden Bear Market Enters Year Two, Gold Hits 6-Month High
New year, same shit... except bonds were aggressively bid this time as stocks were slammed on the first day of trading in 2023.
Former Fed Chair Alan Greenspan (yes, we were surprised he is still alive too) did not help by saying that recession is the most likely outcome here as the central bank tightens monetary policy to curb inflation.
While the last two monthly reports showed a deceleration in consumer-price increases, "I don't think it will warrant a Fed reversal that is substantial enough to avoid at least a mild recession," Greenspan said in a question-and-answer commentary on ACM's website distributed Tuesday.
The risk of lowering rates too quickly is that inflation "could flare up again and we would be back at square one," Greenspan said. That could damage the Fed's credibility as the guarantor of stable prices, he said.

"For that reason alone, I do not expect the Federal Reserve to loosen prematurely unless they deem it absolutely necessary, for example, to prevent financial market malfunctioning," he said.
Interestingly, the market's expectations for The Fed's terminal rate shifted hawkishly today while the expectations for subsequent rate-cuts was unchanged...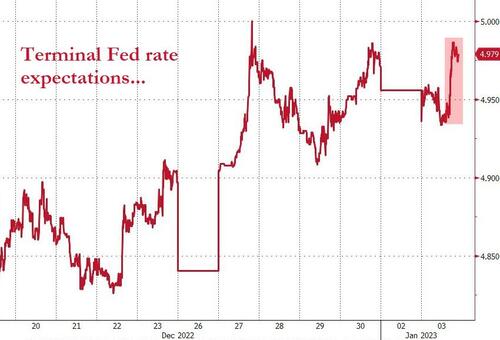 Source: Bloomberg
All of which sent stocks lower to start the year after an optimistic overnight session saw Nasdaq up over 1% at one point. The later afternoon saw a bid that lifted The Dow back near unchanged but overall, an inauspicious start to 2023 for the equity market...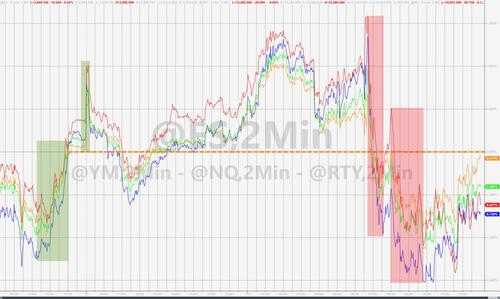 NOTE that equities basically erased all of Friday's ramp into OpEx today.
The S&P continues to trade in a relatively narrow range...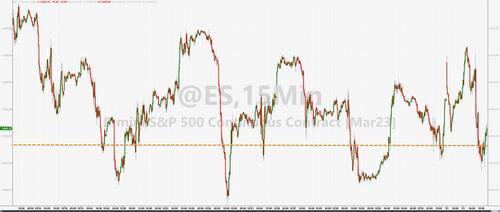 Tesla tumbled to fresh two-year lows today, down 15% at its worst...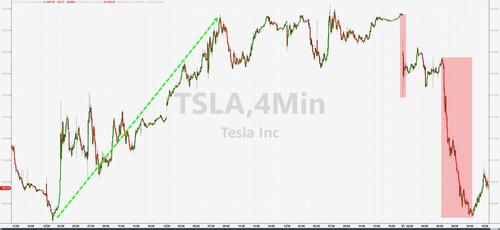 ...as ultra-short-dated puts dominated volumes in options land...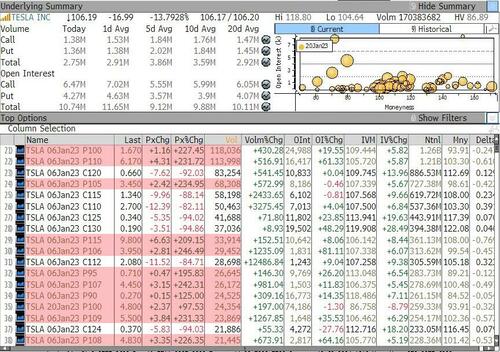 Source: Bloomberg
Apple drops below the $2 trillion market cap level, Amazon remains below $1 trillion, and Tesla is now at the same market cap as Nvidia...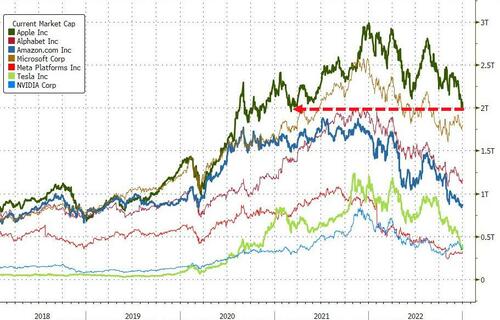 Source: Bloomberg
Treasuries saw their strongest start to a year in more than two decades as investors scooped up government debt. The long-end dramatically outperformed (10Y -9bps, 2Y -2bps) but we do note that bonds were sold shortly after the US cash open after a strong bid from Europe...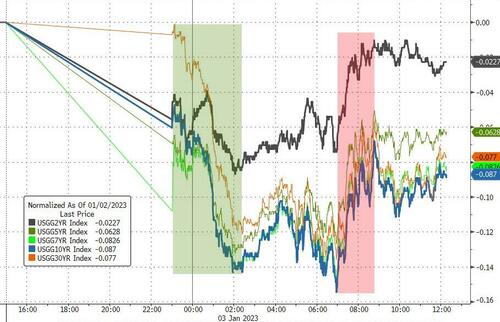 Source: Bloomberg
The dollar surged higher today, testing last week's highs before stalling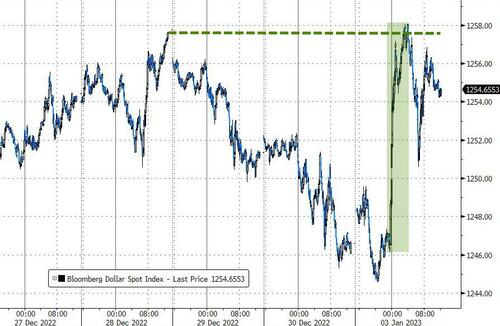 Source: Bloomberg
Bitcoin slipped lower with stocks today but remains higher on the year...barely...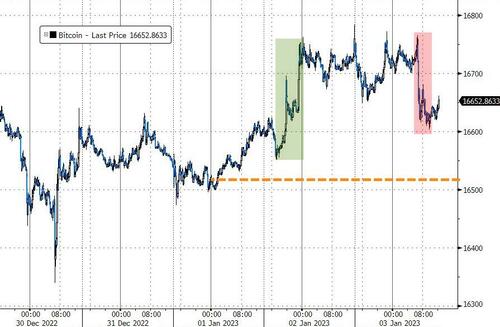 Source: Bloomberg
Spot Gold hit $1850 today, the highest level for the barbarous relic since June 2022...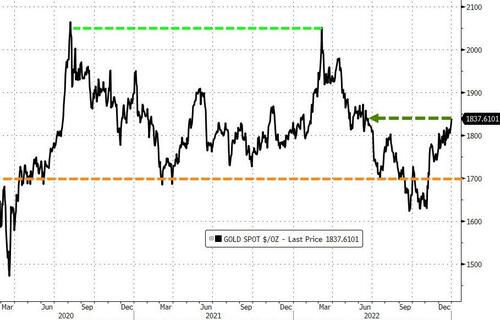 Source: Bloomberg
Oil prices plunged today (WTI down around 4%, trading with a $76 handle at its lows)...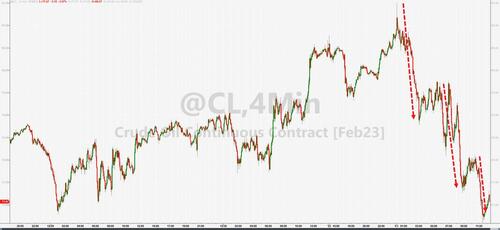 NatGas puked even harder on the back of milder than expected temperatures in Europe...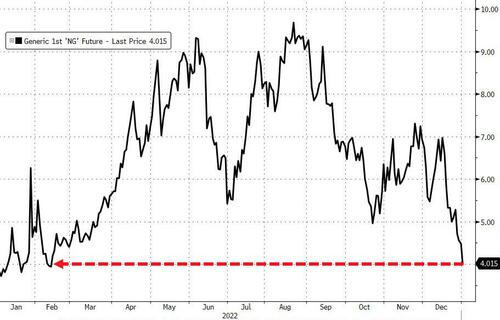 Source: Bloomberg
Finally, year-two of the Biden bear market begins today (after stocks hit record highs exactly one year ago). The S&P is now down over 1% since Biden's inauguration...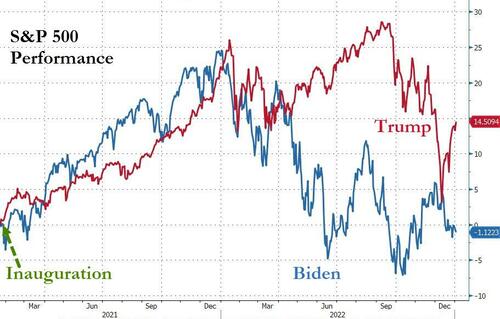 Source: Bloomberg
When will the payrolls prints start to reflect the awkward reality?
Loading...