---
Biden To Meet With Pope Days Before Pitching 15% Minimum Global Tax And Climate Plan To World Leaders
President Biden will be taking his global taxation and climate change ideas to the Pope, hours before the G20 summit in Rome later this month.
Before seeking the approval of world leaders on his plans for both, Biden may be looking to seek approval from one other major "world leader" about a global minimum tax of 15% and plans to reduce greenhouse gasses, according to Reuters.
Biden's meeting with the pope comes at a time when the church has "sought to admonish" Biden for his stance on abortion. Biden will be accompanied by his wife, the report says. 
White House spokesperson Jen Psaki said: "They will discuss working together on efforts grounded in respect for fundamental human dignity, including ending the COVID-19 pandemic, tackling the climate crisis, and caring for the poor."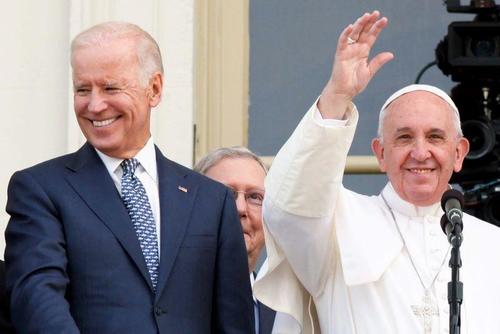 President Biden is also expected to meet with French President Emmanuel Macron while they are both in Rome, the report says. 
Biden will also be attending the UN climate conference called COP26 in Glasgow on November 1st and 2nd. At that conference, he is expected to announce "key actions" on climate change.
The trips are supposed to signal the U.S. "re-engaging with international groups". 
However, the rest of the world may have serious questions for Biden, including questions about his handling of the Afghanistan pull out and the U.S.'s carbon emission goals. 
The U.S. is currently seeking to cut greenhouse gas emissions by 50%-52% from 2005 to 2030.