---
"The Price Will Be High": Biden Calls For "Trillions" In Fiscal Stimulus
Having swooned earlier on the whole Joe Manchin "insert foot in mouth", stocks jerked back higher and closed near record highs after Joe Biden on Friday called for trillions of dollars in immediate further fiscal support, including increased direct payments, to kickstart the economy from the Covid shutdowns which will expand under his administration.
"The price tag will be high," Biden said of his planned package in Wilmington, Delaware. He promised to lay out his proposals next Thursday, before taking office on Jan. 20. "It will be in the trillions of dollars."
We need to build a new American economy where everyone enjoys a fair return for their work and an equal chance to get ahead. Tune in as I introduce members of the team that will get it done. https://t.co/PAOu57i9j5

— Joe Biden (@JoeBiden) January 8, 2021
As reported by Bloomberg, "Biden invoked images of the unemployed waiting in long food lines" and added a dire warning: "If we don't act now, things are going to get much worse and harder to get out of a hole later."
What he didn't say is that even if he acts now, and he will, is that things will still get much worse later, at which point it won't be trillions but quadrillions as the final race to the debasement bottom begins.
"People are lined up for miles in their automobiles waiting to get a meal to put on the table for their family," Biden said at the news conference on Friday. The president-elect also called for a federal minimum wage of $15 an hour, another measure that's likely to run into a challenging political calculus.
Biden demand for much more stimulus - which will include $2,000 stimulus checks and hundreds of billions in state and local funds to bail out insolvent democrat cities and their pensions - came after an dismal December jobs report that reflected a plunge in restaurant employment, driven largely by mayors like Bill de Blasio killing their local restaurant industry.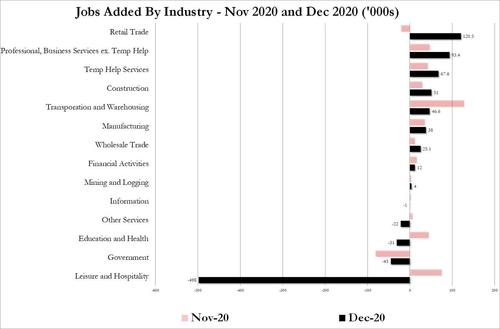 Biden's request will come as a surprise to Wall Street economists who see new stimulus package falling short of multiple trillions of dollars. Goldman, for example, expects about $750BN in new stimulus.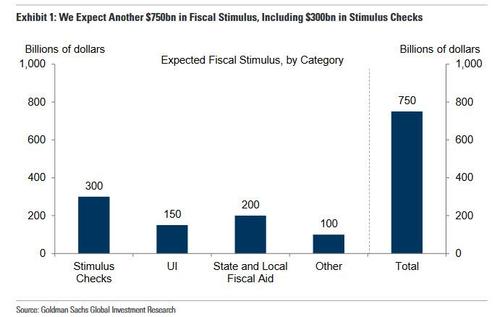 That said, the 50-50 partisan split in the Senate will make a more ambitious proposal challenging to pass, testing the new president's sway over lawmakers from his party and his ability to influence Republicans. Earlier today markets swooned after the WaPo reported Dem Senator Joe Manchin said he would not agree to a $2,000 check only for him to backtrack shortly after following a widespread anger at his position.
Of course, since only stocks really benefit from such profligate fiscal generosity, equities started recovering after news spread that Manchin was backtracking on his WaPo comments, and then extended gains following Biden's call. S&P futures closed up 0.7%. 
Finally, just in case there is any question who will end up buying all the trillions that the US government is about to spend...