---
Biden's Open-Border Policies Create Depression-Era "Hooverville" In New York's Central Park
The Depression-era shantytowns known as Hoovervilles, are about to make a triumphal return smack in the middle of New York's Central Park.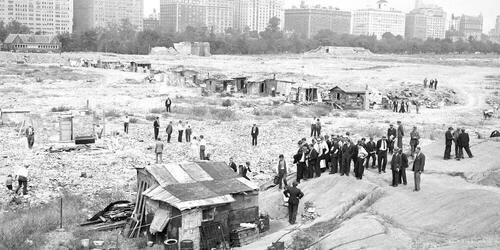 Amid a relentless influx of illegal immigrants that has exposed liberal NIMBY hypocrisy in the quote-unquote Sanctuary City that is New York, Bloomberg reports that officials are considering housing migrants in Manhattan's Central Park and Brooklyn's Prospect Park as part of a plan to find new sites for some of the more than 95,000 asylum seekers who have arrived in the past 15 months.
"Everything is on the table," Deputy Mayor for Health and Human Services Anne Williams-Isom said Wednesday at a press conference when asked about housing migrants in city parks. The sites are among 3,000 locations the city is reviewing, she said.
LIVE NOW: Deputy Mayor Anne Williams-Isom hosts an asylum seeker briefing at City Hall https://t.co/pHBpIWl4fK

— NYC Mayor's Office (@NYCMayorsOffice) August 2, 2023
Gothamist first reported that New York City is considering erecting tents in the two major parks and on Randall's Island as possible sites for the asylum seekers, citing unidentified people familiar with the discussions.
According to Bloomberg, Williams-Isom declined to comment on how imminent the plan is, and didn't answer a question about who the city is working with on potential plans to house people in city parks, although it is safe to assume that Blackrock is going to expand its role as America's favorite (and biggest) landlord monopolist by branching out into tents (and collecting a generous multi-billion government handout in the process).
A memo obtained by CNN earlier this year listed a YMCA in Park Slope, Brooklyn; a recreation center in Staten Island; the campuses of York College and Medgar Evers College; and the parking lot at Citi Field in Queens as possible shelter sites.
Placing migrants in temporary structures inside either Central Park or Prospect Park would bring high visibility to a crisis that's dogged Mayor Eric Adams's administration for months, and cement the city's transformation into a modern version of the 1970's crime and drug ridden Manhattan. On Tuesday, scores of people were sleeping and waiting for help on the sidewalks outside the Roosevelt Hotel in midtown Manhattan.
Adams has repeatedly criticized the Biden administration for failing to provide significant logistical or financial aid to the city to help manage the crisis. The mayor and members of New York's congressional delegation met last week with US Secretary of Homeland Security Alejandro Mayorkas to discuss the issue.
On Wednesday, Williams-Isom denied the city is letting people sleep on the streets as a tactic to force the federal government to come to the city's aid; it is however a tactic to ensure that many of the wealthiest New Yorkers depart the city for Florida, taking billions in income tax payments with them. No one in the Adams administration "would use any people to do a stunt," Williams-Isom said, which is amusing because that's precisely what people the Adams administration is doing.
The city's shelter system housed 107,900 people as of July 30, a record high that has more than doubled since January 2022, when the total shelter census citywide stood at 45,000 people. Some 56,600 of the city's current shelter residents are migrants.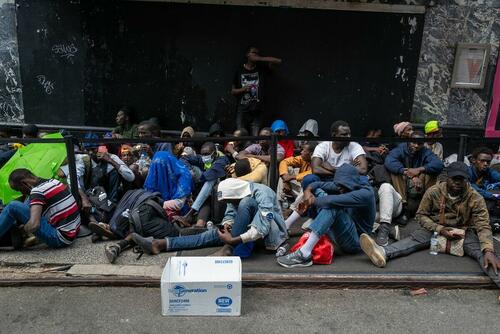 On rare occasions in Central Park's history, the iconic public space has been commandeered for housing in emergencies. During the Great Depression, homeless people set up "Hoovervilles" and in a few months, it will be as if a new Great Depression has arrived to what was once the world's greatest city.
Loading...