---
Biden Anoints Powell As "Continuity" Wins Out At Fed; Warren Shifts Focus To Vice Chair For Supervision
Update (1345ET): In what was a highly orchestrated press conference, President Biden, who appeared to be falling asleep at the soporific sounds of his own speech, introduced Powell and Brainard, thanked their families, allowed them to say a few words, then pulled the plug on the whole affair.
A few minutes after it ended, Peter Schiff questioned whether Powell would actually exercise the independence promised by Biden. Because if he does, might it not be long until the same President who rehired Powell resorts to firing him instead?
If #Powell actually exercises the political independence @POTUS just praised, raises interest rates and stops monetizing exploding Federal deficits to fight #inflation, despite recession and rising unemployment, I wonder how long it will take before Biden threatens to fire him?

— Peter Schiff (@PeterSchiff) November 22, 2021
At different points, Powell and Biden lamented the impact of high inflation on families during the upcoming holiday season.
* * *
Update (1315ET): The White House press briefing where President Biden will confirm his decision to renominate Jerome Powell to the position of Fed Chairman i set to begin at 1320ET on Monday.
Not much is expected during the briefing, as most simply expect Biden to read a brief statement. The president will be joined by both Powell and Lael Brainard, the president's pick to become No. 2 at the Fed.
Of course, there's always a chance the briefing could go off the rails during the Q&A. After all, the WH has been doing its best to limit access to the president lately.
Afterward, Treasury Secretary Janet Yellen (who had Powell's job before Trump dumped her in favor of a Republican), is expected to deliver an interview with CNBC.
* * *
Update (1210ET): Sen. Elizabeth Warren has finally spoken up about President Biden's decision to re-confirm Chairman Jerome Powell to lead the Fed for a second term.
Unsurprisingly, Warren has confirmed her intention to vote against Powell's renomination (which is expected to sail through the Senate). And while she intends to back the nomination of Lael Brainard to take over as vice chair, she also noted that Biden's decision to renominate Powell makes his upcoming pick to fill the "still vacant position of vice-chair of supervision" critically important.
My statement on the Federal Reserve nominations: pic.twitter.com/W8FgAJdj2e

— Elizabeth Warren (@SenWarren) November 22, 2021
In other words, Warren has moved on from her battle over deciding control of the Fed in favor of focusing on what really matters - putting somebody in there with a "strong regulatory track record" who can control banks directly.
* * *
Update (1000ET): More comments from influential lawmakers are pouring in, with Senate liberal and Warren BFF Sherrod Brown becoming the latest to praise Powell for his leadership during the pandemic.
Fed Chair Powell has led our economy through a historic pandemic. Under his & @POTUS's leadership, unemployment has fallen and workers are gaining power.

They'll continue to steer our recovery in the right direction – toward an economy that empowers workers and their families.

— Sherrod Brown (@SenSherrodBrown) November 22, 2021
Dr. Lael Brainard has spent her life fighting for an economy where workers share in the prosperity they create.

As Vice Chair of the Fed, she'll stand up to Wall Street and empower workers, small businesses, and communities.

— Sherrod Brown (@SenSherrodBrown) November 22, 2021
We can't help but wonder how Pocahontas' feels about losing her latest political intraparty fight. She hasn't commented on Powell's renomination, choosing instead to focus her twitter feed Monday morning on something completely unrelated - the price of insulin.
Insulin's been around for 100 years. There's no reason for Big Pharma to keep hiking up prices. There's no reason to force people to pay hundreds or thousands of dollars a month to stay alive. So the #BuildBackBetter Act will cap costs at $35/month—and it will transform lives.

— Elizabeth Warren (@ewarren) November 22, 2021
As a reminder, Warren once denounced Powell as "dangerous" during a Congressional hearing meant to update Senators on the economic impact of the CARES Act.
As for the three remaining Fed board positions yet to be announced, the White House has said it plans to unveil those nominations early next month.
* * *
Update (0930ET): As the market opens, the White House is confirming that it plans to have both Brainard and Powell to join President Biden during an announcement set for 1320ET.
Brainard next in line when Powell mucks up lift off and we get a late 2022 recession.

— zerohedge (@zerohedge) November 22, 2021
It's just the latest sign that Brainard is next in line after Powell mucks up the lift-off in interest rates, leaving Dems to deal with a sudden recession during the middle of the 2022 midterm election races.
Stock indexes, including the Nasdaq and Dow, are hitting new intraday record highs in the wake of the announcement.
* * *
Update (0900ET): The White House has, as expected, nominated Fed Chairman Powell for a second term as chairman of the institution after repeated insinuations that Lael Brainard might be elevated in Powell's stead.
Brainard will instead be vice chair of the Fed, taking the reins from Richard Clarida, the current vice chairman, whose term on the board of governors is set to expire in January.
Markets seem to be liking the news so far, with stock futures jumping pre-open.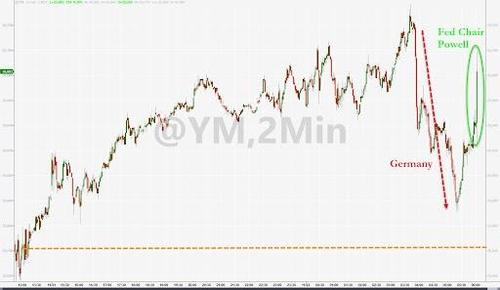 Meanwhile, a potentially hawkish tilt to rate-hike odds is being priced in.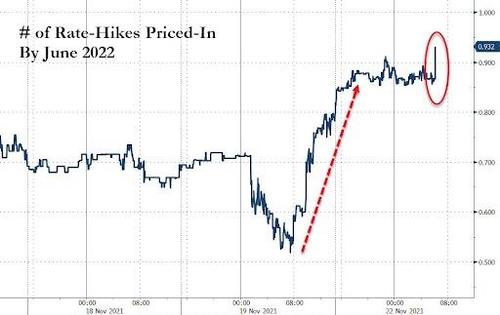 Read the full WH statement below:
"While there's still more to be done, we've made remarkable progress over the last 10 months in getting Americans back to work and getting our economy moving again. That success is a testament to the economic agenda I've pursued and to the decisive action that the Federal Reserve has taken under Chair Powell and Dr. Brainard to help steer us through the worst downturn in modern American history and put us on the path to recovery. As I've said before, we can't just return to where we were before the pandemic, we need to build our economy back better, and I'm confident that Chair Powell and Dr. Brainard's focus on keeping inflation low, prices stable, and delivering full employment will make our economy stronger than ever before. Together, they also share my deep belief that urgent action is needed to address the economic risks posed by climate change, and stay ahead of emerging risks in our financial system. Fundamentally, if we want to continue to build on the economic success of this year we need stability and independence at the Federal Reserve - and I have full confidence after their trial by fire over the last 20 months that Chair Powell and Dr. Brainard will provide the strong leadership our country needs."
Senate Banking Committee Chairman Sen. Pat Toomey praised Powell in a statement.
"When the pandemic hit in 2020, Chairman Powell acted swiftly and took extraordinary and necessary steps to help stabilize financial markets and the economy. He also worked constructively with those of us developing the CARES Ãct.

"During his tenure, he implemented a number of sensible regulatory reforms that helped spur economic growth while preserving the best capitalized banking system in American history.

"While I have strongly disagreed with Chairman Powell's decision to continue the Fed's emergency accommodative monetary policy—long after the economic emergency had passed—Chairman Powell's recent comments give me confidence that he recognizes the risks of higher and more persistent inflation and is willing to act accordingly to control it. I look forward to supporting his confirmation.

"While I have concerns about regulatory policies that Governor Brainard would support as Vice Chair for Supervision, I look forward to meeting with her to discuss these and other matters."
According to Bloomberg, Powell's renomination was potentially a reward for "helping rescue the US economy from the pandemic." So markets rallied on the notion of a dovish Brainard tilt...and are now rallying on confirmation of Powell. Biden still has three positions on the Fed board left to fill, and two new Fed regional bank presidents to pick, as rate hike odds rise in reaction to the Fed.
* * *
After months of speculation, President Biden is finally expected to announce his pick for who will lead the Fed for its next term as soon as this week, according to a WSJ report published Sunday evening, while Punchbowl News reported Monday morning that the decision could arrive before the end of Monday's session.
>@PunchbowlNews scoop: FED ANNOUNCEMENT COMING TODAY

The White House will announce whether it will nominate Jerome Powell to a second term today, according to multiple sources with knowledge of the move.

— Jake Sherman (@JakeSherman) November 22, 2021
And as we have been signaling for months now, it looks like the decision will come down to between whether to renominate Jay Powell for a second four-year term, or to instead elevate Democrat Lael Brainard. WSJ says Biden is ultimately looking for "continuity" when it comes to Fed policy.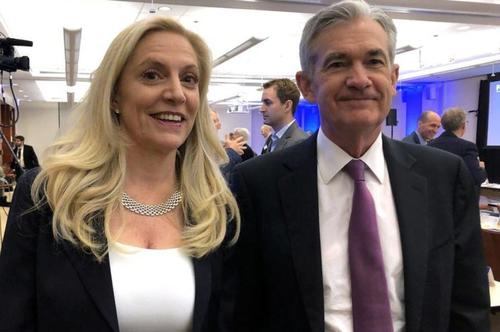 Some have described the decision over who will next lead the Fed as the most important move left to make on Biden's near-term agenda (which is saying a lot considering looming battles over polishing off his 'BBB' agenda, as well as raising the debt ceiling, all while the US economy sees an inflationary supernova).
One River Asset Management CIO Eric Peters pointed out over the weekend that Fed Chairman Jay Powell's greatest political value to President Biden is as a political scapegoat should inflation continue to soar during and after the holidays.
"I need to decide," whispered Biden to himself, struggling, unsure.

"Lael is just terrific, no doubt, and her Fed wouldn't dare cut off my funding," thought the President, old enough to remember bond vigilantes.

"But you can't help but like Jay, a fine gentleman, a decent human being, and face it, he's still buying over $100bln of bonds a month with CPI humming hotter than 6%," thought Joe, having lived through the 1970s inflation. Heck, he was born during WWII and grew up during the post-war financial repression.

"Hard to say we need someone more dovish than Powell," whispered Biden. But of course, all such considerations were beside the point and Joe knew it deep down.

The only thing that mattered now, was whether it would be better to fire Powell before or after the Democrats lose mid-terms. Because at this point in the cycle, Jay's greatest political value is in being a scapegoat.
Even the WSJ acknowledged that the decision on the Fed chair position will be "largely political" - despite the fact that the Fed is supposed to be an apolitical institution -  after the WSJ editorial board said last week that Biden had recently met with both candidates. Then again, the market has had plenty of time to digest this fact ever since Sen. Elizabeth Warren demanded that Powell - whom she described as "dangerous - resign during a Congressional hearing earlier this fall. Senior WH officials have reportedly confirmed that the decision will come before Thanksgiving. As for whether Biden will continue President Trump's "tradition" of replacing the Fed chair with a member of his own party, doing so would, in Biden's case, mean replacing Powell with Brainard, like Trump replaced Janet Yellen with Powell.
As for betting markets, curiously, PredictIt betting markets have continued to price in much higher odds of Biden sticking with Powell over Brainard.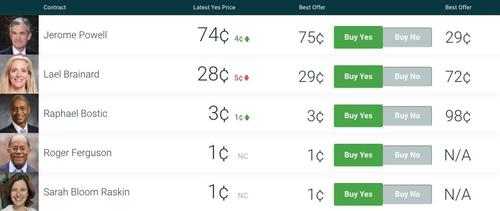 Source: PredictIt
And when it comes to why Powell has left his decision on the Fed chair to so late in the year, anonymous sources told WSJ that he and his advisers see little upside in a decision that will inevitably be controversial. The thinking is why rush a 'no-win' situation, which isn't technically due until early next year.
President Biden has left the decision to much later in the year than his recent predecessors, Additionally, Biden has one vacancy to fill on the seven-seat Fed board of governors, with two more slots that can be filled by January.
After all, what would better signal "continuity" than sticking with the guy who's already in there?