---
The Big Apple Is The World's Most Expensive City For Business Travelers
New York City has the highest per-day cost for a typical business trip among all destinations in the world, according to the consulting firm ECA International, which tracks expenses for accommodation at four-star hotels, meals, transportation via taxis, beverages, and other miscellaneous costs.
ECA said business travelers in 2022 spent, on average, $796 per day in The Big Apple, increasing 8% from the prior year. Rising inflation from hotel rates to food to transportation was the primary divers in soaring costs.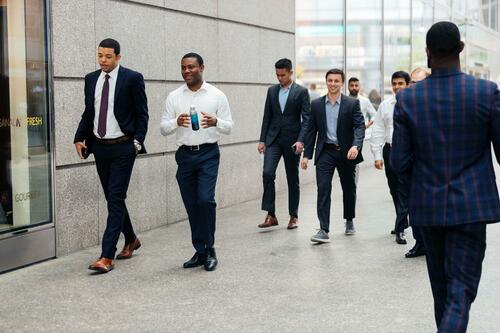 After New York City was Geneva at $700 per day, then Washington, D.C., at around $658, Zurich at $641, and San Francisco at around $600.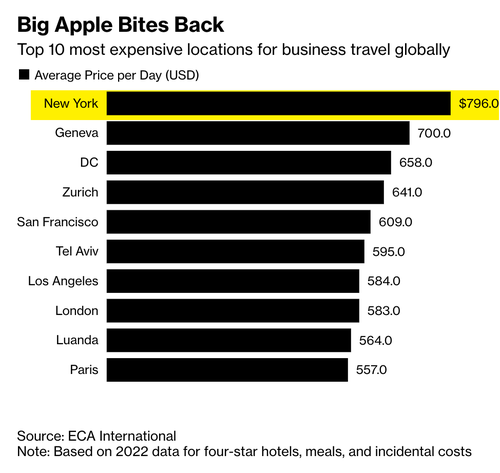 "Climbing inflation rates were a major factor in the increase in travel costs, while a pandemic-fueled drop in demand led to more affordable rates in places like China," Bloomberg pointed out. 
Paris was the least expensive, with average daily costs of $557 per day. 
The good news for companies that are cost-cutting and reducing headcount to weather the inflation storm and economic downturn spurred by the Federal Reserve's most aggressive interest rates hikes in a generation that has already sparked a regional banking crisis is the continued move towards Zoom calls rather than travel.
In a separate report, the Global Business Travel Organization said one in five travel managers said their companies have begun to limit business travel due to rising costs. 
Avoid travel. Take a Zoom call. Cathie Wood would appreciate that. 
Loading...