---
'Big Banks' See $63BN Deposit Outflows Last Week, Loan Volumes Continue To Contract
Despite another rise in banks' usage of The Fed's expensive BTFP bailout facility (to a new record high), and regulators set to force banks to The Fed instead of the FLHB for cheap funds, regional bank shares surged this week as yields tumbled...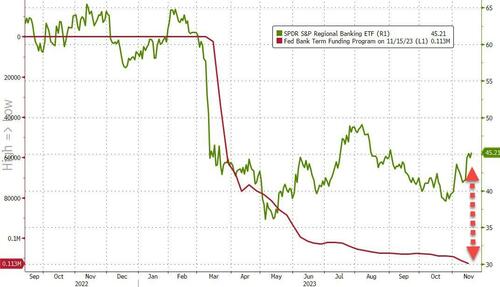 Source: Bloomberg
Amid the ongoing upside-down world of Schrodinger's deposits, we wonder what 'adjustments' The Fed has in store for us this week.
On a seasonally-adjusted basis, banks saw a $50BN deposit outflow last week...
Source: Bloomberg
And for a pleasant change, non-seasonally-adjusted bank deposits also saw outflows (of $41BN)...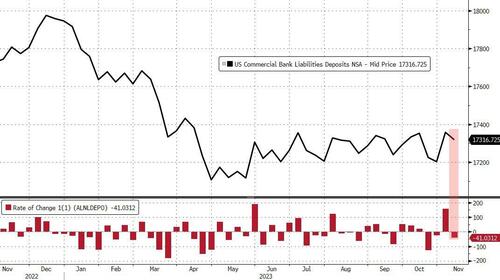 Source: Bloomberg
Bank deposit outflows and money-market fund inflows continue to diverge dramatically...
Source: Bloomberg
Removing foreign bank deposit flows, the picture for domestic bank deposits was still consistent, with a $57BN outflow NSA (-$62.7BN Large banks, +$5.4BN Small Banks); and a $53BN outflow SA (-$53.8BN outflows for Large Banks but $0.6BN inflows for Small Banks)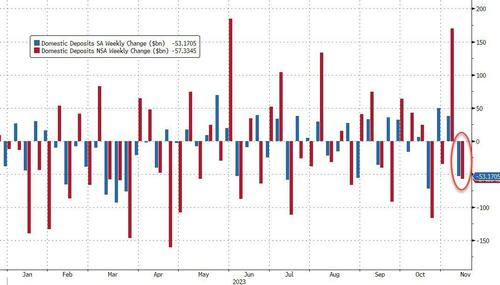 Source: Bloomberg
On the other side of the ledger, loan volumes contracted for the second week in a row (large banks -$15.2BN and small banks -$2BN)...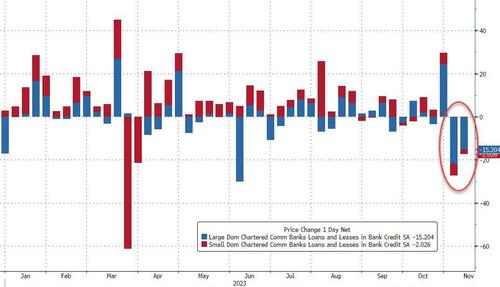 Source: Bloomberg
Finally, the key warning sign continues to trend ominously lower (Small Banks' reserve constraint), supported above the critical level by The Fed's emergency funds (for now)...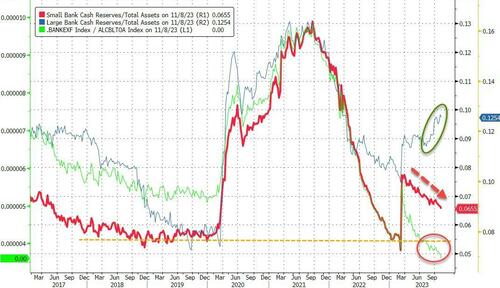 Source: Bloomberg
As the green line shows, without The Fed's help, the crisis is back (and large bank cash needs a home - blue line - like picking up a small bank from the FDIC).
Loading...