---
Big-Tech Bid, Small-Caps Skid As Gold Hits 9 Year Highs
On the week, Nasdaq has soared higher once again, notably divergent from the rest of the markets with Small Caps actually down on the week...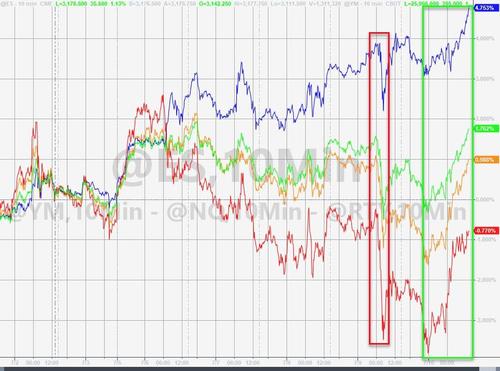 Which has sent the ratio of Megacap-Tech to Small Caps back near a record high...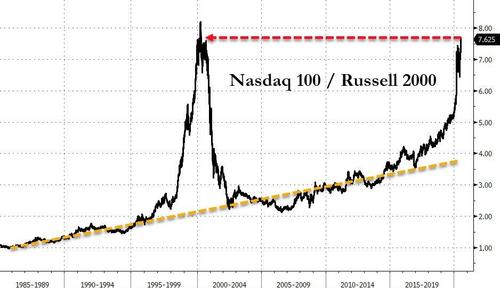 Source: Bloomberg
Nasdaq is up 8 of the last 9 days and 17 of the last 20 days - this is easy!!!
Interestingly, today saw the week's performances flip with Small Caps surging as Nasdaq slipped. Markets were sold at the cash open then immediately ramped higher...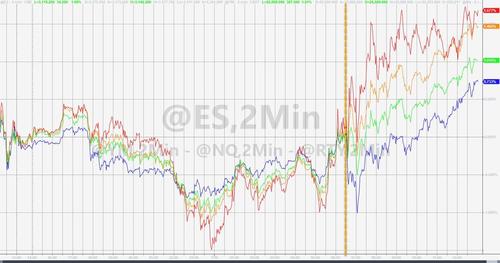 Spot the odd market out (Chinese stock speculation re-erupted this week)...
Source: Bloomberg
Median US stocks continue to diverge significantly from the handful of megatech stocks driving the Nasdaq ever higher...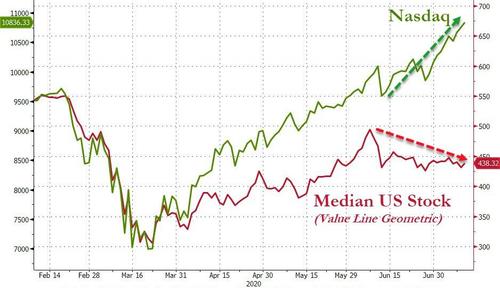 Source: Bloomberg
Notably Defensives and Cyclicals have rallied tick for tick higher since the European close yesterday - very unusual moving together...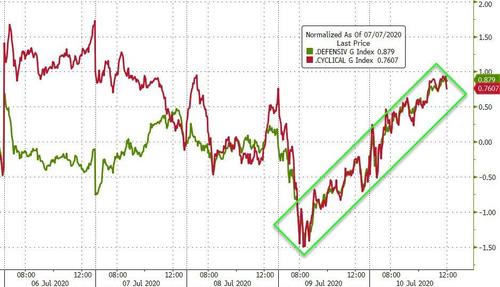 Source: Bloomberg
And then there's TSLA - up from $1000 to $1500 in 7 days...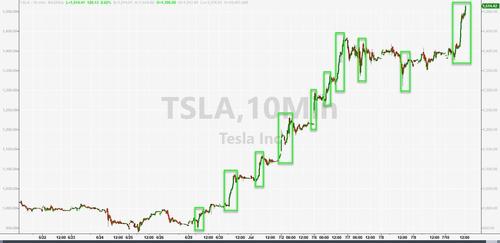 And who's buying?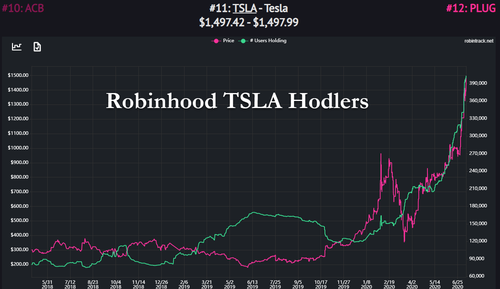 TSLA's now as big as JPMorgan... and TSLA is now bigger than Ford + GM + BMW + Daimler + Volkswagen combined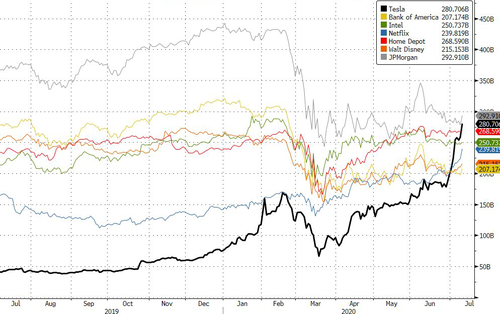 Source: Bloomberg
Treasury yields touched a two month lows today...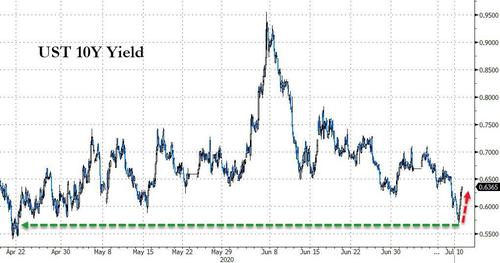 Source: Bloomberg
Then ripped back higher with 5Y and 2Y unch on the week, the long-end still notably lower (and the curve flatter)...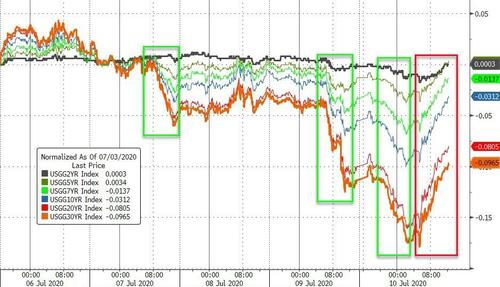 Source: Bloomberg
The Dollar ended lower on the week, chopping around in a tight range...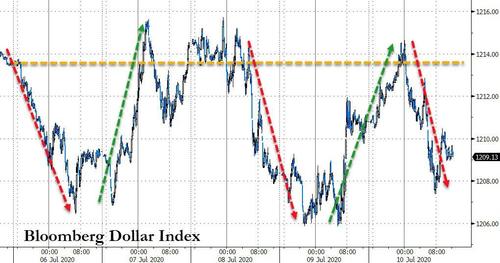 Source: Bloomberg
Cryptos were all higher on the week, led by Ripple...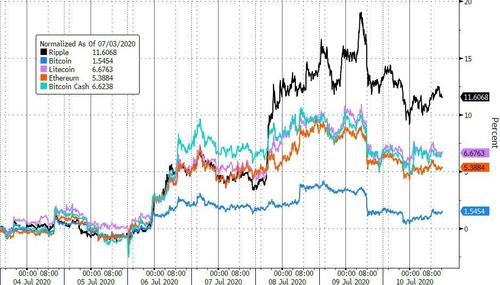 Source: Bloomberg
Copper was the week's high-flier as China erupted in speculative excess. Oil was down...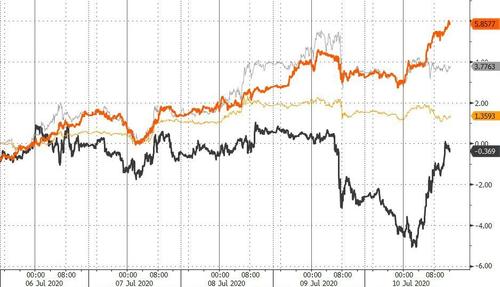 Source: Bloomberg
Big intraweek drop in WTI was bid back above $40...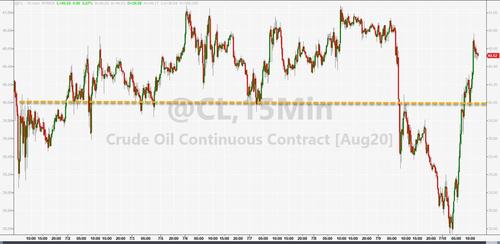 Silver held above $19...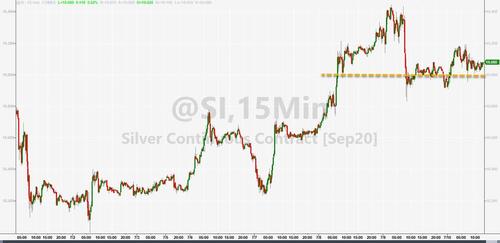 And gold clung to $1800...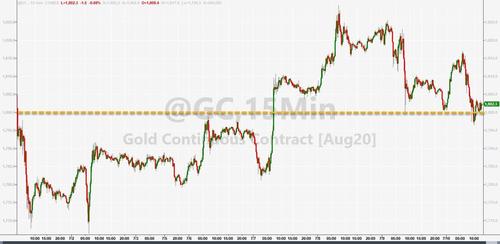 Spot Gold reached back to its highest since 2011...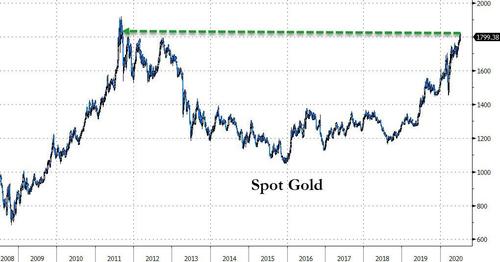 Finally, you have to laugh right...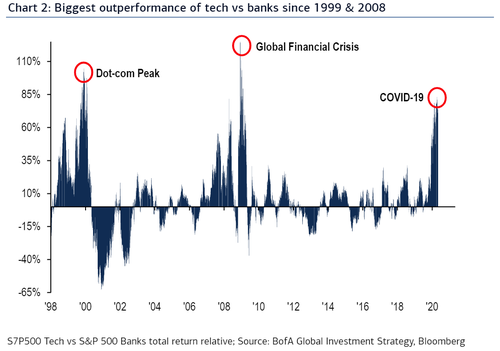 Bonds ain't buying it...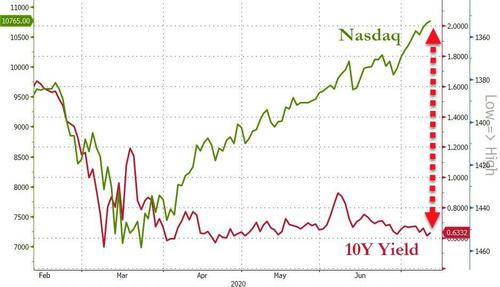 Source: Bloomberg
Because fun-durr-mentals...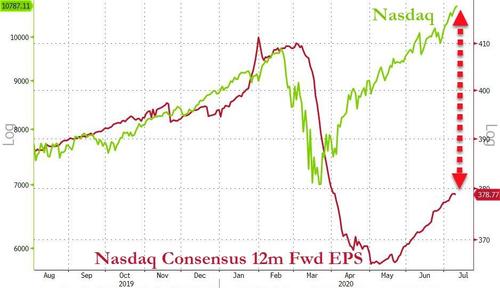 Source: Bloomberg