---
Stocks Panic-Bid To End 'Inflationary' Week, Dollar Dumps
Including last Friday's shortened day (during which futures were open around the payrolls print), Nasdaq has soared and Small Caps disappointed (especially notable given the spike in Small Caps on the jobs print). We must say we enjoyed the farcical ramp in the last few minutes of the day that sent ..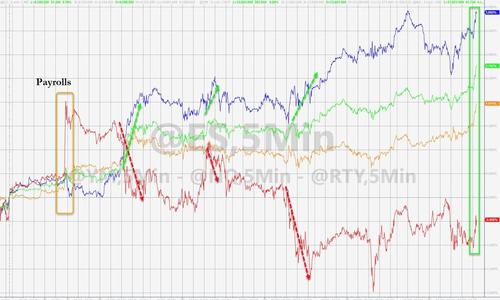 WTF!!!
If you don't buy in the next 30 seconds you will never again have a chance to buy

— zerohedge (@zerohedge) April 9, 2021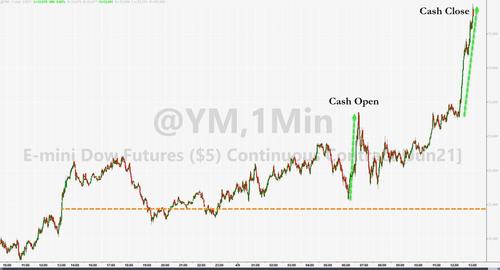 It appears VIX was the magic lever by which this mystical rampathon was achieved with two VIX slams to ignite momentum, then reverse fast and buy calls (bid vol)... when it stalled around 1536ET, repeat... and that worked again (and that's how you ramp Dow Futures by 150 points)...
With no underlying support (as breadth was deteriorating)...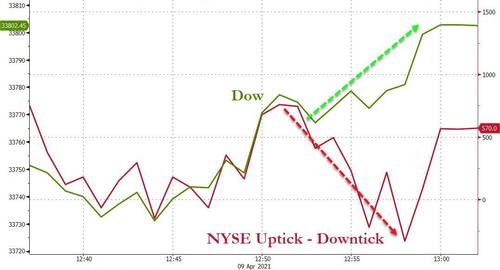 But hey, the hottest PPI in 10 years is transitory and all that Biden bonanza money must be great
After 6 weeks of relative underperformance, growth is up for the second straight week against value as inflationary prints (US PPI and China factory prices) escalate (this was the biggest 2-week spike in growth over value since August)...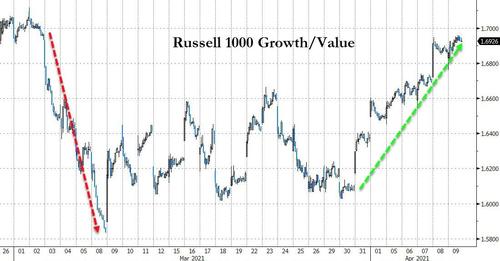 Source: Bloomberg
The Russell 2000 has been glued to its 50DMA for a few days now...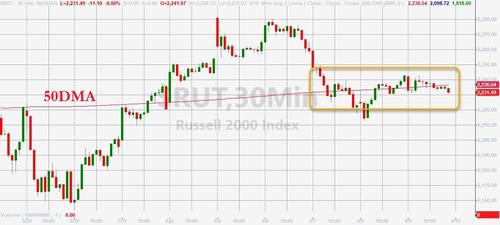 Rather notably the resurgence in Nasdaq relative to Russell 2000 came right as the pair unwound all the pandemic move...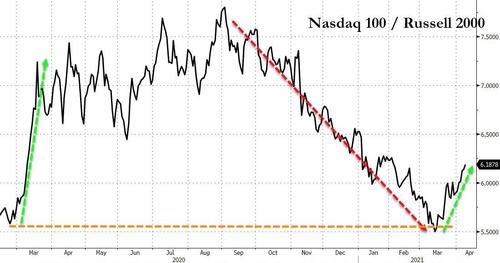 Source: Bloomberg
All this exuberant big-tech buying has done nothing for SPACs or IPOs...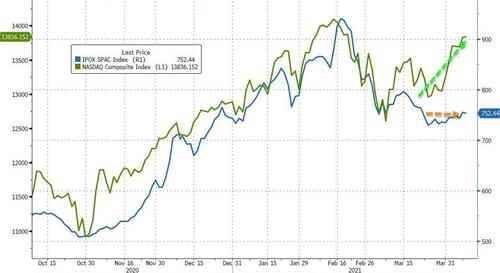 Source: Bloomberg
A chaotic couple of days in vol-land (no those are not bad prints, but those odd pukes we have seen time and time again. The late day spike in stocks appeared fueled by a pump'n'dump in VIX as perhaps RP strategies relevered...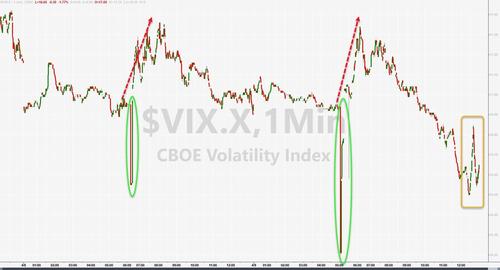 After an ugly spike on last Friday's payrolls (bonds were open half day), Treasuries have trend stronger with the belly notably outperforming the wings...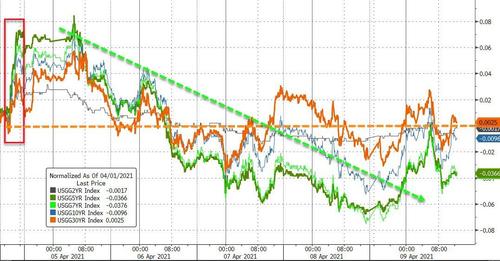 Source: Bloomberg
It appears the payrolls print spike pushed the belly (5Y) too rich and the 2s5s10s fly has now retraced back into negative territory once again...
Source: Bloomberg
10Y Yields 1.65% strange attractor continues...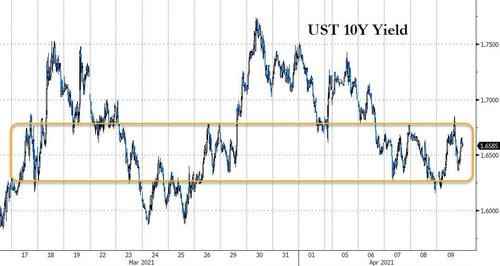 Source: Bloomberg
Real yields trod water on the week...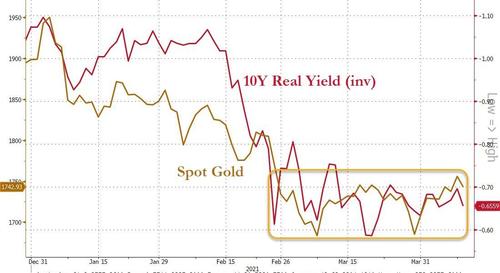 Source: Bloomberg
The Dollar dropped for the second week in a row but bounced today after the PPI print off the pre-FOMC plunge level...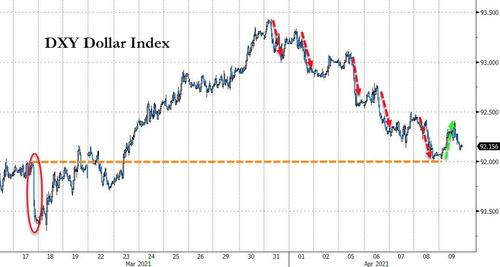 Source: Bloomberg
Bitcoin had a rollercoaster week but managed to end back above $58,000...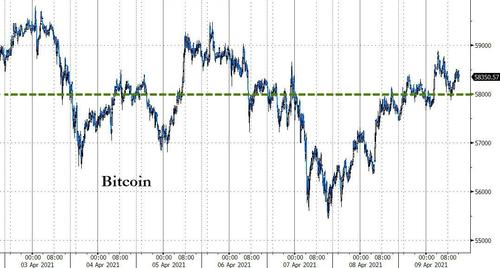 Source: Bloomberg
Ethereum was bid each time it dipped back below $2000...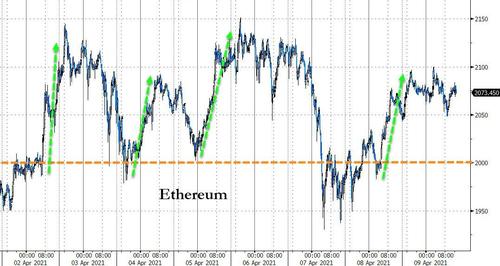 Source: Bloomberg
Gold managed gains on the week but was very volatile intraday (note that Gold's gains stalled at the earlier spike from mid-March)...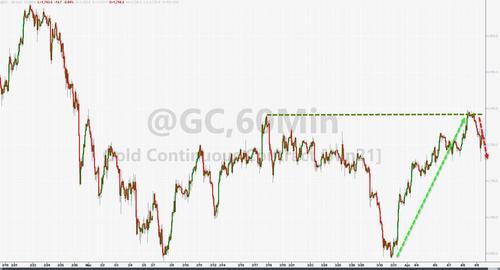 Oil had an ugly week, with WTI unable to hold above $60 (4th down week of the last 5)...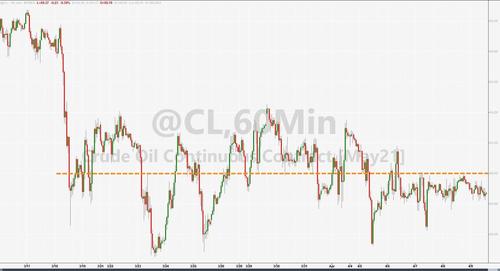 Source: Bloomberg
Source: Bloomberg
Finally, as we noted earlier, it seems interest in buying VIX calls (implying equity downside protection) is soaring...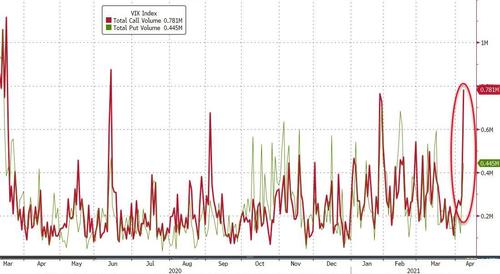 Source: Bloomberg
And this caught our eye, the correlation between gold and bitcoin has collapsed to a record low (negative) as it seems crypto is winning in the inflation hedge flows (for now)...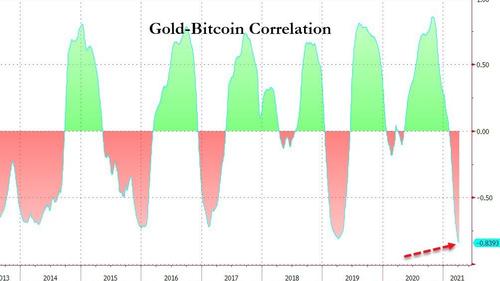 Source: Bloomberg