---
Bill Gates' Daughter Jennifer Moves Into Sprawling $51 Million, 8,900 Sq. Ft. NYC Mansion
While Bill Gates is jetsetting around the world helping mold a globalist initiative on how we should all be running our lives, his daughter has been stepping up her posh New York City digs...in a big way.
Gates' daughter, Jennifer Gates, recently paid $51 million for a sprawling penthouse at Metro Loft Management's 443 Greenwich Street, according to a report from The Real Deal. 
So much for owning nothing and liking it.
The unit was previously owned by Formula One champion Lewis Hamilton, the report says. Located in Tribeca, the condo is six bedrooms and includes a 3,200 square foot terrace, private elevator and three levels. 
In sum, the unit is 8,900 square feet and costs more than $18,000 per month in common charges, the report says. It also sports six bathrooms, two powder rooms and two of the building's 15 parking spaces. Additionally, there is outdoor seating, a plunge pool and a gas fireplace.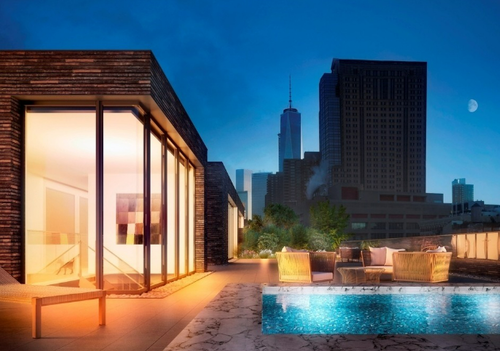 The building itself has 53 units and includes amenities like a pool, gym, sauna, steam room, playroom and roof deck. The list of celebrities that have lived in the building include the likes of Ryan Reynolds, Jennifer Lawrence, Justin Timberlake and Harry Styles. 
Gates has been married to Olympic equestrian Nayel Nassar since October 2021 and she previously lived in a $5 million condo at 1212 Fifth Avenue in East Harlem. That house has now been put on the market, listed at $4.8 million. 
Loading...