---
Bitcoin, Bonds, Big-Tech, & Bullion Breakdown As Banks & Black Gold Bounce
So no new banks exploded or were bailed out over the weekend, and First-Citizens scooped up the flotsam from SVB - everything's good right? Regional bank stocks surged in the pre-market, but as soon as the cash markets opened, selling resumed. Regionals did end green but it was far from convincing with FRC and PACW the only really notable gainers...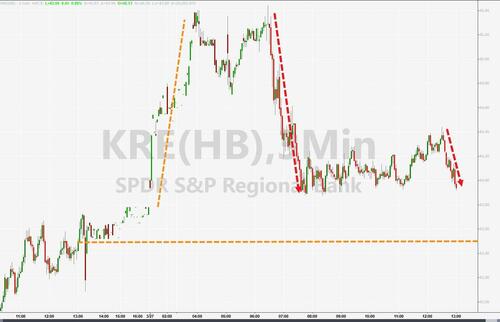 First Citizens soared over 50% (its best day since 1990), back to its strongest since Jan 2022...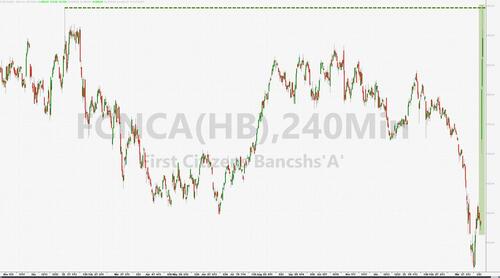 This matters because, as Bloomberg reports, equity-appreciation rights awarded to the regulator went into the money Monday, as shares began trading with a surge of as much as 49%, to $870.15. The rights, which have a potential value of $500 million, mean the FDIC stands to gain if the stock rises above $582.55, according to a regulatory filing.
An uglier than expected Dallas Fed print was largely glossed over as bond yields rose and rate-hike expectations lifted hawkishly.  The odds of a rate-hike in May inched back above a coin-flip today...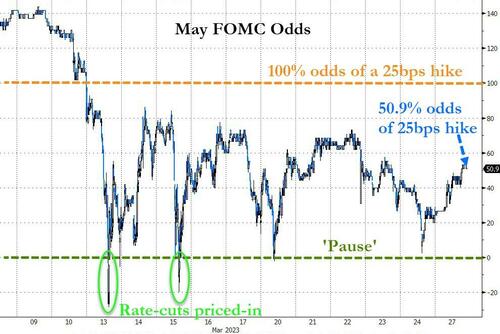 Source: Bloomberg
The entire STIR market pushed hawkishly higher, with Dec 2023 now priced for 62bps of cuts (up from 120bps of cuts priced in on Friday)....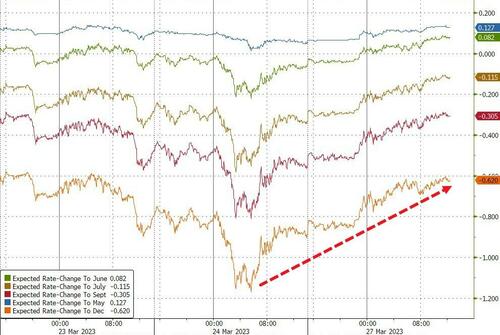 Small Caps (heavily weighted with small financials) were the day's biggest gainer, but crypto's weakness appeared to weigh on Nasdaq while The Dow and S&P managed gains. The last hour saw selling start up across all the majors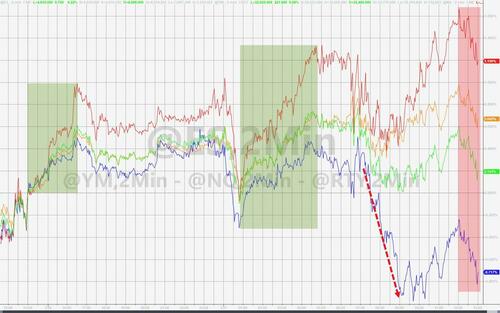 0DTE traders tracked the market most of the day, but as the S&P broke out in the last hour, there was heavy negative delta flows and eventually the market itself started to slide...
The Dow broke back above its 200DMA (S&P held above its 100DMA but below the 50DMA, finding resistance at 4,000)...
The Fwd P/E of the Nasdaq is back at pre-COVID highs (where it has stalled twice since The Fed closed off the spigot of free money)...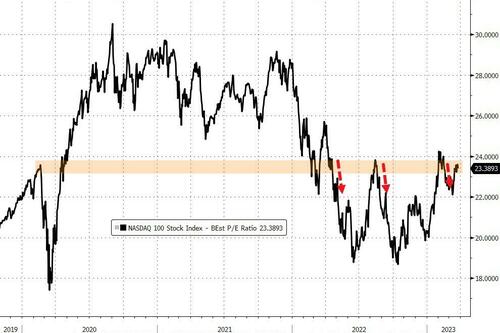 Source: Bloomberg
Treasuries were dumped aggressively across the curve with the short-end crushed (2Y +26bps at its peak) while 30Y outperformed (still up 12bps!)...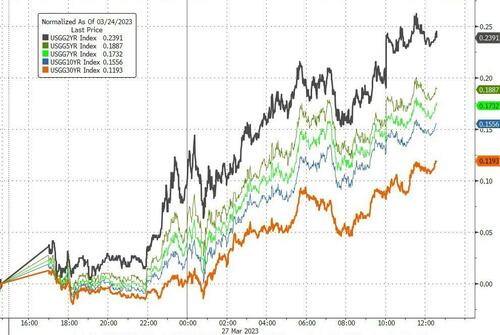 Source: Bloomberg
After a really ugly 2Y auction, yields topped 4.00% (up around 50bps from Friday's lows)...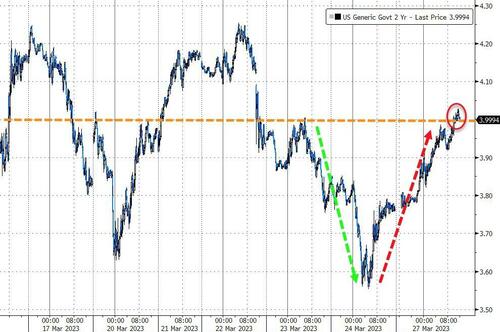 Source: Bloomberg
The swings in the bond market are just unbelievable...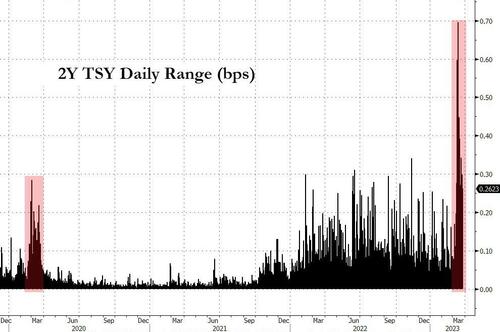 Source: Bloomberg
The yield curve (2s10s) flattened/inverted back to -50 (after reaching its least inverted since October)...
Source: Bloomberg
The dollar drifted modestly lower, extending Friday's afternoon slide...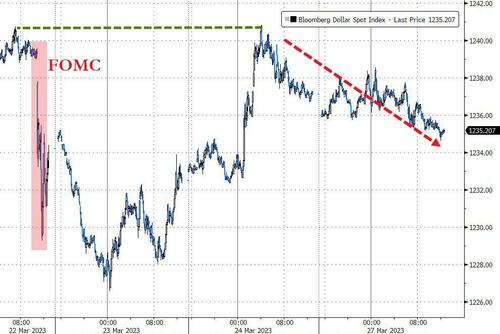 Source: Bloomberg
Crypto was clubbed like a baby seal today after the CFTC hit Binance. Bitcoin tumbled to $26,500 before bouncing back and $27,000...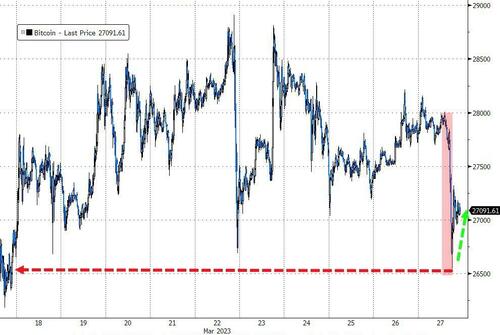 Source: Bloomberg
Gold extended Friday's drop from $2000, dropping below $1950 today...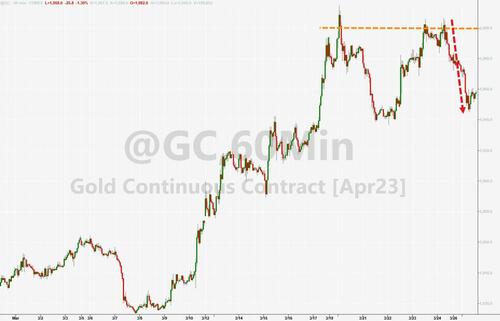 Oil prices soared today amid chatter of a gamma squeeze with WTI back above $73 (two week highs)...
Finally, we note that VIX continues to shrug off uncertainty in FX and rates markets...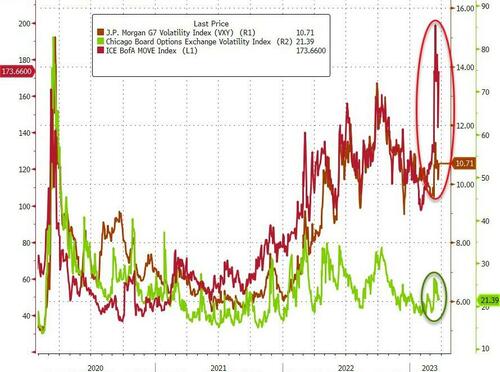 Source: Bloomberg
Some argue VIX is missing the point because of 0DTE (which don't trade in the maturities that contribute to the VIX calc). We shall see who is right on where vol goes from here - FX and Bond market pros or equity options traders.
Loading...