---
Bitcoin Surges $3000 Off The Lows As Rate Hike Odds Tumble
"Our energy would simply prevail. There was no point in fighting—on our side or theirs. We had all the momentum; we were riding the crest of a high and beautiful wave. . . . So now, less than five years later, you can go up on a steep hill in Las Vegas and look West, and with the right kind of eyes you can almost see the high-water mark—that place where the wave finally broke and rolled back."
While Hunter S. Thompson legendary lines from Fear and Loathing in Las Vegas had little to do with market dynamics and everything to do with the transformational social change of the 1960s, one can be given certain liberties to apply it to today's market which seemed destined for an all out implosion... and then reversed first in bitcoin, which bottomed just above $33,000 and then in stocks, as the pounded cryptocurrency appears to have finally found a bottom and at last check was trading some $3,000 higher...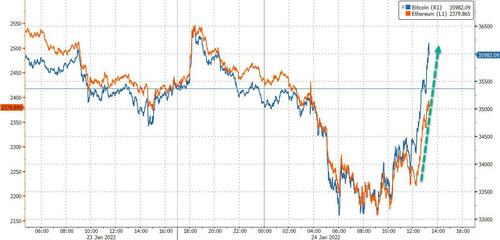 ... with stocks bottoming shortly after and staging a powerful rebound from 4,210 to 4,300.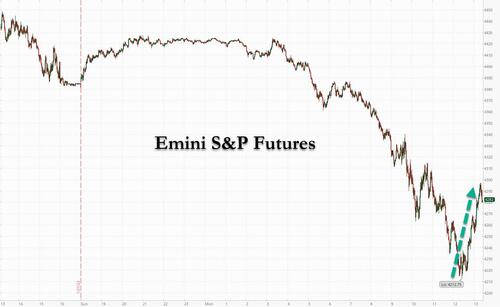 What's behind the powerful reversion? One clue comes from the Fed Funds market, where traders finally seem to agree with us that as a result of the rout in risk assets - not to mention the sharp slowdown in the economy - there is no way the Fed will be able to execute its stated intention of hiking 4 times in 2022, and as shown below, the market implied number of Fed Fund hikes by Dec 2022 is now decidedly below 4 for the first time since Jan 14.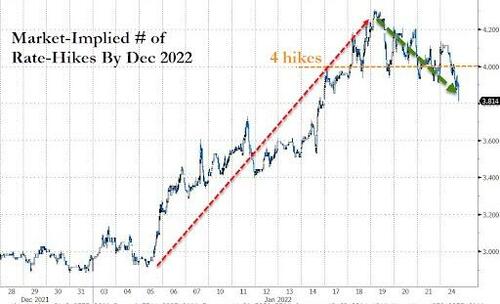 One look at the decoupling between FF expectations and the price of bitcoin suggests that the peak in hawkish market pessimism may have just "broken and rolled back".