---
Bizarro Recession: Q2 Retail Trade Profits Surge To Record High
As Joseph Carson, former chief economist of AllianceBernstein, writes every recession has unique features, but this is one for the record books (no pun intended).
According to the GDP report released on Wednesday, operating profits for the retail trade sector hit a record high in Q2.  BEA said record earnings from large retailers - Walmart, Amazon, Home Depot - were responsible for the gains.
Record profits in retail occurred even when store bankruptcies are the highest since the Great Financial Recession.  The record profits for the retail sector highlights the unusual nature of the recession.
That is, the pandemic has hit the consumer service sector unlike most recessions that impacts consumer spending on goods. Spending at many retail stores has actually increased more than normal as spending that would have been spent on services (i.e., travel, recreation and entertainment) has been directed towards goods.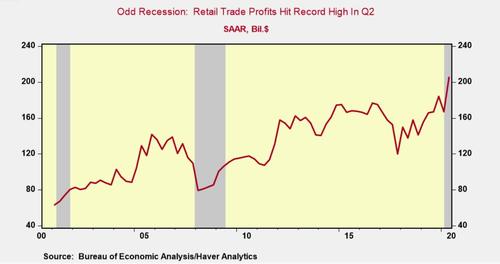 This should probably not come as a surprise. As we wrote back in July when we brought readers a note from DB's Jim Reid in which he spotlighted the "strangest recession in history", while Recessions don't usually result in personal income soaring, "this one has thanks to government support around the world."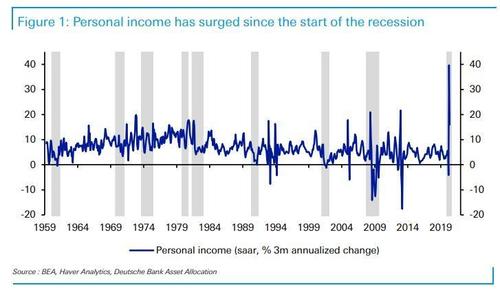 The problem is that unless we get a fresh, fifth fiscal stimulus program, the record spending - and retail trade profits - party is ending. And judging by the daily back and forth out of Congress, a new stimulus deal is unlikely before the election with potentially catastrophic consequences for the economy.