---
BlackRock CEO Drops "ESG" Term After Blowback
On Sunday, BlackRock CEO Larry Fink revealed at the Aspen Ideas Festival that he had abandoned the term "ESG" (environment, social, and governance) because it has been highly politicized and even "weaponized," and he is "ashamed" to be part of the debate, according to Axios. 
Fink acknowledged at the event that Florida Gov. Ron DeSantis' decision to yank $2 billion in assets hurt his firm. Gov. DeSantis pulled state assets managed by the world's largest money manager in late 2022 over "woke" capitalism policies. 
Lawmakers from red states have called out BlackRock for its toxic woke capitalism push in corporate America. Besides Florida, states like Louisiana, South Carolina, Utah, Arkansas, West Virginia, Missouri, and Texas have withdrawn funds from the asset manager. 
Recall Fink was very nervous earlier this year over the 'demonization' of ESG.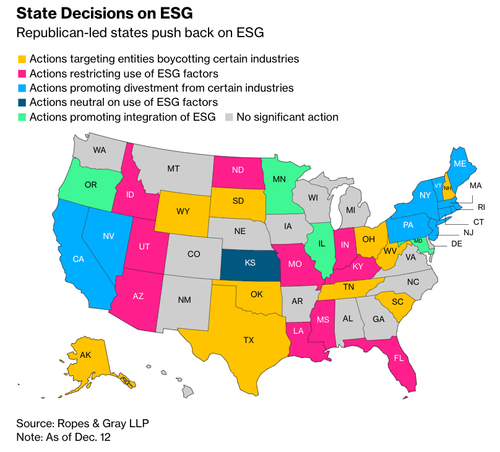 Last month, seventeen Republican state attorneys filed a motion with the Federal Energy Regulatory Commission to dispute whether BlackRock could purchase more than $10 million voting stakes in utility companies. 
"These elitists are trying to impose restrictions on energy companies and utilities that would never win approval at the ballot box. 

"Their schemes could raise utility bills for regular Americans, including elderly Hoosiers on fixed incomes, and they could diminish the value of their investment accounts," Indiana Attorney General Todd Rokita said in a statement last month. 
Fink, 70, said he was "ashamed of being part of this conversation," adding:
"When I write these [investment] letters, it was never meant to be a political statement. … They were written to identify longterm issues to our longterm investors." 
Of course, that's nonsense. Fink has been at the center of pushing 'climate change' policies and has even said his company would "force behaviors" on corporate America. 
And then there's this... 
Video: Blackrock CEO Larry Fink: "Markets don't like uncertainty, markets like totalitarian governments..." pic.twitter.com/Hss50R4ita

— James Lindsay, king of your mom (@ConceptualJames) June 25, 2023
Axios said at the event: 
When pressed on the statement later in the conversation, Fink backtracked.

"I never said I was ashamed," he said, incorrectly. "I'm not ashamed. I do believe in conscientious capitalism."

"I'm not going to use the word ESG because it's been misused by the far left and the far right," he added.
Fink isn't ashamed of ESG... He's furious the scheme to ram woke capitalism down corporations through voting proxies has hit a serious snag and generated serious blowback from lawmakers and average Americans.
Here are some of BlackRock's top holdings.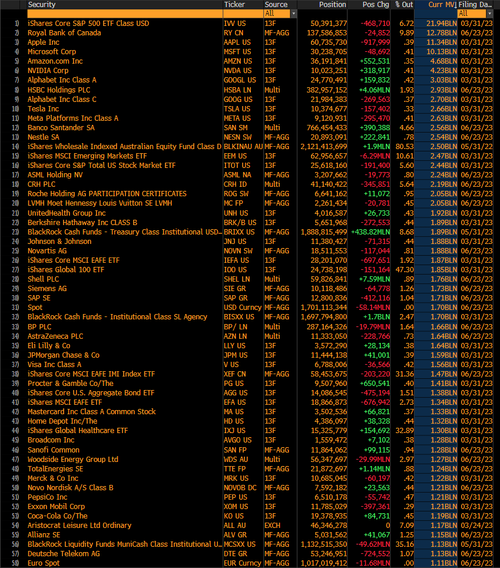 The billionaire will always champion ESG.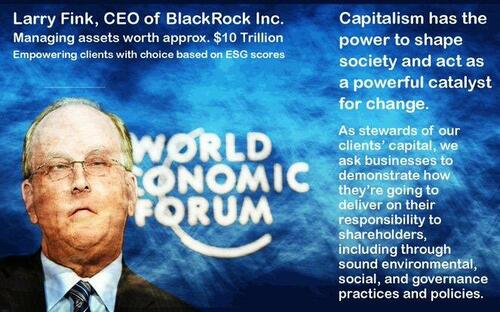 It will just be rebranded under another name. 
ESG rebranding (to "conscientious capitalism") underway. Pat yourselves on the back for making some progress.

PS: Larry Fink hates this attention, so keep it on him.https://t.co/1v2sbFCqYw

— James Lindsay, king of your mom (@ConceptualJames) June 26, 2023
Loading...